Delaware EPSCoR marks progress at annual meeting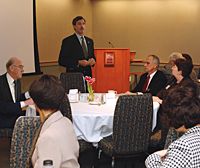 Lt. Gov. John Carney addresses the audience at the statewide EPSCoR meeting.
11:53 a.m., Feb. 1, 2007--"If we're going to be successful in this country, it has to be based on science, innovation and technology," Delaware Lt. Gov. John Carney told the more than 100 scientists, graduate students and outreach specialists at the annual meeting of the statewide Experimental Program to Stimulate Competitive Research (EPSCoR), held Jan. 23, at the Delaware Biotechnology Institute in Newark.
"You, in a very real way, will be carving out the economy of Delaware," Carney said. "You'll be charting the course to our economic prosperity."
EPSCoR is a joint effort of the National Science Foundation and 27 U.S. states and territories, including Delaware, to develop a more equitable distribution of federal research and development funds. The program promotes science and technology partnerships involving a state's universities, industries and government.
A major goal of the program is to maximize the potential inherent in a state's science and technology resources and then encourage the use of those resources to drive economic growth.
The EPSCoR program in Delaware is a statewide effort involving the University of Delaware, Delaware State University, Delaware Technical & Community College, Wesley College, industry and government to build the state's research infrastructure in the biosciences. The program is managed by the Delaware Biotechnology Institute.
During the meeting, scientists, graduate students and outreach specialists from across the state gave progress reports on their research and educational efforts in the program's focus areas of complex environmental systems and ecosystem health.
The recent formation of the Delaware Science and Technology Council was highlighted at the meeting. The council will help identify and advance initiatives in science and technology that are critical to the state.
"Delaware EPSCoR was a major catalyst in the council's formation because the program must align with the state's initiatives in science and technology in order to fulfill its economic mission," David Weir, director of the Delaware Biotechnology Institute, said. Weir is a member of the council.
"I believe we are establishing a model here in Delaware for what other EPSCoR states might want to accomplish," Weir added.
Carney is chairing the new council, and John O'Brien, vice president of emerging brands at AstraZeneca, is the vice-chair. Members include Kenny Bell, Delaware State University; J. Michael Bowman, Delaware Technology Park; Uma Chowdry, DuPont; Don Cohee, ILC-Dover; Bette Coplan, Wesley College; Joseph DiPinto, city of Wilmington; Bill Hartman, Fraunhofer; Ben Hsu, Quest Parmaceutical Services; William Johnson, W. L. Gore & Associates; Matt Knight, Strategic Diagnostics; Brian Little, Christiana Care Health System; Judy McKinney-Cherry, Delaware Economic Development Office; Fred Melchior, Intervet; Jim Rand, GE Energy; Dan Rich, University of Delaware; John Riley, Hercules Inc.; Michael Scuse, Delaware Department of Agriculture; Ileana Smith, Delaware Technical & Community College; David Sokola, Delaware State Legislature; Carolyn Thoroughgood, University of Delaware; David Weir, Delaware Biotechnology Institute; and Robert Woods, Athena Bio.
Producing significant results
Since Delaware's EPSCoR program was launched in 2005 through a three-year, $6 million grant from the National Science Foundation and $3 million from the state, it has produced significant results across the science-education-economic development spectrum.
"The program is working to drive really good basic research and, where appropriate, connect this basic research to state needs," Steve Borleske, Delaware EPSCoR's director, said.
In its nearly two years of operation, the program already has produced 55 new collaborations, 17 scientific journal articles, four patents and the submission of 107 proposals for federal research funding, with 67 of those proposals awarded, Borleske noted.
Additionally, dozens of teachers have been exposed to biotechnology and genetics curricula through professional development workshops, and hundreds of students from middle school through graduate school have been involved in the program's activities, from hands-on laboratories and field trips, to lectures about research and ethics.
A major spin-off of the program has been UD's new Center for Critical Zone Research, which was announced in October 2006. The center, under the direction of Donald Sparks, S. Hallock du Pont Chair of Plant and Soil Sciences at UD, is linking the disciplines of biology, chemistry, physics, geology and environmental science and engineering to address issues such as algal blooms and fish kills, impacts from microscopic nanoparticles, such as soot, and environmental contamination. The "critical zone" is the fragile "skin" of the Earth, where life exists, spanning from the treetops to the groundwater.
Another new center focusing on advanced biotechnology and nanotechnology also is now taking shape at UD under the leadership of John Rabolt, Karl W. and Renate Böer Professor and chairperson of UD's Department of Materials Science and Engineering. It will use recombinant DNA methods to synthesize advanced materials that will have potential application in human health, the environment and industry, Rabolt said.
At Delaware State University, the new Center for Integrated Ecosystem Studies also has evolved with EPSCoR support. Andrew Goudy, who chairs the chemistry department at Delaware State, said the center already has hired two new faculty and is doing research on topics such as aquacultured koi and environmental issues associated with poultry production.
Building bridges between science and society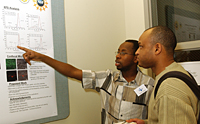 At the poster session, UD doctoral student Samuel Mbugua (left), discusses his EPSCoR research with Souleymane Omar-Diallo, who is working on his doctorate in physics at UD. Mbugua is working with Thomas Beebe, professor of chemistry and biochemistry, to develop 3-D "scaffolds," made out of polymer microfibers, to which nerve cells will attach and grow.

David Small, deputy secretary of the Delaware Department of Natural Resources and Environmental Control, delivered the keynote lecture at the event. He outlined the diversity of environmental issues facing the state and pointed out areas where the program's research could benefit the agency, ranging from air toxins, to determining if the state will have adequate drinking-water supplies in the future.

"Building a bridge between science, policy and the public is critical," Small stressed. "Make your work relevant to people's lives."

Small said he felt the opportunities for partnerships were "endless" and that the key to success was getting people together, reaching an understanding on public policy changes and then "communicating, communicating, communicating and then capitalizing on that positive effect."

"If there's any way to build bridges between the academic sector, policy and the public and get it right, it's here in Delaware," Small noted.

Delaware EPSCoR also is creating a program emphasis in ethics and public policy, with the leadership of Thomas Powers in the philosophy department and Fred Adams in the linguistics department at UD, Weir at the Delaware Biotechnology Institute and Stephen Taylor at Delaware State University. A speaker series on high-profile topics has been launched, a web site on ethics has been created at Delaware State and requirements in ethics education for undergraduates are being developed at UD.

Outreach specialists across the state are conducting a variety of educational programs with EPSCoR support, from a week-long summer scholars program at Wesley College that immerses undergrads in evaluating the impact of land-use changes, to "Science Saturdays" at Delaware Tech where middle-school students get an exciting, first introduction to laboratory research in biotechnology.

A summer research internship program for undergraduate students also has been initiated. Thirty-four students and faculty from all of the partnering institutions were involved in the program in 2006.

A new degree program in biotechnology is being developed at Delaware Tech, and teacher professional development courses in biotechnology are being offered statewide by UD. Additionally, UD has developed a public web site for Delaware EPSCoR at [www.epscor.dbi.udel.edu/outreach], including "interactive ecosystems" that people of all ages will be able to explore this spring.

Progress in variety of research

Throughout the day, faculty and graduate students reported on an impressive series of research projects, from increasing the resistance of bean plants to pathogens, to figuring out what makes marine viruses "tick."

"Do you know how many viruses there are?" Eric Wommack, an environmental scientist at UD, asked the audience. "It's 10 to the 31st power--if all these viruses were lined up end to end, that's from here to the closest star."

Wommack said that some viruses have the capability to decide if they want to stay within a cell or kill it immediately. If the virus decides to stay, it may lie there, in a latent state. "A virus can be like a ticking time bomb in a cell," Wommack said.

Wommack is working to understand to what extent viral infection influences the composition and diversity of bacteria and tiny plants called phytoplankton in the ocean. These microscopic organisms serve as vital links in aquatic food chains, in addition to performing other major functions in ecosystem health.

Ann Snellinger-O'Brien, a doctoral student at UD, was among the students who reported on their research at the meeting's poster session. She is working with professors Thomas Hanson and Murray Johnston to learn more about the proteins in sulfur bacteria.

Her findings are part of a study to see if the proteins in specific microbes can be used as measures of environmental health. The research may advance the development of specialized sensors to monitor for the presence of pathogens in the environment, for example.

Snellinger-O'Brien is now in the home stretch in her doctoral program at UD. Once her degree is completed, she said she's looking forward to working in industry. "I'm almost ready to go," she said, smiling.

At the meeting's end, when asked how Delaware EPSCoR is doing so far, Joseph DiPinto said, "I can tell you that EPSCoR's goals are music to my ears in my new position."

DiPinto, a former DuPont scientist who recently retired from the Delaware state legislature after 20 years of service, is now the director of the city of Wilmington's Office of Economic Development. He also is a member of the Delaware Science and Technology Council.

"I'm thrilled at the progress that has been made," DiPinto said.

Article by Tracey Bryant
Photos by Kathy Atkinson and Duane Perry
E-mail this article
Subscribe to UDaily
Subscribe to crime alert e-mail notification