Do drivers tune their attention like they tune a radio?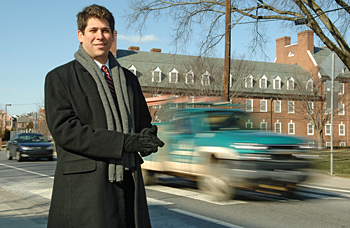 Research done by Steven B. Most, assistant professor of psychology at UD, suggests that it's not just whether drivers are attending to the road that matters but how they are attending to it. Photo by Kathy Atkinson
3:13 p.m., Feb. 13, 2007--A survey released in January by Nationwide Mutual Insurance shows that a large number of Americans are guilty of "driving while distracted," with many multi-tasking motorists using precious drive time to make cell phone calls, text message, read e-mail or put on makeup. Such habits can certainly be hazardous but research by Steven B. Most, assistant professor of psychology at the University of Delaware, suggests that it's not just whether you are attending to the road that matters but how you are attending to it, as well.
Most's research program examines interactions between attention, perception and emotion. "Questions like these are not only theoretically fascinating," he said, "but they are also very relevant for safety in the everyday world."
Most said investigations of roadway visibility usually consider the role of features such as brightness--intensely colorful reflective vests, for instance--but typically overlook the importance of drivers' own mental activities.
Filling this gap, Most and his colleague, Robert S. Astur of the Yale University School of Medicine and the Institute of Living in Hartford, Conn., recently published a study in the journal Visual Cognition in which they showed that the ways people "tune" their attention for particular features can affect the rate of traffic collisions.
"The visual world is abundant and complex," the researchers explained, "but the brain's processing capacity is limited. As a result, visual stimuli continually compete for processing resources. When important information loses out, the consequences can be lethal."
Most said that when people are looking for something, their ability to tune attention can be helpful in finding whatever they're seeking. However, when obstacles don't match what people look for, they can go unnoticed until it is too late. This can make a "real difference in real life situations, particularly considering the safety implications," he said.
The journal article reports a test Most devised and conducted at Yale in which participants, using a computer in much the manner of a video game, "drove" a car through a cityscape. Some drivers were asked to turn at intersections in the direction indicated by blue traffic signal arrows, while other drivers were asked to follow yellow arrows.
At one of the intersections, a blue or yellow motorcycle suddenly veered into their paths. When the color of the motorcycle matched the color of the arrows that participants were looking for, participants tended to react in time and were able to avoid colliding with the motorcycle. In this case, collisions only occurred seven percent of the time.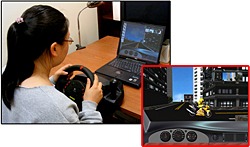 Most devised a test in which participants, using a computer in much the manner of a video game, "drove" a car through a cityscape.

On the other hand, when the color of the motorcycle did not match the color participants were looking for, the collision rate skyrocketed to 36 percent.

"Their tuning of their own attention affected their ability to respond," Most said, "and the consequences were very real--they were slower to respond to the motorcycle. If this had been a real intersection, someone could have been hurt or killed."

For Most, the results raise questions about current highway safety practices. "When you are driving in a construction zone, for example, you are often monitoring for orange traffic cones, tuning your attention to that particular color," he said. "And yet, road workers often wear bright yellow vests, as if trying to set themselves apart from the context they're in. Safety engineers need to figure out the right balance between making workers distinct from the background and integrating them with aspects of the environment that people are already monitoring for."

Understanding how attention and perception work has implications not only for roadway safety, but also for safety issues in such diverse areas as the workplace or war zones, Most said.

"We have power over what we see," he said. "We see what we consider most relevant for our goals, but this can have serious consequences when something surprising comes along. Our health and safety often depend on the brain's ability to respond to the environment and the manner in which it handles visual information."

Most said cognitive psychologists have the tools and means to ask and test questions concerning such issues, and it is often through basic research that such insights come to light. For this reason, he added, it is important to increase communication between cognitive psychologists, the general public and safety officials.

Most also is working on the intersection of attention and emotion, studying how emotional responses affect what we see. In a 2005 paper, he reported new findings of "attentional rubbernecking," or "emotion-induced blindness," in which rapidly presented emotional stimuli--which the brain appears to prioritize--can temporarily impair a person's ability to notice targets that they are actively trying to find even when they appear right in front of their eyes.

Most joined the UD faculty in September after completing a National Institutes of Health Postdoctoral Research Fellowship at Yale University. He received a doctorate from Harvard University and a bachelor's degree from Brandeis University.

Article by Neil Thomas
E-mail this article
Subscribe to UDaily
Subscribe to crime alert e-mail notification