Profs study effects of temperature on tundra ecosystems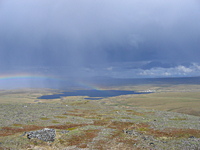 UD researchers are studying the effects of temperature change on the tundra ecosytem at Toolik Lake in Alaska.
9:52 a.m., Dec. 21, 2006--Two University of Delaware professors are co-principal investigators in a National Science Foundation (NSF)-funded project to understand how changes in temperature and nitrogen deposition affect tundra ecosystems. Barbara Campbell and Thomas Hanson, both assistant professors of marine and earth studies, recently returned from the Arctic Long Term Ecological Research (LTER) station at Toolik Lake in Alaska where they collected samples for the study.
Campbell said prior studies at the research station suggest that temperature and nitrogen changes may cause major shifts in carbon storage in tundra ecosystems, where greater than one-third of the earth's carbon pool is stored. Scientists are concerned that thawing of the tundra's permafrost could accelerate global warming by releasing huge amounts of carbon dioxide into the atmosphere.
"Microbes are typically major controllers of how carbon is stored and released, so we're trying to understand how microbial communities are changed by nutrients and temperature at the Toolik Lake site over a long term of more than 20 years and a short term of less than one year," Campbell said. "There are basically two possibilities that we're trying to sort out, whether the community structure changes with increased temperature or nitrogen or whether the community stays the same, but is just more active in releasing carbon when conditions change."
To find the answers, Campbell and Hanson are using a novel method to identify approximately 5,000-10,000 microbes per sample by sequencing a short fragment of DNA present in all organisms. That bit of DNA, which varies from organism to organism, allows the investigators to get a snapshot of the contents in each sample. This is being combined with functional profiling of soil samples to see how tundra soil microbial community structure and function are related.
The study involves soil samples from both long-term and short-term nutrient fertilization experiments over two years. Samples for the first year were collected by Michelle Mack and Edward Schuur, both assistant professors of botany at the University of Florida, who are collaborators in the study.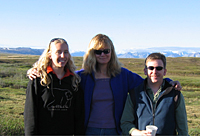 Toolik Lake researchers Barbara Campbell (center) and Thomas Hanson (right), both assistant professors of marine and earth studies at UD, with Marcela Kokes from Lewis and Clark University in Oregon, who participated in the study through Research Experiences for Undergraduates, a summer internship program.

Campbell and Hanson collected more soil samples at Toolik Lake last summer. They were accompanied by Marcela Kokes from Lewis and Clark University in Oregon, who participated in the study through Research Experiences for Undergraduates (REU), a summer internship program funded by NSF that provides grants to host institutions to encourage undergraduate students to pursue graduate work in science and engineering.

Campbell said the examination of the samples for changes in the microbial community upon nutrient fertilization has shown dramatic shifts in the microbial communities, mostly in the mineral (deep layer) portions of the soils after extended incubation times compared to control samples.

"Understanding how changes in climate affect microbial populations will refine predictions of how stored carbon will behave relative to existing trends in global change," Campbell said. "Changes found in this study may also reflect past climate change events, helping scientists to understand the geological record.

"Our experience at Toolik Lake was terrific. The longest and most stressful part of the entire trip was the getting there. The distance we traveled to get there and back was actually around 10,260 miles. The field station had its great points--lots of excellent food, company, scenery, a sauna and, of course, the science--and not so good points--two showers for two minutes each per week, lots of mud, and pit toilets that were nothing to write home about," she said.

For the first few days, collecting samples was particularly difficult because the soils were frozen below 10 centimeters and members of the team spent a lot of time hammering the corer on various rocks to put it back into shape.

"While both Tom and I learned a lot, we were pleased that our REU student learned the most from the experience, in both gaining valuable field work skills and with her interactions with the scientists at Toolik Lake during our stay," Campbell said.

Article by Martin Mbugua
Photos courtesy of Barbara Campbell
E-mail this article
Subscribe to UDaily
Subscribe to crime alert e-mail notification