UDaily is produced by the Office of Public Relations
150 South College Ave.
Newark, DE 19716-2701
(302) 831-2791

Spanish students put skills to test with service projects
Seniors Annie DiRocco (left) and Nicole Pouppirt went to Equador last summer as volunteers at a camp where they counseled children 4-20 on how best to manage their diabetes.
2:04 p.m., Dec. 15, 2006--After Nicole Pouppirt, a senior biology major from Clementon, N.J., visited Ecuador for five weeks with UD's study-abroad program during her sophomore year, she returned to campus with a broadened perspective and a valuable academic experience. But she also returned with a heavier sense of duty, she said.
Seeing the conditions on the outskirts of Quito, where many of the residents live in poverty, and comparing them to the privileged conditions in the United States shocked her and made her want to take action, Pouppirt said. But she wasn't certain how she might help until one of her professors, Suzanne Tierney-Gula, an instructor in UD's Department of Foreign Languages and Literatures, put her in touch with the nonprofit organization American Youth Understanding Diabetes Abroad (AYUDA).
"Prof. Tierney-Gula helped me fill out an application and wrote me a letter of recommendation," Pouppirt, who is a Spanish minor, said, "but the planning process took about a year."
Undeterred, Pouppirt managed in the meantime to collect the $3,500 required for the trip from her grandfather, a physician who supported Pouppirt's initiative, and this summer finally returned to Ecuador with UD classmate Anne Marie DiRocco, a senior Spanish and international relations major from Lewisburg, Pa.
During their stay, Pouppirt and DiRocco spent five weeks living with host families and volunteering at a foundation in Quito that AYUDA had established for Ecuadorian children with type-one diabetes. The final week of their stay, Pouppirt and DiRocco volunteered at a camp established by AYUDA, where they counseled and instructed kids ages 4-20.
"None of the volunteers really knew much about diabetes," Pouppirt, who plans to go to medical school, said, "but we worked with doctors and older counselors who taught us what we needed to know."
Besides getting hands-on experience working in a foreign country, both Pouppirt and DiRocco said that they became more fluent in Spanish, and that their conversational skills with the language improved significantly.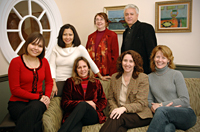 Faculty who foster service-learning projects for UD students studying Spanish include (clockwise, from left) Aurelia Rio, Vilmas Lazo-Butera, Stella Hall, Robert Corradetti, Suzanne Tierney-Gula, Carmen Finnicum and Maria Valvis.

"My fluency really improved, because from day one I was immersed in the culture," DiRocco, who plans to return to Central or South America upon graduation to teach English for WorldTeach, said. "I really didn't have a chance to speak anything except Spanish."

Pouppirt said that a big incentive to become fluent grew from the need to explain tricky medical procedures to kids. "Kids are very forgiving with language," she said, "but as a volunteer, you had to be able to show them the right way to give themselves injections and test blood sugar."

According to Pouppirt and DiRocco, the biggest payoff for the effort, however, lay in their ability to bond with others from another culture and see clear evidence that they were making a difference.

"The aim of the program was to educate children with type-one diabetes about the disease and teach them that it wasn't holding them back from living normal lives," DiRocco said, "and the experience was empowering for both them and the volunteers."

Tierney-Gula, who has woven service learning into her study-abroad trips to Ecuador for the past three years, said that the cultural immersion demanded by the hands-on projects inspired her, along with Carmen Finnicum and Stella Hall, fellow Spanish instructors in UD's Department of Foreign Languages and Literatures, to begin similar initiatives closer to home. This spring they will launch two such programs at UD, with the combined aim to boost Spanish skills and assist in the community.

"We've always wanted our Spanish students to be more involved with the community," Tierney-Gula said, "so in Ecuador, my study-abroad students have to do 8-10 hours of service learning."

The local initiatives, which are being offered to conversational Spanish students this spring in levels 205 and 305, Tierney-Gula said, will make it possible for students who don't go abroad to get the same hands-on experience. It is also hoped that the projects, which involve assisting Hispanic clients with tax intake through the Nehemiah Gateway Community and teaching English as a second language classes at Holy Angels Church in Newark, will help boost students' fluency in Spanish.

"Students will get credit for their work, but instead of writing a research paper or doing an oral presentation, they will go into the community and help in a very hands-on way," Tierney-Gula said. "We've found from the study-abroad service learning projects that students' language skills really improve when they work within the community, and we know that that will be the case, as well, with the local projects we're introducing this spring. No matter how much Spanish students study in the classroom, community service projects give them the opportunity to apply their skills in the real world while providing them with a meaningful learning experience."

Article by Becca Hutchinson
Photo by Kathy Atkinson
E-mail this article
Subscribe to UDaily
Subscribe to crime alert e-mail notification