UDaily is produced by the Office of Public Relations
150 South College Ave.
Newark, DE 19716-2701
(302) 831-2791

Steve Harden joins UD baseball coaching staff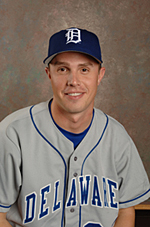 Steve Harden, a former player, has joined the UD baseball coaching staff.
8:55 a.m., Dec. 20, 2006--Former University of Delaware baseball standout Steve Harden will join the Fightin' Blue Hens' coaching staff as a volunteer assistant for the 2007 season.

"We feel fortunate to have an individual like Steve as our volunteer assistant," UD Head Coach Jim Sherman said. "He brings a great knowledge of college baseball to our program. Steve was one of the best first basemen in Delaware history and he is an asset that will be helpful in the development of our younger players."

Harden excelled as a first baseman and a pitcher for the Blue Hens from 2000-2003. A .282 career hitter, he hit 33 home runs and drove in 159 runs while at UD and ranks in the top 10 in school history in games played, at-bats, home runs and RBI. He held the record for career games played until the 2006 season, when Todd Davison established a new mark of 222. As a pitcher, Harden was 2-0 with seven saves and a 2.47 earned run average while striking out 44 in 29.1 innings. He is tied for fourth on UD's career saves list.
Harden was named honorable mention Louisville Slugger Freshman All-America in 2000, and was named to the America East Conference all-tournament team as the Hens captured the conference championship in 2001.

Harden spent the last three seasons as an assistant baseball coach at St. Mark's High School, which won the Delaware state championship in both 2004 and 2005. Harden's younger brother Dave was a member of the UD baseball team from 2002-05 and his youngest brother Matt, currently a senior at St. Mark's, is a member of the Hens' 2008 recruiting class.

After graduating from UD in 2003, Harden earned a master's degree in education from Wilmington College. He teaches driver's education and safety at Brandywine High School and is married to Jennifer Lobley, a three-year member of the UD women's soccer team who is now a math teacher at A.I. du Pont High School.
E-mail this article
Subscribe to UDaily