UD launches Coastal Community Enhancement Initiative; RFP available to UD researchers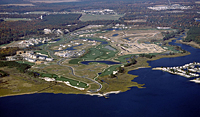 This photo of southern Delaware was taken Nov. 10 above Indian River Bay.
5:04 p.m., Dec. 8, 2006--The University of Delaware is launching a new program to work with the state's coastal communities in Sussex County to preserve their quality of life in the face of rapid population growth.
Funded by a $300,000 grant from the state of Delaware, UD's new Coastal Community Enhancement Initiative will link University expertise with communities and citizens in Sussex County to help develop effective policies and programs that balance growth with consideration for the natural resources needed to sustain an area's population, from clean water to open space.
Three UD colleges and their affiliated programs--all with activities under way related to community and economic development in Sussex County--are coordinating the initiative. They include the College of Agriculture and Natural Resources and the Cooperative Extension Service; the College of Human Services, Education and Public Policy and the Institute for Public Administration; and the College of Marine and Earth Studies and the Delaware Sea Grant College Program.
From 1990-2000, the population of Delaware's southernmost county increased by more than 38 percent, to almost 157,000 residents, with the most growth occurring along the shores of the Atlantic Ocean and the state's Inland Bays, where the population doubled. In the next 25 years, the county's population is predicted to increase by 62 percent, to almost 255,000 people, according to the Delaware Population Consortium.
"Sussex County supports both a major beach tourism industry attracting over 5 million visitors a year, as well as a vital agricultural industry, with poultry and major crops such as soybeans and corn as the leading commodities," James Falk, director of the Delaware Sea Grant Marine Advisory Service based in the UD College of Marine and Earth Studies, said.
"However, change, particularly rapid and substantial change can have significant environmental impacts and can potentially alter residents' quality of life. Issues such as traffic congestion, degraded water quality and loss of farmland are serious issues that communities need to address," Falk noted.
"This effort is designed to help citizens and public officials implement sustainable development policies by providing them with practical training in land-use planning, as well as research-based information on growth issues," he said.
Falk is on the steering committee for the effort, along with Bill McGowan from the College of Agriculture and Natural Resources, and Bernard Dworsky from the College of Human Services, Education and Public Policy.
The new program already has initiated several major projects to address growth issues in Sussex County and provide recommendations for future action, including a "build-out" model created with Geographic Information System (GIS) technology that will enable users to project, analyze and visualize growth scenarios in the county to 2030.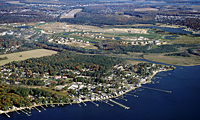 This photo also was taken Nov. 10 over Indian River Bay.

Additionally, graduate students Alissa Bierma and Erik Hopkins, who are both working on master's degrees at UD's College of Human Services, Education and Public Policy, are analyzing land-use ordinances from other coastal counties in the United States and assessing their potential for application to Sussex County.

Graduate and undergraduate students will play an essential role in the program's research and outreach mission through research assistantships, service learning opportunities, internships and summer scholar programs, according to Falk.

"The extension and outreach components of each of our UD colleges work closely with southern Delaware communities on a variety of issues," he noted. "Students will be encouraged to learn about and assist with these efforts, hands-on, working alongside agents and specialists in the field."

With the expertise of UD researchers, the committee also hopes to complete an infrastructure capacity analysis to determine the highways, water and sewer services, and other utilities needed to support Sussex County's projected growth over the next 25 years, Falk said.

Currently, the new initiative is soliciting proposals from UD researchers for projects that focus on five major themes: economic valuation studies, disaster-resilient communities, growth trends in Sussex County, infrastructure needs in Sussex County and the impact of development on environmental, cultural and historical resources.

Funding for the research projects will range from $25,000 to $45,000 per proposal, and two to four proposals are expected to be funded. The deadline for proposal submission is Friday, Jan. 12. UD researchers can download the request for proposals at [www.ocean.udel.edu/seagrant/CoastalCommunityRFP.pdf].

A coastal community development specialist also will be hired for the new program early in 2007. The position will plan, develop and implement an outreach education program and work with local community leaders, developers and others in the protection of coastal natural resources while still allowing for economic growth.

In addition to the program's on-the-ground extension and outreach efforts, a web site will be developed to serve as a clearinghouse for information that planners, policymakers and citizens can use to address coastal community planning issues.

For more information, contact any of the new initiative's steering committee members: Falk [jfalk@udel.edu] at (302) 645-4235; McGowan [billmcg@udel.edu] at (302) 856-7303; or Dworsky [bdworsky@udel.edu] at (302) 831-8710.

Article by Tracey Bryant
Photos by Bob Bowden
E-mail this article
Subscribe to UDaily
Subscribe to crime alert e-mail notification