3 UD students develop Irish basketball event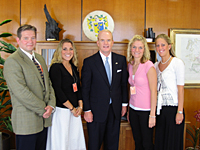 Matt Robinson, UD associate professor of health, nutrition and exercise sciences, senior Emmy Schaaf, James C. Kenny, U.S. ambassador to Ireland, senior Lauren Carrigan and senior Megan Hager
9:52 a.m., Aug. 1, 2006--Three University of Delaware sport management students are spending their summer in Dublin to help develop youth programs for Ireland's national basketball federation.
UD seniors Megan Hager, Emmy Schaaf and Lauren Carrigan are working with Basketball Ireland and the private firm XYNX, which started "Street Ball Ireland," to plan and carry out a two-day basketball tournament Aug. 5-6 to promote cross-cultural relationships within Ireland.
"Our goal is to bring people of different nationalities and backgrounds together in a competitive atmosphere through the medium of sport," Hager, who was an attack on the Fightin' Blue Hens women's lacrosse team the past four seasons, said.
Schaaf and Carrigan, who also competed for the UD women's lacrosse team, said the event will be held in Dublin city center at an outdoor basketball facility. Activities on Saturday, Aug. 5, will be geared towards children ages 10-16 and will include instruction, drills, games and scrimmages coached by players from the Irish SuperLeague, the top competitive level in that nation.
Activities on Sunday, Aug. 6, will include a round-robin tournament for adults older than 16, and both days will include food, prizes and entertainment such as a slam-dunk contest, exhibitions, dancing and martial arts.
In preparing for the event, the students did some market research to gauge Irish interest in basketball. "We wanted to find out what level of interest people would have in our event so we created a survey for people to fill out about how they feel about basketball compared to other Irish sports," Carrigan said.
The students said the switch from lacrosse to basketball has not been difficult. "The three of us have all played lacrosse through high school and at Delaware and that is our first love," Schaaf said. "However, being athletes we are interested in all sports at all levels. We are majors in the sport management program and are able to use what we have learned through our course work and practical experiences, along with our love for sport, to hopefully run a successful event."
Carrigan, who like her colleagues is of Irish descent, said the opportunity to study abroad has been an important part of their education. "This experience has not only been fun and exciting for us, but has also been a learning experience in which we have gotten the opportunity to take what we have learned throughout the past four years and have been able to apply it in practical situations," she said. "It is very rewarding to feel confident in the knowledge and skills that we have obtained, and to feel competent enough to take control in a leadership position."
Plus, they have found life in Ireland inspiring. "Ireland is great," Hager said. "It is a beautiful country, and Dublin is an awesome city."
"It is very easy to get around and there is always something to do," Schaaf said, "not to mention all the historical things to see, such as the Four Courts, Dublin Castle, St. Patrick's Cathedral, Christ Church Cathedral, Ha'penny Bridge, St. Stephens Green, Trinity College and the Guinness Storehouse. Needless to say, we are definitely keeping ourselves busy."
Carrigan said they have found the lifestyle "much more laid back than we are used to in the States," adding, "Nobody is ever in a rush to do anything, and people in general have lovely disposition. Everyone is extremely friendly and always willing to lend a helping hand."
One of the first things the UD students had to get used to is the fact that cars are driven on the left-hand side of the road, unlike in America. "In the first couple of weeks, there were several times when we nearly got hit by looking the wrong direction when crossing the street," Hager said.
As well, they had to conquer the Dublin bus system, at least once riding around for hours in the wrong direction.
For the most part, the students said, the food is pretty similar to that found at home. "What is different is what time they eat and how much they eat for each meal," Schaaf said. "For example, here they eat a very large, heavy, breakfast. We have experienced something called an Irish breakfast which consists of pork sausages, bacon rashers, toast, eggs, black pudding and white pudding, all accompanied by tea or coffee. They also sometimes add beans on the side, as well. Lunch is usually later in the afternoon, followed by a late dinner that is usually very light."
A major difference between Ireland and the U.S. can be found in the sports industry, Carrigan said, noting the three most popular sports in Ireland are hurling, an outdoor ball and stick game which is somewhat reminiscent of lacrosse, Gaelic football and rugby.
"The highest-level players do not get paid," Carrigan said. "We were able to attend a Gaelic football match and after the game the players showed up to the restaurant we were at, and they were signing autographs and talking to everyone. They do all this for free. It was much different from what you would see from the paid NFL or NBA players."
While the laid back nature of the Irish has been well appreciated, the students said it has led to a few culture clashes in the workplace. "We had flyers and posters that needed to get done in an ample amount of time before the August event, and we had some struggles getting all information from XYNX in order to move ahead with the marketing," Hager said. "However, this has taught us that we can't always worry about things that are simply out of our control."
Schaaf said they hope their Irish co-workers "learn from us the fact that it's not a bad thing to always be moving and looking for things to do. We have heard numerous times that we just need to relax. Hopefully they will learn that sometimes it's better to get done what you need to get done and then relax once your to-do list is all checked off."
"I think, in general, that living and working in another country and experiencing another culture firsthand has helped all of us to be more open-minded and appreciative of our differences," Carrigan said. "It has also helped to shape our worldviews and enhance personal growth."
"It has prepared us for our future career endeavors," Hager added. "We are over here running an event pretty much by ourselves. There aren't too many senior graduates who are get this amazing opportunity."
All three cited the support of Sue Serra, coordinator in the Office of Service Learning, and Matt Robinson, associate professor of health, nutrition and exercise sciences and director of UD's sport management program. "They have both done a great job of keeping in contact with us and making sure everything with living and the tournament is running smoothly," Schaaf said. "We all feel so fortunate to have this opportunity and really want to thank them for giving us this chance to not only grow as individuals, but also to hopefully make a difference in Irish sport, specifically basketball, and culture."
Robinson said the opportunity to work with Basketball Ireland was the result of a special relationship UD has developed with the Turkish basketball federation through a State Department grant. During an event in Istanbul in June 2005, he met a representative of the Irish federation and they developed this summer project.
"These are real good kids," Robinson said of Hager, Schaaf and Carrigan, "and I believe this has been a great learning experience for them."
Article by Neil Thomas
E-mail this article
Subscribe to UDaily
Subscribe to crime alert e-mail notification