22 Italian skaters training at UD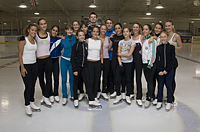 The visiting Italian skaters range in age from 10-22 years.
1:43 p.m., Aug. 1, 2006--There are more ice skaters from Italy training at the University of Delaware's Ice Skating Science Development Center than ever this summer, and they are staying longer this year.
Visiting UD with internationally recognized Italian figure skating coach Franca Bianconi are 22 skaters training under UD skating coach Jeff DiGregorio, who has coached national, international and world-class skaters. During the group's first visit to UD in 2004, 12 skaters participated in a three-week training program.
"The fact that we are back once again means that our experience with the program here is working," Bianconi said. "All of the skaters who were here with us last year had good results and were successful thanks to all the coaches who worked with them."
Bianconi and DiGregorio met in the late 1970s while training for the 1980 Winter Olympics in Lake Placid, N.Y.
"Our friendship goes way back, and it's nice to have Franca and her skaters here again," DiGregorio said. "Because there are so many skaters here from Italy this year we incorporated a team of UD coaches to work with the group."
University of Delaware Ice Skating Science Development Center coaches working with the Italian skaters include Ron Ludington, the center's director and a member of the Figure Skating Hall of Fame, as well as Barbara Roles-Williams, Tracey Poletis, Sasha Kirsanov, Scott Gregory and Angela Cardello.
"The training here is intense, and the kids really have to wake up and move. This helps them to become better skaters," Bianconi said. "I really like the team effort."
Ranging in age from 10-22 years, the visiting Italian skaters include Bianconi's daughter Victoria Manni, Paolo Bacchini and Marcella De Trovato, who skated to second place (senior) and first place (junior) respectively, in Italian national championship competition.
"The kids really like being here," Bianconi said. "They feel that they have everything they need here."
Ludington said that having skaters from other countries benefits both the visitors and those who train and coach at UD on a regular basis.
"It's always a great thing when the skaters from Italy come here," Ludington said. "They come here for a change of environment. Their coaches work with our coaches and then both the skaters and the coaches go home with the knowledge of the things they picked up here."
The videotaping of practice performances and off-ice physical training both are part of an overall program that includes all aspects of the sport, including freestyle, moves in the field, pairs, dance and choreography, Ludington said.
"Our kids get to be with the Italian skaters, and everybody benefits because young people improve just by being on the ice," Ludington said. "The program also shows the dedication of their coaches and our coaches, and the kids can see that their program is working. They know that they are going to grow as skaters."
This summer's Italian guests come from places like Sesto San Giovanni, a city near Milan, Zanica, in northern Italy, and Torino, home of the 2006 Olympic Winter Games.
"The Winter Games were very well-conducted, and they went very well," Bianconi said. "There was plenty of Italian taste and fashion on display. Thanks to the Winter Games, ice skating has become more popular back home."
Another perk for the visiting Italian skaters is the opportunity to meet and share ice time with current world champion Kimmie Meissner. A member of the UD Figure Skating Club, Meissner took home top honors at the International Skating Union's World Figure Skating Championship in Calgary on March 25.
"The kids saw Kimmie win the world championship on television," Bianconi said. "They were very excited about meeting her."
The Italian skaters will get to spend more time with Meissner and the UD coaching staff because an extra week has been added to the group's usual three-week stay at UD, Bianconi said.
"We have more people, and we felt we needed more time, so we are staying here for a month," Bianconi said. "The normal process of training takes about three weeks, so we figured that a fourth week would let the skaters see for themselves just how far they had progressed."
Training at UD during the summer also means more time on the ice than most of the skaters would get back home during the school year, Bianconi said.
"What is really great about coming here for the summer is that they are on the ice all day," Bianconi said. "Back home, when school is in, time on the ice is limited because the skaters also have to attend classes and do homework after school."
New for the Italian skaters this year is a pairs team that includes Ondrey Hotarek, of the Czech Republic, and Laura Magitteri, of Milan, Bianconi said.
"We have not had a pairs team for a long time," Bianconi said. "When we were participating in a competition in Oberstdorf, Germany, I spread the word that we were looking for a male pairs skater. Ondrey likes being with us, and he welcomes it as a great opportunity."
For Bianconi, a memorable part of this year's trip to America was revisiting Lake Placid, where she competed as a member of the Italian national team in 1980.
"Some things have changed and there are more buildings there than in 1980, but it was very nice to visit the museum that contains all the medals and jackets worn by the participants," Bainconi said. "It was just very special returning to Lake Placid after all these years. You can still feel the Olympic spirit there."
Article by Jerry Rhodes
Photo by Kathy F. Atkinson
E-mail this article
Subscribe to UDaily
Subscribe to crime alert e-mail notification