UDaily is produced by the Office of Public Relations
150 South College Ave.
Newark, DE 19716-2701
(302) 831-2791

UD researchers identify gene that protects corn from costly disease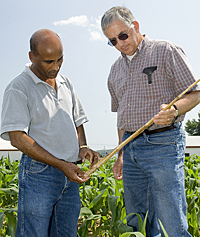 James A. Hawk (right), professor of plant and soil sciences, and research associate Teclemariam Weldekidan examine a diseased corn stalk. They have developed a strain of corn that is resistant to a fungus that costs American farmers an estimated $750 million a year.
2:19 p.m., Aug. 9, 2006--Completing a long and painstaking process of genetic mapping and field trials, University of Delaware researchers have discovered a gene that can provide corn with much-needed resistance to the fungus Colletotrichum graminicola, which causes the devastating disease anthracnose stalk rot. This disease costs American farmers an estimated $750 million per year.
James A. Hawk, professor of plant and soil sciences, has been working for the last 25 years in his "outdoor laboratory"--corn research plots on the College of Agriculture and Natural Resources' Agricultural Experiment Station Farm on the UD campus in Newark--to develop and investigate the disease-resistant lines.
Hawk, who directs UD's Corn Breeding and Genetics Program in the agriculture college, praises the efforts of Tecle Weldekidan, a UD scientist with a plant pathology background, and Travis Frey, a former student who made the project his doctoral dissertation, for their work on the fine-mapping and cloning of the gene. Many high school and undergraduate students, working as corn breeding research assistants, also assisted on the project over the years.
The project started in 1980 as it became apparent that anthracnose stalk rot, or ASR, was becoming a major problem across the United States. It is currently estimated that more than 37.5 million of the 75-80 million U.S. corn acreage is affected by ASR, with average annual yield losses of 6.6 percent. For those farms with ASR infected corn that take a direct hit from a strong storm, the loss of grain can be total. ASR is the most prevalent stalk rot disease in the central corn belt region and recently has spread to the northern and western corn belt regions.
The increased incidence of ASR is thought to be associated with increased use of no-till agricultural practices that are utilized to reduce soil erosion and fuel costs, Hawk says. Yield losses due to ASR are the result of reduced ear size, premature plant death and stalk breakage of the plant below the ear (called lodging), all of which decrease harvestable yield. ASR typically rots corn stalks from the bottom, causing the stalks to break over or ears to fall off completely, clogging the cleanly planted rows and making the harvest much more difficult. The disease also can kill the plant from the top down, a trait called top dieback, which results in premature plant death and reduced yields.
ASR resistance is a very important trait, both in Delaware, where corn is essential to the billion-dollar poultry industry, and around the world, Hawk says.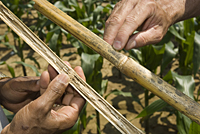 Corn without resistance to the fungus Colletotrichum graminicola, can be attacked by the devastating disease anthracnose stalk rot.

Based on reports of ASR resistance in a Mississippi line, Hawk obtained seed of the line. It is highly resistant to ASR but quite unadapted to growing conditions in more northern latitudes due to its later maturity, he says. Through inoculation with the fungus that causes ASR and successive backcrossing, Hawk and Weldekidan were able to move the gene for resistance from the Mississippi line into an adapted but ASR-susceptible Delaware line. After five backcrosses, they had developed a nearly identical (about 99 percent genetically similar) version of the original, susceptible Delaware line, but the new line was highly resistant to ASR.

The similar (near-isogenic) lines provided the basis for high-resolution genetic mapping and the investigation of the inheritance of ASR resistance. The precise fine mapping narrowed the ASR-resistant region to a small segment on chromosome 4. Analysis of DNA sequences in the ASR region identified a gene that had similarity to a putative disease-resistant gene in rice. Further studies confirmed that this was indeed the gene for ASR resistance, which was then named Rcg1, for Resistance to Colletotrichum graminicola.

"When we found it and confirmed that it was the gene for the ASR resistance, it was very exciting," Hawk says. "As far as we know, this is the first map-based cloning of a quantitative trait locus for disease resistance in maize."

UD researchers also used the near-isogenic lines to determine how the ASR resistance would hold up in a number of corn hybrids. The news has been good. "So far, it works well in every hybrid we have tried," Hawk says. "When we saw the difference in the fields, that got everyone excited."

The differences in the top dieback trait are particularly striking between the resistant and susceptible isoline hybrids, he says, with up to a 90 percent reduction in top dieback in hybrids containing Rcg1.

The UD work was completed in collaboration with the crop genetics and disease resistance groups of the DuPont Co. It is expected that the first commercial U.S. hybrids will be introduced in 2008 by Pioneer Hi-Bred International, a DuPont company, with potential savings of hundreds of millions of dollars for American farmers. The discovery of the Rcg1 gene and utilization of molecular markers will greatly facilitate the rapid and precise transfer of Rcg1 into new elite corn lines, Hawk says.

Hawk, who grew up on a farm in northwest Ohio, received his bachelor's and master's degrees in biology from Purdue University and his doctorate in plant breeding from Cornell University. He has been on the faculty at UD since 1978.

Article by Neil Thomas
Photos by Kathy F. Atkinson
E-mail this article
Subscribe to UDaily
Subscribe to crime alert e-mail notification