UDaily is produced by the Office of Public Relations
150 South College Ave.
Newark, DE 19716-2701
(302) 831-2791

Arrival Survival Team speeds campus move-in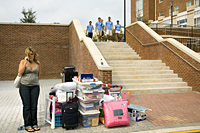 Members of the Arrival Survival Team on their way to assist a UD student as she moves in on Saturday.

Click here for slideshow
1:37 p.m., Aug. 29, 2006--The University of Delaware's Class of 2010 came in cars, vans, trucks and SUVs, freshmen and their families ready for a full Saturday of heavy lifting, traffic jams and bottlenecks.
They found none of that, partially because of good planning but mostly through the efforts of UD's Department of Public Safety and the Arrival Survival Team--students, staff, community members and alumni who volunteered their time to help move in 3,090 freshmen.
This e-mail from a grateful parent reflects the collective experience on the UD campus that day. "I brought my daughter to her dorm at Dickinson A. I had anticipated a backbreaking day, as girls tend to bring a lot more stuff than guys, and her room was on the third floor," Janice Maurer, mother of Kirsten Diegel of Warrington, Pa., wrote. "I was already exhausted by all the work and worry put into getting ready for move-in day. When I pulled into the parking lot and was told that I had 30 minutes, I really thought they were pushing it. I parked, got out of my car and was immediately approached by seven cheerful guys. I am not exaggerating when I tell you that within 15 minutes, maybe less, I walked up to my daughter's room carrying only my handbag. Not only did they carry everything up to the room, they were kind enough to un-bunk the beds for us. The Arrival Survival Team is absolutely AWESOME!! Thank you so much for a great job."
Staggered arrival times, 30 minutes to unload then remove each vehicle, and Arrival Survival Team members to carry suitcases, duffel bags, backpacks, computers, microwaves, bedding and boxes into buildings kept traffic flowing--both on the streets and in buildings.
Cathy Skelley, assistant director of Residence Life and coordinator of move-in day, gave all the credit to public safety and the Arrival Survival Team. "Everything is going very smoothly, partly because of good planning, but mostly because of the public safety team and the staff members, students, community members and alumni who are the Arrival Survival Team," she said Saturday.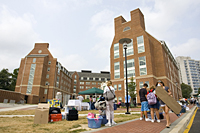 Students move in to residence halls on the Laird Campus.

This was Newark Mayor Vance Funk's third year helping students as part of the team. While directing traffic at Dickinson, he said, "I love greeting the students when they arrive in Newark. It's important that they know the mayor and council members are really glad they are here. Students bring an energy to Newark that you can't find anywhere else in Delaware."

Council member Stu Markum helped carry things into Rodney and Dickinson. He and his wife both graduated from UD. He said he was helping because he wants students and families to have a good impression of the city. "It's a nice way to meet people, and they appreciate the help."

Members of the UD soccer team were on hand at Rodney/Dickinson for the first of three shifts. "We're here to help make freshman move-in easier," Eric Shadoff said. His teammate Anthony Pezza agreed. "I think it's a great idea. It takes a load off the parents and leaves them feeling good about UD," Pezza said.

Meanwhile, freshmen moving into Thomas McKean Hall, one of two new residence halls on the Laird Campus, were delighted with the way the move was going and thrilled with their new spacious rooms.

"It's beautiful, they're huge and what a nice view of the volleyball courts," Constanza Pizzano said. She and her parents, Arturo and Lourdis, from Montgomery, N.J., said they were thrilled with her single bedroom and adjoining bath and shower that she'll share with Katie Keeports, from Newark. "I think it's a really lucky break to be the first to live in my room," Keeports said.

Margaret Cahoon, of Maynard, Mass., said she was happy with the move-in and impressed with the new residence hall. "I think they're great. These rooms are bigger than graduate student housing at the University of Michigan in Ann Arbor."

Each room comes with a wardrobe, dresser, desk and chair, bed, four outlets and Internet connections.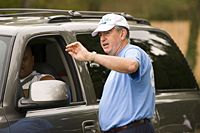 Newark Mayor Vance Funk directs traffic.

"I love it. I knew it was a new dorm, but from the horror stories I've heard about freshmen dorms, I never expected this," Timmy Marino of Baltimore said.

Problems were few and far between on East/Central campus as well. Students moving into Thompson, Russell and Lane halls had plenty of help and no bottlenecks.

Honors student Erin Sullivan and her mother. Tre, from Wilmington, were surprised and delighted the way the day went. "Everything's been a nice surprise. The weather was great and moving in was easy. It was a very pleasant experience," she said.

Article by Barbara Garrison
Photos by Kevin Quinlan
E-mail this article
Subscribe to UDaily
Subscribe to crime alert e-mail notification