Futurists wary of terrorism's effects on tourism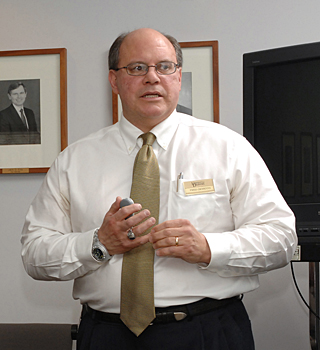 3:51 p.m., April 20, 2007--Fred DeMicco, ARAMARK Chair of Hotel, Restaurant And Institutional Management (HRIM) and chairperson of the department, and Marvin J. Cetron, president of Forecasting International, a trend-spotting firm, spoke about the future of terrorism and the response of the hotel industry in their talk, "From Armani to Armor: Hotels and Travel in an Age of Uncertainty," Thursday afternoon, April 19, in 203 Munroe Hall.
DeMicco said the hotel industry has regained the business it lost right after 9/11, but large chains like Marriott remain concerned about future attacks. Future terrorists will most likely attack soft targets such as hotels, restaurants and trains, DeMicco said, because of easier access and unregulated open spaces.
DeMicco said hotels also are especially wary of contaminants, such as E. coli, in their restaurants. "It's not only explosives but also bioterrorism, which is a big problem," DeMicco said. "There is a lot of concern in our restaurant industry for food safety."
DeMicco said hotel facilities also are symbols of American success, which is another reason they are targeted. He said terrorist attacks are projected to increase by 145 in 2010.
Cetron, who is a member of HRIM's advisory board, said his company studies topics such as the stability of certain countries and conducts research to discover indications of future problems. His clients range from small businesses to presidential administrations, and while the topics range, as well, Certon said his business is often able to detect problems before they happen.
"When you start to take a look at the indicators, you can see the problem before the fact," Cetron said. "We're in for change, and change is happening faster than before."
Cetron said the accessibility of targets such as ones in the hospitality industry allows terrorists to attack three and four places at a time. The terrorists groups also are able to operate under different names and in different cells, making them hard to track. "Terrorism is easy," he said. "It doesn't take a mental genius. You can see the problem we have."
Britain, France and the United States are the top three targets for terrorists, Certon said, and the danger will increase if terrorist groups continue to amass weapons. "Terrorist groups will have nuclear weapons," he said. "We expect them to be all over the world and in the United States in the next few years, if terrorists don't already have them today."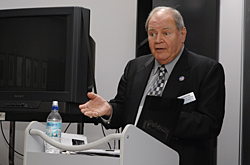 Using a computer presentation, DeMicco explained the consequences of the Marriott hotel bombing in Jakarta in August 2003. Members of an al-Qaeda-affiliated group drove a van filled with explosives through the front of the hotel, and the hotel's design, with its large, glass windows and columns, did not protect its occupants, DeMicco said.
DeMicco said some hotels are now being designed to withstand attacks using products such as Kevlar, a synthetic fiber from DuPont that can block bullets. DeMicco said Kevlar can be wrapped around beams and eventually placed in glass to withstand a variety of forces. "It's good not only for terrorist attacks but also for natural disasters," he said.
DeMicco said hotels also are busy developing emergency action plans and collecting information on terrorist attacks.
Certron said more than a dozen attacks have been stopped in the United States before they happened because of the use of informants. While he acknowledges that the Patriot Act can be intrusive, Cetron said there are benefits. "Privacy is a two-edged sword," he said. "It can help you and it can hurt you. The Patriot Act can do damage. But on the whole, I'd rather it do some damage and help people's lives."
Part of the Risk! Interdisciplinary Seminar Series, the talk was sponsored by UD's Center for Material Culture Studies.
Article by Julia Parmley, AS '07
Photos by Kathy Atkinson