UD women's basketball team honored in Dover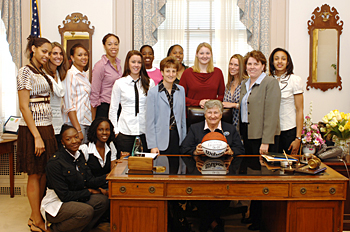 5:25 p.m., April 4, 2007--The University of Delaware Fightin' Blue Hens women's basketball team enjoyed a stellar season for 2006-07, going 26-5 enroute to an at-large berth in the NCAA Division I championship.
On Tuesday, April 3, top state officials and lawmakers recognized the team's success by extending a warm welcome to the Blue Hens and Head Coach Tina Martin and assistant coach Jeanine Radice, in Legislative Hall in Dover.
The official recognition began when the visitors from Newark presented Gov. Ruth Ann Minner with a basketball bearing the signatures of team members and coaches.
Besides praising the Blue Hens for representing the First State before a national television audience, Minner also expressed an interest in the academic careers team members had chosen as part of their UD undergraduate experience.
"You have all chosen careers and majors that are very valuable. I wish the very best for each one of you," Minner said. "Most of us wind up in public service in one way or another, and I look forward to having one of you follow in my footsteps one day."
The Blue Hens also were lauded in both houses of the Delaware General Assembly, where they were welcomed respectively by House Speaker Terry Spence and Lt. Gov. John Carney in his official capacity as president of the state senate.
Official recognition came in the form of House of Representatives 144th General Assembly House Concurrent Resolution No. 14, "Congratulating the 2006-07 University of Delaware Fightin' Blue Hens women's basketball team for their outstanding season and their second appearance in the NCAA tournament."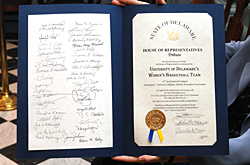 Leading the Fightin' Blue Hens this season was Tyresa Smith, who was named the Colonial Athletic Association's defensive player of the year and First team All-CAA. Senior forward Chrissy Fisher earned third team All-CAA honors, while junior guard Kyle DeHaven joined Smith on the CAA All-Defensive team. Delaware guards Alena Koshansky and Jamie Mundy were named honorable mention CAA All-Academic.
The resolution recognized the talents and efforts of Smith, Fisher, DeHaven, Mundy, Koshansky, and that of teammates Melissa Czorniewy, Brittany Bell, Farrah Ferguson, Kristina Gineitis, Sha'Ron Harrison, Ethlynne Thomas, Courtney Irving, Corinthia Benison, and Arlene Jenkins.
Also honored was Head Coach Martin, who the resolution stated, "has led the Blue Hens to 20 or more wins seven times in the last eight seasons, and to six post-season appearances in the last seven campaigns." The resolution also recognized Martin's staff, including associate head coach Jeanine Radice and assistant coaches Melissa Dymek and Tiara Malcolm.
"It's was amazing to see the legislators in action and for them to invite our team in their chambers. It was quite an honor for us to be up there in front of everybody in the House and the Senate," Martin said. "This is a very prestigious honor for our women's basketball program at UD."
Article by Jerry Rhodes
Photos by Kathy Atkinson