Three UD students win Goldwater Scholarships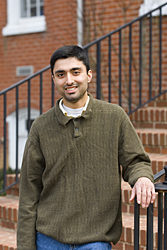 5 p.m., April 17, 2007--Three University of Delaware students--Vivek Desai, a junior cellular and molecular biology and philosophy double major with minors in biochemistry, religious studies and anthropology; Brian Grindel, a junior biology major; and Patrick Knerr, a junior biochemistry major with biology and philosophy minors--have been awarded 2007-08 academic year scholarships by the Barry M. Goldwater Scholarship and Excellence in Education Foundation.
The scholarship program, honoring the late U.S. Sen. Barry M. Goldwater of Arizona, is designed to encourage outstanding students to pursue careers in the fields of mathematics, the natural sciences and engineering. The Goldwater Scholarship, the premier undergraduate award of its type in these fields, covers the cost of tuition, fees, books and room and board up to $7,500 per year.
Desai, from Newark, who has been conducting research in the molecular details of secondary cataract problems that a high percentage of people are facing in many less developed countries, said the scholarship will heighten his confidence and interest in his pursuit of a career as a scientific researcher.
"I am putting together a paper on that topic, and I hope it will be published during my senior year," Desai said. "I would have to thank my research advisor, Melinda Duncan, associate professor of biological sciences, for allowing me do research in her lab from my freshman year and then helping me at each step as the project progressed."
Grindel, from Claymont, who has been studying a protein called ERp57 and its expression and regulation in hepatocellular carcinoma, commonly known as liver cancer, said the scholarship will boost his plans for graduate school and a career as a researcher at a university. His adviser is Mary Farach-Carson, professor of biological sciences.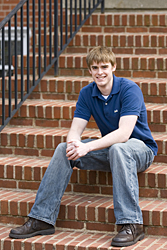 "I recently determined ERp57 was largely down-regulated in liver cancer versus normal tissue. Also, for the past few months I have been trying to express ERp57 in liver cancer cells using a GFP (green fluorescent protein) fused to ERp57 so I can easily track its location and movement after treatments," Grindel said.
"The Goldwater has certainly rooted more firmly my desires to continue my research career in graduate school, pursuing a doctorate in organic or bioorganic chemistry and to go on to run my own research lab," Knerr, from Emmaus, Pa., said.
Knerr, whose adviser is Joel Schneider, associate professor of chemistry and biochemistry, has been conducting research in the design of metal-triggered peptide hydrogels for use in biomedical applications, such as tissue engineering. He is planning to give presentations of his work at the American Society for Biochemistry and Molecular Biology conference in Washington, D.C., at the American Peptide Symposium in Montreal and at the Beckman Symposium in Newport Beach, Calif.
"The Goldwater scholarship acknowledges not only my own efforts, but those of many people around me. It's a great testament to the efforts of UD's Undergraduate Research Program and the chemistry and biology departments in providing real research opportunities to undergraduates," Knerr said.
This year's Goldwater Scholars were selected on the basis of academic merit from a field of 1,110 mathematics, science and engineering students who are nominated by the faculties of colleges and universities nationwide.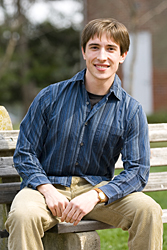 Goldwater Scholars' impressive academic qualifications have garnered the attention of prestigious postgraduate fellowship programs. Recent Goldwater Scholars have been awarded 69 Rhodes Scholarships (six of the 32 awarded in the United States in 2006), 72 Marshall Awards (six of the 44 awarded in the United States in 2006) and numerous other distinguished fellowships.
Article by Martin Mbugua
Photos by Kevin Quinlan