Art history prof elected to British learned society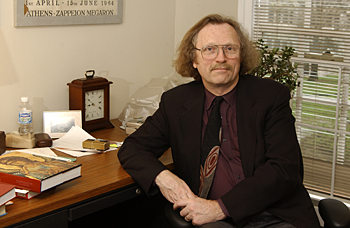 5:37 p.m., April 25, 2007--Lawrence Nees, professor of art history, has been elected as a Fellow of the Society of Antiquaries (FSA) of London. To qualify for this honor, a fellow "shall be excelling in the knowledge of antiquities and the history of this and other nations" and be "desirous to promote the honor, business and emoluments of the society." Current fellows make nominations, and the membership votes on them by secret ballot.
"It is nice recognition, and I am very pleased to have been elected as a fellow," Nees said. He will be formally inducted into the society on his next visit to London.
The Society of Antiquaries of London is one of the United Kingdom's oldest learned societies, holding its first official meeting in 1707 and receiving its Royal Charter in 1751. Its goals are "the encouragement, advancement and furtherance of the study and knowledge of the antiquities and history of this and other countries." The society is located at Burlington House in Piccadilly and has a major archeology research library.
A graduate of the University of Chicago, Nees received his master's and doctoral degrees from Harvard University and joined the UD faculty in 1978. His research focuses on the art of the Early Middle Ages in northwestern Europe and also the Mediterranean and Byzantine areas. He is the author of The Gundohinus Gospels; From Justinian to Charlemagne: European Art A.D. 565-787; A Tainted Mantle: Hercules and the Classical Tradition at the Carolingian Court; and Early Medieval Art 300-1000. He currently is working on books on Frankish manuscripts and illuminated manuscripts and also is researching the earliest mosque in Jerusalem, built before the Dome of the Rock.
Nees has received numerous fellowships and honors, including the John Simon Guggenheim Memorial Foundation Fellowship in 2001, a visiting fellowship to Princeton University in 2002-03 and a Berlin Prize Fellowship at the American Academy in Berlin in 2004. At UD he received the Excellence in Teaching award in 2003.
Article by Sue Moncure
Photo by Kathy Atkinson