Darfur vigil unites community in support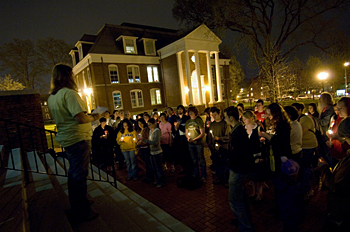 2:58 p.m., April 27, 2007--The candlelight vigil for victims of Darfur, held Wednesday evening, April 25, on the steps of Old College, drew more than 50 UD students, faculty and concerned citizens from as far away as Sussex County and Maryland, according to UD student organizers Samantha Brix and Adina Freedman.
"Turnout was better than expected," Brix, a freshman communication major from Glen Head, N.Y., said. "Most of the students there were members of STAND, and a lot of the people who attended were adults from the Newark community, but some [participants] had driven from as far as 45 minutes away."
The event, which was sponsored by STAND, UD's Student Anti-Genocide Coalition and the regional chapter of the Save Darfur Coalition, was led by Dave Blackwell, leader of Blue Hens for Christ; Bruce Cooke, leader of UD's Intervarsity Fellowship; Rev. Donna McNiel of Episcopal Ministry at UD; Stuart Jay Kaufman, UD professor of political science and international relations, Ross Kleinstuber, UD sociology graduate student, and Josh Snyder, rabbinic intern at UD's Kristol Center for Jewish Life. UD's a cappella group, the D Sharps, provided the music.
The vigil, which was held to offer hope and guidance to the UD community and to remember the individuals lost in the ongoing violence, marked UD's contribution to the "Global Days for Darfur," a global consciousness-raising effort of marches, vigils and rallies happening around the world from April 23-30.
"Vigils like these are valuable because we all need to be more aware that genocide is happening," Freedman, a freshman sociology major from Maple Glen, Pa., said. "This allowed us to take time out of our lives to remember those killed."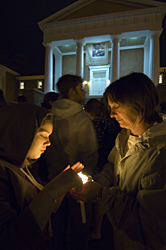 Brix agreed, adding that the individual toll of human life is staggering. "I think that when you can put individual faces to the masses of people being murdered, it really makes you aware of the suffering of the people," she said. "The people losing their lives are mothers and fathers and children and friends.
"There have been so many genocides in the 20th century, and now that we're in the 21st century, the fact that with all our progress we still can't prevent humans from killing humans is mind-boggling. I think the horror of this makes people want to take action."
To learn more about STAND, e-mail [hgampel@udel.edu].
Article by Becca Hutchinson
Photos by Jon Cox