PT patient bikes to the bay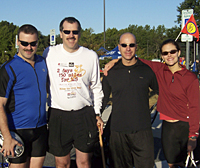 Bike to the Bay team members (from left): Dr. Michael Saulino of Moss Rehab, physical therapy patient Peter Stiles, and physical therapy grad students Marty Fontenot and Sarah Hingston.

12:17 p.m., Nov. 2, 2005--Peter Stiles' life changed in the course of a few seconds last February when a car accident left him with head trauma and injuries to his legs and back, but thanks to the help of UD's physical therapy clinic and his own determination to recover, he is making a remarkable comeback.

His determination is so strong, in fact, that he participated in the Delaware Multiple Sclerosis Bike to the Bay, a grueling bike ride that challenges even the most experienced cyclists. "The Bike to the Bay covers 76.1 miles, and that [last] one-tenth mile was the hardest part of the ride," Stiles said.

When Stiles first began bicycling on a stationary bike in the UD PT clinic, he was unable to hold his feet on the pedals. "Someone had to do it for me. It was a big step when I could pedal myself," he recalled.

Friends at Hockessin Baptist church surprised him with the gift of a stationary recumbent bike for his home, and Stiles began pedaling in earnest.

After mastering the stationary bike, the next step was a three-wheeled bike. Thanks to an equipment fund in the physical therapy department and the willingness of Wooden Wheels bike shop to provide a bike "at cost," Stiles got a bike, which belongs to the PT department but is on loan to him for as long as he needs it.

"The bike gave me freedom, and I increased my distance every day. My doctor at Moss Rehab, Michael Saulino, whom I met through a referral from Paul Mettler [associate professor of physical therapy at UD] was a cyclist and encouraged me to ride in the Bike to the Bay," Stiles said.

"Having a goal bigger than myself is important to me, it gives me something to push for," Stiles said.

Stiles worked his way up to 52 miles and then the big day came for Bike to the Bay.

The team of four--Stiles, Saulino and PT students Marty Fontenot and Sarah Hingston-- started out at 8 a.m. There were rest stops along the way, and they stopped at every other one in the morning. By afternoon, the ride was taking its toll.

"I stopped more frequently and for longer periods of time," Stiles said. The students and Saulino applied ice to his legs and knees and used electrical stimulators to help him keep going.

"I was amazed by their care for me," Stiles said.

Before sundown, Stiles and his companions finished the ride, and he was greeted by his wife and 9-year-old son. "It was a great experience, although I was really stiff the next day."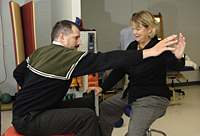 Patient Peter Stiles with his physical therapist, Cathy Ciolek, associate director of UD's Neurologic and Older Adult Physical Therapy Clinic

Stiles said he had hoped to meet the minimum of raising $200 for MS, but when the word got out, he ended up raising close to $2,000.

Darcy Reisman, assistant professor of physical therapy and academic director of the Neurologic and Older Adult Physical Therapy Clinic (NOA) has watched Stiles' progress. "Early in his care at the NOA clinic, he had a seizure and went to Christiana Hospital by ambulance. Stiles was hospitalized for nearly a month and then began his rehabilitation for another month, going from wheelchair to walker to crutches," she said.

"At that time, balance was a major problem and Peter had to use two crutches to walk. It was a time for celebration when he threw one crutch away," Reisman recalled.

Stiles had to relearn climbing stairs and getting from a sitting position to a standing position.

Cathy Ciolek, associate director of NOA, has been his physical therapist since last spring. "She has been my big encourager, and she really helped me prepare for the ride," Stiles said.

"I had just come from a conference where goal setting was a topic. I came back and thought a much shorter ride would be a good goal, but Peter was going for 76 miles so that became our goal to help him train," Ciolek said.

"Peter is an ideal patient, who not only works hard to recover but wants to give back to those who have helped him," Ciolek said. "He volunteers in the clinic, delivering items we need for therapy such as ice, picking up items after us. It's a win-win situation as he performs different kinds of tasks, which are good for his recovery, and we appreciate his help."

Billy Thompson, a physical therapy graduate student who works in the clinic as part of a course taught by Ciolek, concurs. "Peter is an inspiration to everyone--he is extremely motivated," Thompson said.

As Stiles' physical well-being has improved, so have his mental processes, although he still has major issues with math skills and memory. As part of his therapy, Stiles, who was vice president of sales for a residential home building company, also has volunteered to work with UD's Center for Disabilities Studies on fund-raising and marketing efforts, which dovetail with his previous experience. He has just begun working there and is adjusting to a business office atmosphere and also building endurance as he recovers.

Stiles' ultimate goal is to get back in the work force. But in the meantime, he said, "I'm thinking of doing a triathlon in the spring with students from the PT department. I want to learn to run again, and I would also like to get back to riding a two-wheeled bike."

Article by Sue Moncure
Physical therapy clinic photo by Kathy F. Atkinson
E-mail this article
To learn how to subscribe to UDaily, click here.