UDaily is produced by the Office of Public Relations
The Academy Building
105 East Main St.
Newark, DE 19716-2701
(302) 831-2791

Alum named NBA Mascot of the Year

2:12 p.m., Nov. 23, 2005--Clutch, a 7-foot-2-inch-tall bear and the Houston Rockets mascot, who is sometimes disguised as UD alumnus Bob Boudwin, was named the 2004-05 National Basketball Association (NBA) Mascot of the Year at the September annual NBA Mascot Conference in Salt Lake City. This is the first time in the nine-year history of the conference that an individual has been selected and honored as the top professional by fellow mascots in the league.

Boudwin got his start as a mascot, when he served as the first YoUDee to strut across campus during his undergraduate years at UD, and he was instrumental in establishing the flappable big bird's persona as the Fightin' Blue Hen mascot.

"I feel extremely honored to receive this award, because it comes from my fellow NBA mascot performers," Boudwin said. "There are many talented mascot performers, and these are the individuals who are largely responsible for innovation in sports entertainment. I feel lucky just to be considered among them."

The NBA award was presented to Boudwin by another UD alumnus, Dave Raymond, who had a successful career for many years as the first Philly Phanatic, the Philadelphia Phillies mascot, and came especially for the presentation.

"It was awesome!" Boudwin said. "I was totally surprised when Dave walked onto the court to present the trophy. I had no idea this was going to happen! Dave provided me with the inspiration to entertain sports fans in a costume."

Back on campus at the Fightin' Blue Hen Henhouse, Boudwin has donated his time and shared his award-winning talents with the current YoUDee team of performers, according to Sharon Harris, assistant director of the Office of Public Relations and mascot coordinator. "Bob has offered to coach mascots each summer and is planning to appear as Clutch at UD's last basketball game in February."

"Without the University of Delaware's support while I was YoUDee, I would not be a professional mascot, let alone be winning any awards," Boudwin said, especially thanking President David P. Roselle for "his vision of what a good mascot can do for a University" and the Office of Public Relations for its support.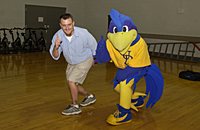 Bob Boudwin, BE '97, demonstrates the well-known YoUDee strut during a coaching session with the mascot team.

As Clutch, Boudwin makes 250 to 300 appearances, including 25-30 international appearances, each year. Besides appearing at games, he also serves as an official ambassador at Rockets charity and community events and offers "Building a Future with Clutch," an antidrug, antismoking and proreading program, which he takes on the road to schools. Last February, Clutch was named the fifth most recognizable mascot in sports by USA Today.

Articles by Sue Moncure
Photos by Bill Baptist
E-mail this article
To learn how to subscribe to UDaily, click here.