UDaily is produced by the Office of Public Relations
The Academy Building
105 East Main St.
Newark, DE 19716-2701
(302) 831-2791

Hundreds join 'Stop the Hate March'

9:55 p.m., Nov. 1, 2005--More than 300 students from across campus took part in Tuesday evening's "Stop the Hate March," a University-wide awareness-raising event held in response to the recent hate crimes taking place on and around campus.

Organized by the Office of Residence Life and facilitated by several campus groups--including La Raza, SAFE (Students Advocating for Freedom and Equality) and MSN (Minority Student Network)--the event began with brief candle-lighting ceremonies as students from residence halls congregated in common areas, lit each others' candles and marched en masse to the Trabant University Center Patio to participate in the rest of the evening's educational and awareness-building events.

"I think that participating in this march is important, because I know people who have been victims of hate crimes, and I want to show my support," Tya Pope, a junior political science and women's studies major from Milford, said. "I think that by taking a stand we're showing that we know what's going on and are not going to let it slide. Marching shows numbers, unity and solidarity, and there are also many groups on campus who are taking a stand."

Billy Collins, a senior English major from New Castle, who is also involved in the campus gay rights and awareness group, HAVEN, echoed this sentiment. "In the past several years, the campus has seen an increase in the number of hate crimes," he said. "I don't have any theories for why that is, but this march shows that students are taking a stand against such crimes."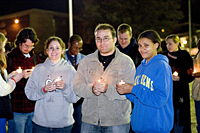 Junior Stella Pressman, senior Billy Collins and junior Tya Pope

As students from all corners of campus arrived in groups of 50 or more, chanting peace slogans, bearing candles and waving handmade signs denouncing hatred, the message outside the Trabant University Center was clear: Crimes of hate will not be tolerated or ignored on campus.

"I think it's a good idea to send a very clear message that this sort of behavior cannot go any further," Michal Masango, an MBA student from Cameroon, said. "If you sit back and allow it to go on without taking a firm stand, it creates a breeding ground for more of the same behavior," she said.

"I think combating hate and hate crimes starts at a personal level," Jacqueline Winslow, a graduate student in communication from Newark, said. "I work in the Office of Residence Life, and I know there are a lot of opportunities for students to educate themselves on ways to handle differences and learn tolerance. It is very hard to hate someone once you make an effort to get to know and understand him or her," she said.

The strong student turnout also helped to send a powerful message that hate will not be tolerated at UD.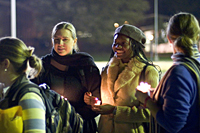 Grad students Jacqueline Winslow and Michal Masango

Additionally, any ideas for raising the level of tolerance on campus are actively being sought by college administrators and should be submitted to Michele Kane, assistant director of Residence Life, at [michelon@udel.edu].

Editor's note: UDaily will post a story Wednesday on the program held in the Trabant University Center Tuesday evening after the "Stop the Hate March."

Article by Becca Hutchinson
Photos by Kevin Quinlan
E-mail this article
To learn how to subscribe to UDaily, click here.