UDaily is produced by the Office of Public Relations
The Academy Building
105 East Main St.
Newark, DE 19716-2701
(302) 831-2791

Flatley named head of public safety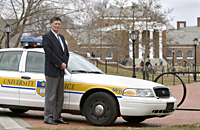 James J. Flatley

9:01 a.m., Nov. 21, 2005--Capt. James J. Flatley has been named chief and director of public safety at the University of Delaware, effective Jan. 1, Maxine R. Colm, vice president for administration, announced today.

Flatley has served as interim director of public safety since April, after the retirement of Lawrence O. Thornton Jr.

In making the announcement, Colm said that Flatley has "the respect of his colleague officers and the University community," adding, "I am confident that the Department of Public Safety will flourish with Jim at the helm. I look forward to working with him in coming years."

David Hollowell, executive vice president and treasurer, said, "Capt. Flatley's combination of training and more than 25 years of service at the University makes him an excellent choice to head this important department."

A graduate of Trenton State College, Flatley holds a bachelor's degree in criminal justice. He was a police officer with the city of Baltimore for three years before joining UD's Department of Public Safety in 1978 as an investigator in the patrol division. From 1979-81, he was assigned to the city of Newark Police Department's Criminal Investigations Division in a pilot program.

In 1981, Flatley joined the Crime Prevention, Investigations, Personnel and Training section of UD's Department of Public Safety, and he was reclassified as a senior investigator.

A graduate of the FBI National Academy, he was promoted to assistant director in 1986, with responsibility for supervising the Uniformed Patrol Division and Criminal Investigations and Crime Prevention sections. He was reclassified to senior assistant director in 1998.
E-mail this article
To learn how to subscribe to UDaily, click here.