Top sports agent offers career advice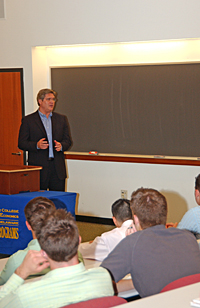 Alum Peter Johnson, former chief executive office of IMG's Sports and Entertainment Division: "It is not very easy to do this, especially because of the supply and demand factor, because there are a lot of people who want to be in the business, but not a lot of turnover."
5:32 p.m., May 9, 2006--Peter Johnson, UD alumnus and former chief executive office of IMG's Sports and Entertainment Division, told a group of business majors with a possible interest in becoming sports agents that breaking into such a fast-paced business requires a highly competitive work attitude and the willingness to start out by working long hours at low pay.
Johnson made his remarks during a lecture, "The Changing Landscape in the Athlete Management and Sports Marketing Business," on Thursday, May 4, in Lerner Hall.
The lecture was co-sponsored by the graduate and executive programs of UD's Alfred Lerner College of Business and Economics, the sport management program and the intercollegiate athletics program.
"It is not very easy to do this, especially because of the supply and demand factor, because there are a lot of people who want to be in the business, but not a lot of turnover," Johnson said. "One of the best things to do is to get a summer internship, work hard and try to make a name for yourself."
Johnson said the principal types of jobs in the professional athlete representation business are legal, consulting, and sales and marketing.
"If you go into sales, get some practical experience, even if it is selling carpets," Johnson said. "I worked as a flagman on a construction project on I-95, and I also had a job excavating grave sites in Arlington National Cemetery."
Education choices for individuals working in the sports management and marketing business as player agents often include law school or an MBA, Johnson said.
"I would suggest that if you purse an MBA, you get one with a concentration in sports management," Johnson said. "What Matt Robinson [associate professor of health and exercise sciences] is doing here at UD is giving you practical experience in the field."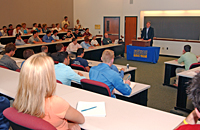 Johnson: "You have to have a strong work ethic, because the competition to get and keep a job is pretty severe."

The main goal of any agent, Johnson said, is usually to get the most money or the best deal for a client. "You are an agent and a sales person at the same time," Johnson said. "You sell your services to the athlete, and then you sell a team or a business on why this player is worth so much money."

A 1972 UD graduate with a degree in business administration, Johnson earned a master's degree in business administration from the University of Pennsylvania's Wharton School of Business in 1975. He also was a member of the Fightin' Blue Hens national college championship football team in 1971, and played for the Buffalo Bills and the Detroit Lions in the National Football League the following year.

"The fact that I played football was terrific for my business," Johnson said. "I was very competitive, and I worked very hard. This is not a business you want to dabble in. You have to work very hard."

Named by the Sports Business Journal as the top agent in sports in 2004 and one of the 50 most influential people in sports business in 2005, Johnson also made Advertising Age's "top marketers" list.

Johnson's list of clients includes such NFL sports luminaries as Joe Montana, Peyton Manning, Tim Couch, Herschel Walker and fellow Fightin' Blue Hen Rich Gannon. Other clients include tennis greats Ivan Lendl and Martina Navratilova, golfer Nancy Lopez and boxers Evander Holyfield and Shane Mosley.

"I started out by doing a lot of little jobs and lot of mundane tasks," Johnson said. "I always loved what I did."

While the influence of an agent with an athlete varies with each client, Johnson said that some basic guidelines are necessary to successfully maintain a credible agent-client relationship. "You may give a client advice. Sometimes they follow it and sometimes they don't," Johnson said. "For the agent, the business relationship should always come first. If you don't approach it this way, you lose your objectivity and also lose the respect of your client."

Looking back on a 30-year career with IMG that concluded with his resignation as chief executive officer in February, Johnson said several common skills or traits are beneficial to a career as a professional sports agent.

"You have to have a strong work ethic, because the competition to get and keep a job is pretty severe," Johnson said. "I like the competitiveness, and I liked having problems to solve. I never worried about what I was going to do the next day."

Article by Jerry Rhodes
Photos by Tyler Jacobson
E-mail this article
Subscribe to UDaily
Subscribe to crime alert e-mail notification