Nike v.p. addresses corporate responsibility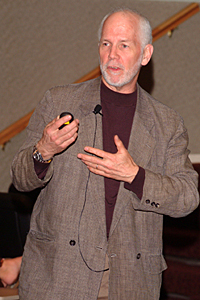 Dusty Kidd, vice president of compliance at Nike Inc.: "We learned the hard way."
3:42 p.m., May 4, 2006--Dusty Kidd, vice president of compliance at Nike Inc., provided students with an in-depth look at Nike's efforts to form a corporately responsible company, Tuesday evening, May 2, at Clayton Hall.
This was the second presentation in the Department of Fashion and Apparel Studies' "Fashioning Social Responsibility" lecture series.
Kidd has worked for Nike for 15 years and founded its compliance department 10 years ago. Before joining Nike, he worked as a journalist for Fairchild Publications in New York.
Kidd's lecture, "Nike and Responsibility: A Look Into the Future," covered Nike's transition from a poster child for irresponsibility to a world leader in corporate responsibility. He said Nike was the target of many protests during the '90s when overseas sweatshop and child labor were exposed and relentlessly covered by the media.
"We learned the hard way," Kidd said.
Because of its expansive retail market, seemed to be one of the worst culprits in poor factory conditions, Kidd said.
"People think, 'Come on, you're Nike! Can't you fix it?'" he said, "when, in reality, we're only one small circle in a huge industry."
Kidd said Nike does not own any factories. The factories are independent businesses from which Nike buys products. He said in each of the factories, Nike is approximately 1 percent of the business done by that factory.
While Nike has made strides in corporate responsibility, the company needs outside help to really make a difference, Kidd said. Gap is one company that has begun to work with Nike in those factories that produce merchandise for both companies.
"We are investing to help factories own corporate responsibility," he said.
Nike has worked on instituting training programs in their factories to increase job safety and worker rights, Kidd said. In most of the countries where Nike products are made, worker rights are nonexistent or are not recognized, he said.
One step Nike has taken to increase corporate responsibility and to improve factory quality is listing the names and addresses of all 800 of its factories across the globe. This is part of Nike's attempt to move away from policing factories to being proactive, Kidd said.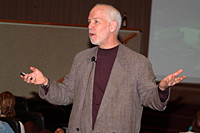 Kidd: "Overall, profit isn't just about dollars. It's about turning waste into something positive."

"We're trying to become less of a traffic cop and more of a driving instructor," he said.

In becoming a more responsible company, he said, Nike is trying to follow the "Triple Bottom Line"--the idea that the impact of a company on humanity and the planet is just as, if not more important than, profit, Kidd said.

"Overall, profit isn't just about dollars," he said. "It's about turning waste into something positive."

The key to improving corporate responsibility is innovation and growth, Kidd said. He described those elements as the "life blood" of the company.

The idea of innovation is what prompted the listing of the locations of Nike's factories on the company's web site. It is also behind Nike's new line of footwear, "Consider."

"The concept of 'Consider' is to consider all elements of a product before it goes to the market," Kidd said.

The line started when two members of Kidd's team began work to get rid of organic solvents from Nike's footwear line. Organic solvents are harmful both to the environment and the workers in the factories, Kidd said.

The result was a reduction of 90 percent over 10 years, he said. The organic solvents were replaced with water-based chemicals that were not harmful.

"Consider" takes this a step further, using a minimal number of materials, Kidd said.

"The footwear is designed to snap together, like Legos," he said. "And they are made from materials located within 150 miles of the factory."

The company began the Nike Foundation to help underprivileged girls receive sporting equipment and opportunities, and has sent designers to African refugee camps to help Muslim women design sports uniforms that conform to their religious requirements, Kidd said.

The future of corporate responsibility lies in partnerships between companies, even competitors, and in finding a better way to monitor factories, Kidd said.

During a question-and-answer session after the lecture, students raised questions about Nike's lack of factory ownership, the effectiveness of monitoring factories and the involvement of companies in factory communities.

Article by Amelia Luchey, AS '06
Photos by Greg Drew
E-mail this article
Subscribe to UDaily
Subscribe to crime alert e-mail notification