ARAMARK CEO awarded honorary degree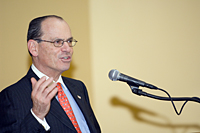 Joseph Neubauer, chairperson and chief executive officer of ARAMARK
3:56 p.m., May 4, 2006--Joseph Neubauer, chairperson and chief executive officer of ARAMARK--the world's leading provider of managed food and food service, uniform and career apparel and child care and early education programs--was awarded an honorary doctor of science degree during a special dinner and ceremony, Sunday, April 30, in UD's Gore Hall.
The honorary doctorate is the highest degree the University bestows.
Recent recipients include artist Jamie Wyeth, documentary film director Ken Burns and the president of Ireland, Mary McAleese.
UD President David P. Roselle opened the ceremony calling Neubauer "an industry icon and friend of the University of Delaware."
Roselle said Neubauer is a recipient of the Horatio Alger Award honoring the achievements of outstanding individuals in our society who have succeeded in spite of adversity and encouraged young people to pursue their dreams through higher education. "Mr. Neubauer is the embodiment of that award, and we are indeed honored by his presence this evening. We are also indebted to the support of Joe Neubauer and the ARAMARK Corp. and, in fact, we celebrate this year our 15th anniversary of the partnership of ARAMARK and the University of Delaware," he said.
Roselle introduced Howard Cosgrove, chairman of UD's Board of Trustees, to confer the honorary degree.
"You joined ARA Services in 1979 as chief financial officer building the company into an $11 billion sales leader, with approximately 240,000 employees serving clients in 19 countries. ARAMARK ranked first in its industry on Fortune magazine's 2006 list of America's most-admired companies," Cosgrove said.

He called Neubauer "a man of vision, a man of hope," whose parents fled Nazi Germany in 1938, moving to Israel where he was born. He said Neubauer to came America at age 14, living with an aunt and uncle and learning English by going to John Wayne movies. He worked his way through Tufts University by waiting tables, eventually becoming head of food services for his fraternity, Cosgrove said.

Neubauer received an MBA from the University of Chicago business school, where he established the Neubauer Family Chair in Entrepreneurship and Finance and a fund for a faculty fellowship program that attracts leading faculty to the business school, as well as an endowed fund for a graduate fellowship program that attracts promising scholars to the humanities division.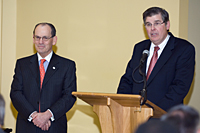 Howard Cosgrove (right), chairman of UD's Board of Trustees, describes Neubauer (left) as "a man of vision, a man of hope."

Neubauer has served on the Tufts Board of Trustees and is a member of the Jewish Theological Seminary Board of Directors.

As an entrepreneur and business adviser, Cosgrove said, Neubauer serves as a board member for the Verizon Communications Inc., Federated Department Stores Inc., the Business Council, First Union Corp. and Wachovia Corp.

In his role as civic leader, Neubauer serves as chairperson of the Philadelphia Orchestra Association and will soon become chairperson of the Horatio Alger Award.

"It has been said that experience is a hard teacher because she gives the test first, the lesson afterwards," Cosgrove said to Neubauer. "You have faced challenges in your life. At those crossroads, you have been guided by respect for the dignity of all individuals, admired for your resoluteness in matters of principle, and given support to those who followed you. You have created a vital legacy for them and for thousands both known and unknown to you."

Article by Barbara Garrison
Photos by Jon Cox



E-mail this article
Subscribe to UDaily
Subscribe to crime alert e-mail notification