Excellence in Service Award winners announced
11:23 a.m., May 26, 2006--Four University of Delaware employees will be honored with UD's new $2,500 Excellence in Service Award on Wednesday, June 14.
The award recognizes members who have provided excellent service to students and contributed ideas that have led to better business practices.
One winner is a touchstone for students. One took speed-reading to learn her duties more quickly. One set the standard for a nationally lauded program. One is a staff assistant so enthusiastic that she has audited courses to understand what the students experience.
Theresa M. Kalesse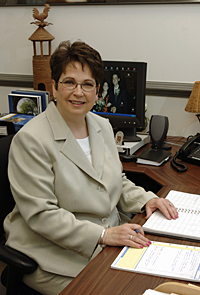 Terrie Kalesse

When engineering graduates return to campus to visit a professor, they always stop to see Terrie Kalesse. Some of them might not have graduated without her.

"The engineering students think the world of Terrie Kalesse," Dan L. Boulet Jr., assistant dean of engineering, said. "She is constantly helping them in every way she can."

Terrie Kalesse's is always the first voice students and parents hear when they contact UD's College of Engineering. "Parents frequently tell me how much Terrie helped them and how pleasant she is to deal with," Boulet said.

Kalesse maintains student records and manages the college's online course evaluations. She also is involved in the college's life events--student registration, Blue and Gold Saturdays, Decision Days, engineering exam registration, National Engineers Week and convocation. She knows the students so well that she is always selected to read their names at convocation, Honors Day and the engineering ring ceremonies.

At every turn during their four years in engineering, students' passage is aided by Kalesse. She manages the Delaworld sessions that welcome newcomers to campus, and she runs video review sessions for graduating seniors prior to the Fundamentals of Engineering examinations.

"Terrie is always looking for ways to improve our advisement services, even though it takes extra work," Boulet said. "Terrie is the last person who would continue a procedure 'because we've always done it that way.' She is willing to work anytime during the week or weekends if needed. She is very active in determining best practices in the college."

Boulet said Kalesse works over holiday breaks to help students and often turns up at students' senior design presentations.

"Because she cares about them so sincerely, she remembers their various issues and peculiar problems," Boulet said. "Because of her detailed attention and persistent follow up, which often involves chasing down a student who is avoiding us because he or she is in denial about some problem, many students have been able to graduate who might otherwise have been dismissed or discouraged."

Maria Palacas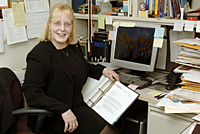 Maria Palacas

The University of Delaware's Ronald E. McNair Post-Baccalaureate Achievement Program, which steers students from diverse and disadvantaged backgrounds to graduate programs, has a success rate four times the average for McNair programs at other campus. Harold B. White III, professor of chemistry and biochemistry, attributes the program's success directly to Maria Palacas.

White said he sees Palacas only from a distance as a professor working to attract minority students to the sciences, but he has listened to enough students to know that the program's success is directly linked to Palacas' unflagging persistence.

Palacas is the director of the McNair program, the highest rated of the 179 college programs honoring Ronald E. McNair, an African-American astronaut who died in the 1986 explosion of The Challenger space shuttle. Under her direction, the UD program had a 100 percent success rate for students' acceptance into graduate school last year--compared with a 22.5 percent acceptance rate nationwide and a 20.6 percent acceptance rate in this region.

"This is a remarkable record that can be attributed directly to Maria. She sets up these demanding programs and she's totally dedicated to following through on them," White said. "She sets high standards and works with each student to meet those standards.

White said Palacas' own personal integrity serves as a model for the McNair scholars. "I know this through several incidents involving students, where she has worked very hard to correct unacceptable behavior," he said. "She does not look the other way, and the students are better for it. There's no McNair program that has the outstanding record we have. I think that's a tribute to Maria's dedication."

"More than anything, Maria cares, deeply and personally, about the welfare and success of each and every student," White said. "This is her life."

Ruth Smith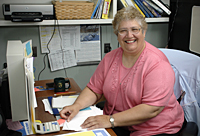 Ruth Smith
Ruth Smith's coworkers describe her as a touchstone for students - a smiling face always ready to help when they enter UD's Academic Enrichment Center anxious about exams.
"Even in the times she cannot give them what they ask for, she has the gift of calm understanding that allows them to see their next steps and go forward," Lysbet J. Murray, the center's associate director, said. "Her warmth has defused innumerable potentially explosive situations."
Murray said the staff assistant makes students who come for advice or tutoring or test accommodations feel like part of her family. She often buys snacks for test-taking students and proctors out of her pocket.
Murray said Smith has deep relationships with UD employees and stays on top of information that might affect the enrichment center and its staff. She said Smith is generous in sharing what she knows and has helped many new professional and salaried staff beginning their UD careers.
Coworkers consider Smith a go-to person because of her knowledge of the University and her willingness to help, Murray said. She regularly stands in for other staff members at the front desk, helping students to solve problems. She represents the center at Decision Days and Blue & Gold Saturdays.
"If a volunteer is needed for ANYthing," Murray wrote in an e-mail, "Ruth is ready to step in."
Murray said Smith buoys coworkers with little gestures through the year, and she buoys community programs by organizing contributions to the Latin American Community Center, Ronald McDonald House and other groups. "Her life revolves around service," Murray said.
"We are incredibly fortunate to have someone with Ruth's commitment and heart serving in this role," Murray said. "In a setting where students can often feel negatively about themselves and their capabilities, her affirmation and encouragement has been invaluable."
Ivet Ziegelbauer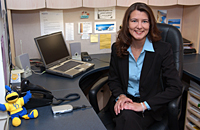 Ivet Ziegelbauer
Coworkers use words like "tireless," "motivating," and "incredible" to describe Ivet Ziegelbauer, complex coordinator for Gilbert-Harrington Complex.
Ziegelbauer took a speed-reading course in order to grasp all the residential regulations and the best information on how to teach students in a residential setting.
Hall Director Jacqueline Winslow remembers Ziegelbauer walking into Gilbert-Harrington Complex three years ago and being welcomed by an apathetic staff. "Ivet developed a purposeful and intentional curriculum center around narrowly focused, measurable goals aimed at education for the individual student," Winslow said.
Ziegelbauer transformed a minority-student support group into a student leadership group and completely restructured the one-on-one interactions between students and their resident advisors, Winslow said.
James Tweedy, associate director of the Office of Residence Life, said Ziegelbauer has been an important part of developing educational strategies to teach the 7,200 students living in UD residence halls with a targeted curriculum. She has invested an "enormous" amount of time researching, and she successfully co-presented a plan for residential education to UD President David Roselle and to the University's Board of Trustees, Tweedy said.
Tweedy said satisfaction ratings for the students affected by Ziegelbauer's changes are at an all-time high. "This type of shift in student and staff culture takes a massive investment in time, energy and leadership, which Ivet has provided continually," he said.
Article by Kathy Canavan
Photos by Kathy F. Atkinson and Tyler Jacobson
E-mail this article
Subscribe to UDaily
Subscribe to crime alert e-mail notification