Off-campus safety addressed in Bonistall lecture
Kristen Bonistall: "Lindsey did not live in fear, and we believe this should be a basic right of all college students and families. But, we also recognize that preventative measures do not always ensure crime-free communities, and one important goal of PEACE OUTside CAMPUS is to offer emotional support to victims and their families."
3:18 p.m., May 5, 2006--Kristen Bonistall, the older sister of Lindsey Bonistall, the UD sophomore who was murdered in her off-campus apartment May 1, 2005, focused on the importance of creating safe off-campus living environments in a lecture she gave Thursday evening, May 4, in the Trabant University Center.
One of several PEACE OUTside CAMPUS events scheduled to remember Ms. Bonistall on the anniversary of her death, the lecture, besides providing valuable information on home safety issues, also gave listeners a chance to reflect on Ms. Bonistall's life and her contributions to the campus community.
"'Peace out' was Lindsey's sign-off, so we're keeping her memory alive with the name," Bonistall said. "But, PEACE OUT also is an acronym for prevention, education, advocacy, certified off-campus housing, empowerment, off-campus safety, university collaboration and trusted resource. Our goal with the organization is to empower students and their families to be more proactive in safeguarding themselves against those who perpetuate crime and violence."
Bonistall, who along with her mother and father, Kathleen and Mark Bonistall, established PEACE OUTside CAMPUS last May, spoke of Lindsey and showed footage from her childhood and adolescence during the presentation. She made the point that PEACE OUTside CAMPUS also serves as an emotional support system to families and college students affected by off-campus crime.
"It means a lot to me to come here today to talk about how you can make your off-campus apartments safer," Bonistall said to the audience of approximately 125 UD students. "But I also want to talk a little bit about Lindsey, too.
"Lindsey did not live in fear, and we believe this should be a basic right of all college students and families. But, we also recognize that preventative measures do not always ensure crime-free communities, and one important goal of PEACE OUTside CAMPUS is to offer emotional support to victims and their families."
Bonistall, who told of her experience of having her apartment broken into and robbed six months after Lindsey's death, also made the point that being a victim once does not make one immune from crime, and that constant vigilance is critical.
"We cannot stop people from committing crimes, but we can take away their opportunities to do so," she said. "My own experiences have shown me that living in a college town makes you a target."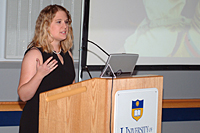 Bonistall: "Check who has master keys and ask your landlord if the maintenance men have had criminal background checks. These are fair questions. Also be sure to forge good relationships with your landlord and your neighbors because they may be your biggest allies."

Bonistall gave examples of several safeguards tenants could take to ensure maximum safety in off-campus housing and stressed that investing in common tools and simple measures could make all the difference in keeping out intruders.

"I took a survey of off-campus students at UD, and 90 percent didn't know or weren't sure if their locks had been changed before they moved in," she said. "Knowing this is just one simple thing you can do to increase your safety."

Besides installing deadbolts, window locks and proper lighting, Bonistall said, tenants also should ask safety-related questions and establish good relationships with landlords and neighbors.

"Check who has master keys and ask your landlord if the maintenance men have had criminal background checks," Bonistall said. "These are fair questions. Also be sure to forge good relationships with your landlord and your neighbors because they may be your biggest allies."

Following Bonistall's lecture and presentation, UD Police Cpl. Frank Besaw talked about the importance of taking advantage of UD's free public safety programs, such as the Rape Aggression Defense classes and the escort service. Besaw also reiterated Bonistall's tips for safeguarding off-campus housing and made the point that remaining aware of one's surroundings at all times was key to self-protection.

"Trusting your instincts is your best defense," Besaw said, "and being observant, and calling upon public safety resources when you feel even the slightest bit uncertain about a situation is critical to reducing the likelihood that you'll be a victim."

Other PEACE OUTside CAMPUS events planned for this week are the PEACE OUTside T-shirt and wristband sale from 11 a.m.-4 p.m., Friday, May 5, at the Food Court kiosk in the Trabant University Center, and the memorial service at 2:30 p.m., Saturday, May 6, in The Grove, the wooded area south of Alison Hall West. (In case of rain, the location is the Gore Hall Rotunda.)

All events are being sponsored by the University of Delaware, in conjunction with PEACE OUTside CAMPUS.

To learn more about PEACE OUTside CAMPUS or to support the organizations visit [www.rememberlindsey.com].

The Lindsey Marie Bonistall Memorial Scholarship, established by UD with assistance from friends of the University, was created last year to honor Ms. Bonistall and her love of writing.

Article by Becca Hutchinson
Photos by Greg Drew
E-mail this article
Subscribe to UDaily
Subscribe to crime alert e-mail notification