Authors Oates and Rushdie meet with students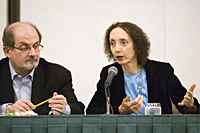 Salman Rushdie and Joyce Carol Oates
5:35 p.m., May 12, 2006--While reading works by well-known authors has its own rewards for the reader, hearing writers discuss their works and their individual experience with the creative process can be enlightening and instructive to students interested in learning the craft of writing.
Recently, a group of UD undergraduate and graduate students had the opportunity to hear Salman Rushdie and Joyce Carol Oates, two of the most celebrated and respected authors of our time, share their ideas on the creative writing process as evidenced in their work.
The UD students were part of a group of more than 60 high school and college students who attended a Community Conversation program held May 5 in the Hotel du Pont's Learning Center in Wilmington. The mid-afternoon event preceded "Talking Authors," a public presentation with the same authors later that evening in the hotel's DuPont Theatre.
The audience for the Community Conversation, sponsored by Forum USA Delaware, consisted of high school and college students who were identified by their respective faculty as having demonstrated an interest in and a talent for writing.
During the 90-minute discussion, students had the opportunity to ask the authors how they transform basic ideas to finished works. The authors also had a chance to share their views on the value of inspiration and solitude as nurturing agents in the creative writing process.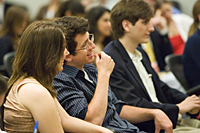 UD students taking part in the Community Conversation included (from left) senior Laura Parks, sophomore James Price and junior Steven Gleeson.

"You have to be at some quiet dimension, and then you will get ideas that you don't know you have," Oates said. "A story might start to coalesce early, while a novel takes a long time."

Oates is the author of more than 100 books, including 37 novels and novellas, 23 volumes of short stories, seven volumes of poetry, four volumes of plays, as well as nonfiction works on subjects ranging from the tortured life of Marilyn Monroe to studies of the gothic and horror genres.

Rushdie, the author of the controversial Satanic Verses, also has written The Moor's Last Sigh, Midnight's Children, Grimus, Shame, In Good Faith, Imaginary Homelands: Essays and Criticisms, Fury and Step Across This Line: Collected Non-Fiction, 1992-2002. His most recent work, Shalimar The Clown, A Novel, is a post-9/11 book that explores the roots of terrorism, extremism and the willing and unwilling subversion of multiculturalism.

Ideas and inspiration may come from a single sentence that pops into the mind and refuses to go away, Rushdie said.

"I have to ask myself, 'Why won't they go away?'" Rushdie said. "This gives way to people and what their story is. You often find ideas that you did not know you had."

When asked about their use of symbolism, both writers noted that there often is a difference in the way writers and readers identify with objects or persons having symbolic value or influence in a particular work.

"Writing is an act of symbolism. It's a representation," Rushdie said. "I'm happy that people find stuff in my work, because reading is the completion of the author's work."

For Oates symbolism also is a part of art and poetry. "Most of us are writing partly out of the unconscious," Oates said. "Just as when we read something by Dostoyevsky or D.H. Lawrence, there is a symbolism that we respond to."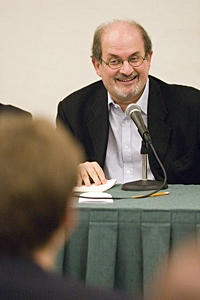 Salmon Rushdie: "Writing is an act of symbolism. It's a representation. I'm happy that people find stuff in my work, because reading is the completion of the author's work."

In responding to a question about whether a certain writer was a "post-colonial novelist," Rushdie and Oates said that while such labels are "flung" around a lot, they may not have much relevance to the actual works to which they refer.

"The British left India eight weeks after I was born," Rushdie said. "If you go to India now, the subject of imperialism is gone. It is 60 years gone. If they do talk about imperialism, it is American imperialism and not British."

Megan Fernandes, a senior in the College of Arts and Sciences, said that both speakers were eloquent with their responses. "Rushdie was blunt, but he had such an elegant control of language, which reflected such a level of sincerity that I think he convinced his audience of what he was saying," Fernandes said. "What I liked about Oates was how expressive she seemed. She talked a lot with her hands, and you could see her thinking carefully about her answers, which were very philosophical, even when the questions were simple."

Fernandes said she was surprised by the sense of humor the authors displayed during the question-and-answer part of the program. "They had excellent comic timing, and they worked off one another effortlessly," Fernandes said. "The night was filled with references to other authors, literary movements and writing styles, all of which reflected a very intellectual scene."

Michael McGehee, a graduate student in the College of Arts and Sciences, said that the discussion far exceeded his expectations, and that both authors responded to student questions with a graciousness and kindness that some famous writers have been known to lack.

"Seeing them as a pair was far better than seeing them by themselves," McGehee said. "I found it helpful to find out not only how Rushdie approaches the writing process, but how his writing process differs from that of Oates."

Joan DelFattore, UD professor of English, said that students appreciated the warm interaction between the authors and the students that developed during the course of the question and answer session. "The students asked some very good questions," DelFattore said. "The authors seemed to be going out of their way to be responsive."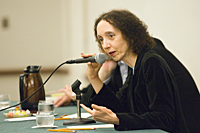 Joyce Carol Oates:"You have to be at some quiet dimension, and then you will get ideas that you don't know you have. A story might start to coalesce early, while a novel takes a long time."

One of the high points of the discussion, DelFattore said, was when the authors responded to questions about whether they read science fiction or "schlock" literature.

"They answered that question, but then segued into observing that the elements of a classic and a popular work are the same, noting that the main threads in a Shakespeare play and a Danielle Steel novel might sound quite similar," DelFattore said. "The reason I consider this exchange to have been a highlight of the event is that even English majors rarely stop to think about what 'literature' means, or, what literature is. That is what the two authors were addressing in that exchange."

As a teacher, DelFattore said the best part of the day was seeing the impact the event had on the students. "This was a very rare opportunity for students to see the literature they study from a behind-the-scenes perspective, and both Oates and Rushdie rose to the occasion by being very accessible and non-scripted in their responses," DelFattore said. "My guess is that at least some of those students will never read a book in the same way again."

Founding sponsors of Forum USA Delaware include the DuPont Company, WDEL-AM and WSTW-FM and the Wilmington News Journal. The Quintin E. Primo Fund for Racial Justice was the special host patron and Forum Outreach sponsor was New Castle County Executive Christopher A. Coons,.

Article by Jerry Rhodes
Photos by Kevin Quinlan
E-mail this article
Subscribe to UDaily
Subscribe to crime alert e-mail notification