UDaily is produced by the Office of Public Relations
The Academy Building
105 East Main St.
Newark, DE 19716-2701
(302) 831-2791

Delaware's Joe Minucci is AFL mid-season star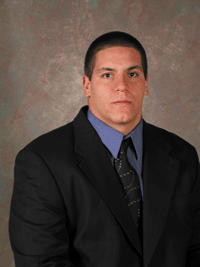 Joe Minucci

9:44 a.m., March 30, 2006--Former University of Delaware football standout Joe Minucci has been named to the Arena Football League's mid-season all-star team as selected by reporters who cover the league.

Minucci, a second-year member of the Nashville Kats as an offensive and defensive lineman, was one of 12 players named to the mid-season all-star team. He has led Nashville to a record of 6-3 and currently has 16 tackles and four sacks, and has caught three passes for 24 yards.

Minucci, a 2003 UD graduate, is one of three former Fightin' Blue Hen standouts currently on AFL rosters, joining quarterback Matt Nagy and offensive specialist Jamin Elliott, both members of the Georgia Force. Georgia is 5-4 this season after advancing to the AFL championship game a year ago.

Minucci earned a spot on the AFL all-rookie team in 2005 when he led Nashville with five sacks. He was signed as a free agent by the National Football League's Tennessee Titans but was released during the pre-season. Minucci played at UD from 1999-2002, earning All-Atlantic 10 Conference honors and leading the Hens to the 2000 NCAA Division I-AA championship playoff semifinals.

Nagy, a fifth-year member of the league and a second-year performer with Georgia, has thrown for 2,367 yards and 50 touchdowns this season. Last season he earned second team All-AFL honors after throwing for 3,003 yards and a team-record 66 touchdown passes. He played at UD from 1997-2000 and set 20 school passing records, including career yards (8,214) and touchdowns (58). He earned third team All-America honors as a senior in 2000 when he led the Hens to the NCAA Division I-AA semifinals.

Elliott, a first-year member of the Force, has caught 39 passes for 467 yards and nine touchdowns and has recorded 16.5 tackles so far this season. Elliott was drafted by the Chicago Bears in 2002 and played one season in Chicago and one season with the New England Patriots before joining the AFL. While at UD from 1998-2002, Elliott caught 158 career passes for 3,068 yards and 19 touchdowns and earned first team All-Atlantic 10 honors. He also was a member of the 2000 NCAA Division I-AA semifinal team.
E-mail this article
Subscribe to UDaily