UDaily is produced by the Office of Public Relations
The Academy Building
105 East Main St.
Newark, DE 19716-2701
(302) 831-2791

UD students show support for gay marriage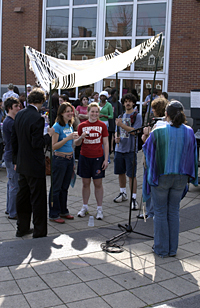 Senior Laura Parks (left) "weds" junior Margaret Schlass.

1:44 p.m., March 15, 2006--Gay and straight students showed their support for gay marriage by joining in symbolic wedding ceremonies on the patio of the Trabant University Center on Monday, March 13, during the third annual "Marry-in." Haven, UD's registered gay, lesbian, bisexual, transgender and allies group, organized the event to support the ongoing political battle to allow same-sex couples to legally marry.

The event was held from 10 a.m.-4 p.m., with 132 couples getting married. A member of Haven read the vows, and each ceremony was performed in keeping with each couple's religious preferences. Both gay and straight couples participated in the event. After the ceremony, there was a reception with music and games.

"This event is not only good for gays, but for blacks, women or any minority to show that everyone should have the same rights," grad student George Craig said. "We deserve the same rights as everyone else."

More than 325 students also signed letters to members of Congress asking them to oppose the proposed federal marriage amendment, which would ban same-sex marriages.

Senior Sarah Maguire, political chairperson of HAVEN, said the event was a huge success. "Our allies came out in full force today and showed a great amount of support for marriage equality," Maquire said. "We believe we were also very successful in educating the campus community about civil rights."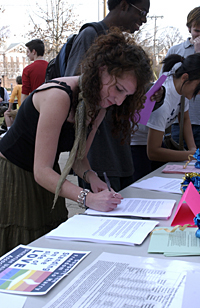 Sophomore Rachael Tannen signs a letter to members of Congress asking them to oppose a proposed Constitutional amendment to ban same-sex marriages.

Article by Jessica Tavasti, AS '06
Photos by Sarah Simon, AS '06
E-mail this article
Subscribe to UDaily
Subscribe to crime alert e-mail notification