Delaware SBDC gives small businesses a leg up
| | |
| --- | --- |
| | Ever wonder what keeps UD running smoothly? Up Close & Personnel profiles the employees who keep UD ticking around the clock throughout the year. In this installment, the focus is on the Small Business Development Center. |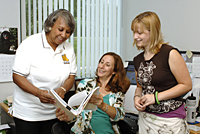 Delaware Small Business Development Center staffers (from left) Diana Dyson, secretary; Denise Davis, senior administrative assistant; and student worker Lynsie Hrycak, AS 2007
4:13 p.m., June 20, 2006--When Diana Dyson wanted a new haircut, she knew just where to go.
Ditto when she needed her car detailed.
When she had the munchies, a certain bagel shop popped into her mind.
Dyson works as a secretary at the Delaware Small Business Development Center (SBDC), a center that has served both as both midwife and coach to dry cleaners, auto dealerships, manufacturing companies and doggie day cares. Its Sussex County office was there when the nationally celebrated Dogfish Head Brewery in Rehoboth Beach was still mixing in pots.
The center's current client list, more than 2,000 entrepreneurs long, brings both startups and high-tech wizards to its unobtrusive headquarters in the Delaware Technology Park on Wyoming Road in Newark.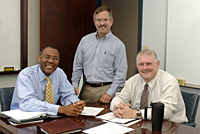 Clinton Tymes (left), SBDC director, Gary Simon, business analyst; and John Osoinach, manager

The center offers training and counseling to clients around the state-from a Victorian tearoom to a tech-support service for agricultural and pharmaceutical companies.

It hosts a web site that averages 50,000 hits a month, provides free research to small businesses, offers individual counseling to business owners and shows them how to get government contacts and contracts.

"We basically counsel small businesses, ranging from new businesses, to those that are trying to expand or have developed problems," Barbara Necarsulmer, the center's associate director, said.

Clinton Tymes, the center director, said the Delaware SBDC offerings change as the needs of small business owners do. Currently the center emphasizes more advanced services such as QuickBooks training, marketing services and loan proposal assistance.

Tymes ran his own office equipment business, and most advisers and directors have on-the-job training in small business.

Barry Williams, who directs the center's technology assistance program, holds an engineering degree, and an MBA in marketing. He was previously corporate marketing manager for a highly successful Internet software company and earlier founded a computer company and took it public.

Glenn McAllister, one of four business advisers on staff, is a certified public accountant who ran a bank and four businesses of his own--a franchise postal service, a Subway franchise, an ice cream store and a convenience store.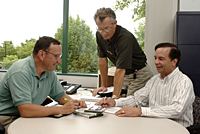 Glenn McAllister (left), business analyst; Robert Rausch, business analyst; and Barry Williams, manager

"Entrepreneurs typically have a great love for what they do, but not necessarily the business skills needed to grow a successful business," McAllister said. "That is where we come in. We can't teach a restaurateur to cook, but we can help with marketing or financial management."

The center itself was a tiny startup when it opened in the basement of the University of Delaware's Purnell Hall 23 years ago with a three-person staff. Now it operates offices at Delaware State University in Dover and at the University's Georgetown campus.

"We've adapted to meet the needs of the business community as they've continued to change," Necarsulmer said.

That includes the 13-year-old Georgetown office that has helped The Buttery, Rehoboth Sport & Kite Company and hundreds of other businesses in the burgeoning beach area. As moneyed retirees moved to the resort area and looked for the conveniences of their metropolitan homes, the office fielded more than 8,000 calls from entrepreneurs looking to start new businesses or expand old ones to meet the demand.

"The migration of retirees to Sussex County as full-time residents is really spurring economic development, from new businesses to our existing businesses that we already work with who want to know how to take it to the next level," Bill Pfaff, director of the center's Georgetown office, said.

Two of the startups addressed a gastronomical gap: an Italian bakery and a New Jersey-style bagel shop.

Idea people often are not prone to dot every "i" and cross every "t," though, so many turn to the center for help with business details.

So, whether it's teaching idea people how to read a financial statement or explaining how to file payroll taxes, the center provides a missing piece of the business puzzle. Staffers said it also stirs the economy by linking idea people to government programs, investors, banks, accountants and real estate brokers.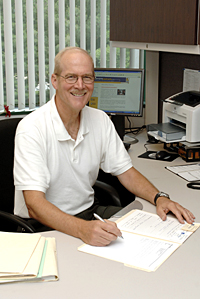 Geoffrey Walser, business analyst

And, sometimes, the center provides a service by allowing would-be entrepreneurs to second-guess themselves.

"A lot of people come to a training session on how to start a small business, and they say, 'You know, that's really just not the right thing for me,'" Necarsulmer said. "Well, we've provided an incredible value there because that person can then move on to something else. The real process of starting a business is typically more complicated than the average person thinks it is."

Sometimes a business is hemorrhaging before the owner turns to the center for help. "It's sad when we see a business that's dead on arrival and we think we could have helped if only they had come to us earlier," Necarsulmer said.

Often successful entrepreneurs turn to the center when they're ready to expand their reach. Donna Wadsley, owner of Parkway Floors in Bear, called the center's Procurement Technical Assistance Center for help getting on federal procurement lists. Shortly after she registered online, she won a contract for carpet at the Air Force National Guard's New Castle facility, then one at Dover Air Force Base.

"It's a matter of taking the information from them and going with it," Wadley said. "You still have to do the legwork, but they are highly informative."

Janet Dougherty, a graduate student who provides research for SBDC clients, said the thousands of small business owners who use the center's services made her acutely aware of the role they play in the U.S. economy.

"Working here has really made me aware how vital small businesses are to our economy,'' she said. "I don't think people realize that."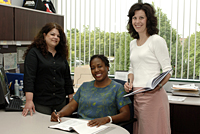 Diane Seymour (left), office assistant; Carla Withers, training coordinator; and Janet Dougherty, a graduate student who provides research for SBDC clients

While co-workers like office assistant Diane Seymour and procurement assistance director Juanita Beauford are all business with clients, they segue into laughter when the staff gets together for picnics, birthday parties and baseball games.

"I'm a firm believer that work should be fun," Tymes said. "We are very blessed to be able to have people here at the Small Business Development Center who love what they do."

The Small Business Development Center is a partnership of UD's Alfred Lerner College of Business and Economics, the Delaware Economic Development Office and the U.S. Small Business Administration.

Article by Kathy Canavan
Photos by Kathy F. Atkinson
E-mail this article
Subscribe to UDaily