UDaily is produced by the Office of Public Relations
150 South College Ave.
Newark, DE 19716-2701
(302) 831-2791

HHMI awards Delaware $1.5 million grant
Hal White (left), professor of chemistry and biochemistry, directs the HHMI program at UD. The assistant director is David Usher, associate professor of biological sciences.
2:21 p.m., June 2, 2006--The University of Delaware has been awarded a four-year, $1.5 million grant by the Howard Hughes Medical Institute to support undergraduate science education.
UD was one of 50 research institutions nationwide selected to receive a total of $86.4 million in funding from HHMI, which announced the grants June 1.
In its grant announcement, HHMI said biological sciences are "evolving rapidly, with more and more discoveries arising from interaction with other disciplines such as chemistry, mathematics and computer science," and the funds will help the University of Delaware and other institutions address the challenges through "bold and innovative science education programs."
This is the fourth major grant the University has received from the Maryland-based HHMI, following a $1 million award in 1992, a $1.6 million award in 1998 and a $1.7 million grant in 2002. HHMI said the fresh funding would help strengthen and enrich undergraduate science teaching at the nation's research universities.
"The University is very pleased to be selected once again by HHMI for this prestigious grant award," UD Provost Dan Rich said. "We value HHMI's confidence in our continued commitment to strengthening undergraduate science education. This grant will further support the innovative efforts of UD faculty to enhance student learning through the integration of interdisciplinary teaching and research."
Hal White, professor of chemistry and biochemistry, directs the HHMI program at UD. The assistant director is David Usher, associate professor of biological sciences. "We were delighted to learn that the Howard Hughes Medical Institute would fund our Undergraduate Science Education initiative for another four years," White said. "It means we can continue to enhance the University of Delaware's nationally recognized efforts in undergraduate research and problem-based learning."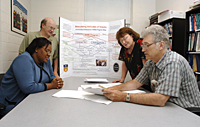 Zakiya Wilson (left), who coordinates the Network of Undergraduate Collaborative Learning Experiences for Underrepresented Students (NUCLEUS), and Lisa Robinson, staff assistant in chemistry and biochemistry, work with White and Usher on the HHMI undergraduate research program at UD.

White added there also are benefits for UD's Network of Undergraduate Collaborative Learning Experiences for Underrepresented Scholars (NUCLEUS) Program, which encourages students in underrepresented groups to pursue careers in science. NUCLEUS is coordinated by Zakiya Wilson, who can now implement new programs designed to benefit its students, he said.

"Of particular note," White said, "is the support HHMI has given our plans for new undergraduate program in quantitative biology that involve faculty from mathematics, biological sciences, chemistry and biochemistry, and chemical engineering, as well as from other HHMI-supported schools."

"We believe it is vital to bring fresh perspectives to the teaching of established scientific disciplines and to develop novel courses in emerging areas, such as computational biology, genomics, and bio-imaging," Thomas R. Cech, HHMI president, said. "Our grantee universities are providing hands-on research experiences to help prepare undergraduates, including women and minorities underrepresented in the sciences, for graduate studies and for careers in biomedical research, medicine, and science education. We also hope these grants will help the universities increase the science literacy of their students, including non-science majors."

The four-year grants to universities in 28 states and the District of Columbia range from $1.5 to $2.2 million each. A panel of scientists and educators reviewed proposals from 158 institutions.

HHMI has supported undergraduate science education at the nation's colleges and universities since 1988. Through its undergraduate grants, the Institute has provided 247 institutions of higher learning with nearly $700 million for programs that include undergraduate research opportunities; new faculty, courses, and labs; teaching and mentoring training; and work with precollege students and teachers.

A nonprofit medical research organization, the Howard Hughes Medical Institute was established in 1953 by the aviator-industrialist. The Institute, headquartered in Chevy Chase, Maryland, is one of the largest philanthropies in the world, with an endowment of $14.8 billion at the close of its 2005 fiscal year. HHMI spent $483 million in support of biomedical research and $80 million for support of a variety of science education and other grants programs in fiscal 2005.

HHMI is dedicated to discovering and disseminating new knowledge in the basic life sciences. HHMI grounds its research programs on the conviction that scientists of exceptional talent and imagination will make fundamental contributions of lasting scientific value and benefit to mankind when given the resources, time, and freedom to pursue challenging questions. The Institute prizes intellectual daring and seeks to preserve the autonomy of its scientists as they pursue their research.

Article by Neil Thomas
Photos by Kathy F. Atkinson
E-mail this article
Subscribe to UDaily
Subscribe to crime alert e-mail notification