New research ship arrives at Lewes

Click here for Quicktime video

Click here for Windows Media video

Click here for Q&A about the new ship

Click here for slide show

4:23 p.m., Jan. 11, 2006--The University of Delaware's new Research Vessel Hugh R. Sharp has made its way from the Pacific Northwest to Delaware, completing the last leg of the journey early Wednesday morning, Jan. 11, as it reached UD's Lewes campus berth in preparation for outfitting with the latest in leading edge scientific equipment.

Once fully equipped and following a series of shakedown cruises, the ship will be formally commissioned by the University during ceremonies to be held later this year. The Hugh R. Sharp replaces the Research Vessel Cape Henlopen, which was in continuous service since 1976.

"Our new ship is a remarkable addition to the U.S. oceanographic research fleet," Nancy Targett, dean of UD's College of Marine Studies, said. "It will serve marine scientists throughout the Mid-Atlantic region as a state-of-the-art platform for exploring and sampling the coastal ocean."

The 146-foot ship, which is the nation's most advanced coastal research vessel, was designed by Bay Marine of Barrington, R.I., and built by Dakota Creek Industries of Anacortes, Wash. It has a modular design to enhance flexibility of use and features modern laboratories onboard, as well as the capability to carry two additional portable laboratories.

The diesel-electric vessel's design also may allow for testing and fitting to incorporate new fuel-cell technologies as they develop. Noise Control Engineering of Billerica, Mass., produced a design to ensure that the ship will be as quiet as possible when under way, in keeping with the high standards recommended in the International Convention for Exploration of the Seas. These standards are based on the hearing ability of fish and were adopted so that during science operations, the ship itself does not influence the behavior of the fish being studied.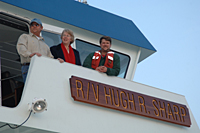 Captain Bill Byam (left); Nancy Targett, dean of UD's College of Marine Studies; and Matthew Hawkins, director of marine operations

Also, the ship will be outfitted with leading edge communication systems and will have the ability to handle remotely operated vehicles and underwater robotic devices.

The Hugh R. Sharp was christened by Carolyn Thoroughgood, UD vice provost for research who served as dean of the College of Marine Studies for 20 years, during ceremonies at the Dakota Creek shipyard on July 16, 2005. Prior to delivery to the East Coast, the ship underwent extensive sea trials in the waters off Washington's San Juan Islands.

It was later loaded onto a large transport ship for the long trip down the Pacific Coast, through the Panama Canal and into the Atlantic Ocean. The UD vessel was unloaded from the transport ship on Thursday, Jan. 5, in Port Everglades, Fla.

Following preliminary preparations by Matthew Hawkins, director of marine operations, and by Capt. William Byam and the crew, the Hugh R. Sharp began making its way north along the Atlantic Coast. It arrived off the mouth of the Chesapeake Bay on Tuesday, Jan. 10, and then made the final run to Lewes.

"The Hugh R. Sharp performed even better than expected on the trip from Florida to Lewes. We had a few bugs and kinks to work through, but nothing major at all," Hawkins said. "However, I have to say that the crew performed the best of all. It is truly amazing to watch such a capable group of people take ownership, and come up to speed so quickly, on such an advanced and complex vessel. That's what pleased me most of all."

The ship is named for Hugh R. Sharp, the great-great-grandson of Eleuthère Irénée du Pont, the founder of the DuPont Co. Sharp served on the company's board of directors for nearly half a century and was a trustee of the University of Delaware for almost 20 years. He died in 1990 at the age of 81.

In the early 1970s, Sharp helped raise money to purchase UD's first research vessel, the Cape Henlopen, by organizing a group of private philanthropists known as "Plank Owners."

He initiated a group of friends of the marine college called the Marine Associates and helped to establish several laboratories and an endowed professorship in marine biochemistry. The University's campus in Lewes also is named for him.

Thoroughgood noted how Sharp's legacy continues to live on through his three children, sons H. Rodney and William, and daughter Donnan. "They, too, have continued to give to the college and have been very influential in helping us have this vessel construction under way," she said.

Funding for the new vessel was provided by the University of Delaware, private donations, the National Science Foundation and the Office of Naval Research.

Like the Cape Henlopen, the Hugh R. Sharp will operate as a member of the U.S. academic research fleet via the University-National Oceanographic Laboratory System (UNOLS), a consortium of 64 academic institutions and national research laboratories. One of UNOLS' chief functions is to ensure the efficient scheduling of scientific cruises aboard the 26 research vessels located at 20 of its member institutions.

Article by Neil Thomas
Photos by Kathy F. Atkinson and Stacy Voorhees
Video by Robert DiIorio, IT-University Media Services
E-mail this article
Subscribe to UDaily
Subscribe to crime alert e-mail notification