Web site offers tools to fight hate crimes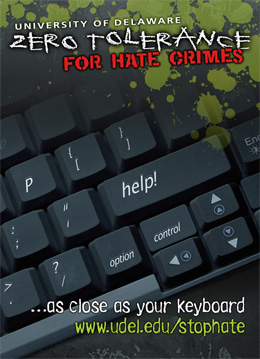 12:38 p.m., Feb. 24, 2006--"Those who engage in acts of hatred and bias-motivated threats and behavior will be confronted, prosecuted and expelled from our community." UD President David P. Roselle stated in an open letter to the UD campus in October.
The complete text of that letter can be found at [www.udel.edu/stophate/], a UD web site dedicated to supporting victims of hate crimes and acting as a resource to enable individuals to identify, report and stop hate crimes.
Cynthia Cummings, associate vice president for campus life, said the idea for the web site came from students who, after several incidents occurred on campus in the fall, wanted to be able to deal with hate and hate crimes in a more tangible way.
Cummings said students were not clear about the nature of hate crimes and wanted more facts. She said students told her they didn't know where to go to report the things they saw. "We decided to develop the web site so that students would have access to information about hate-related incidents and antihate-related events on campus," Cummings said.
"We hope that there will more open discussions of hate crimes, hate speech and other forms of intimidation based on race, ethnicity, religion and sexual orientation," Cummings said. "We hope that students will feel empowered to take a stand and file reports when they witness such acts. And, we hope that we will be able to identify the perpetrators of such acts and take appropriate action against them."
Since the end of fall semester, the number of hate-related incidents has declined, Cummings said. "However, the recent outing of Robert Huber has increased students' concerns about their well-being. The presence on our campus of someone who promulgates such hateful beliefs is shocking and appalling. It is important, however, for our community to understand that, while we can and will address hateful actions, we can do nothing to abridge an individual's right of free expression, even if such expression is rooted in hatred," she said.
On the right side of the web site is a list of links for those who want to report a hate crime, complete with the names of those to contact. There also are links to campus resources such as Students Advocating for Freedom and Equality (SAFE) Team and Allies programs for students and employees.
SAFE is a group of students and staff who are organized to respond to acts of hate and intolerance that occur on the campus. The Allies programs are specifically for victims of hate crimes based on sexual orientation. There is also a link to UD's annual campus security report.
Additional links take users to off-campus resources that define hate crime, suggest ways to fight hate, promote tolerance and offer guidelines for collecting data on hate crimes.
Listed on the left are links to news articles about what is happening on campus to deal with hate and hate crimes.
The web site, which also features quotes on the topic by famous individuals from Cicero to Will Smith, is a rich resource of anyone who is disturbed by "those whose credo is meanness and whose method is intimidation; those who engage in acts of hatred and bias-motivated threats and behavior...."
The web site is part of an ongoing campaign to raise awareness about this issue across campus. On April 21, the University will celebrate Unity Day, to allow members of the UD community to stand united in opposition to the espousal of hatred and to demonstrate commitment to taking action against the perpetrators of hate crimes. More details about this event will be announced soon.
Article by Barbara Garrison
E-mail this article
Subscribe to UDaily
Subscribe to crime alert e-mail notification