Forum airs views on race relations at UD
"You must be the change you wish to see in the world."
--Mahatma Gandhi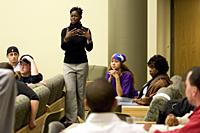 Zakia Reaves, complex coordinator for George Read and Pencader halls, leads a discussion on social/racial issues.

4:38 p.m., Dec. 1, 2005--Projected on a screen in the lounge in George Read Hall was the face of a young woman. "You'll be seeing head shots of people, and your group needs to agree on their race. Your choices are American Indian, Hispanic or Latino, black, white or Asian," facilitator Anthony Sturgis told those attending the first Residence Life George Read/Pencader Town Hall Forum on Race Relations, held Monday, Nov. 21, at UD.

The forum was arranged in response to an escalation of hate crimes on campus. Its purpose was to begin a dialog and to create an action plan for the future.

Kevin Tressler, hall director, told the gathering that according to FBI and U.S. Justice Department statistics, there were 7,649 hate crimes committed in the U.S. in 2004. He said 53 percent of those were racially motivated, with 61 percent committed by whites and 20 percent by blacks. "One hate crime is committed every 68 minutes in this country," Tressler said.

Zakia Reaves, complex coordinator for George Read and Pencader halls, told the racially mixed group that hate crimes have become "a nationwide epidemic," and "we need to start somewhere to put an end to it." She said the discussion about race relations should be open and honest. "Don't hold back. Say what you feel. We aren't going to solve it all tonight, but at the end of this forum, we will put together an action plan to deal with some of these problems on campus," Reaves said.

For the first exercise, those in the room were shown 20 faces and asked to determine each person's race. Not one group was able to correctly identify more than nine faces.

"Appearance does not always tell you about someone's ancestry or self-identity. Race is not a biological determinate," facilitator Alfred Lance said. "Race is not based on genetic makeup but on social construct or what people agree is reality. Humans haven't been around long enough to be broken into subspecies like other animals. Race may not be biological, but racism is still real," he said. He then introduced a video, The Power of Illusion: Me, My Race and I, with a variety of people talking about how they have been racially stereotyped.

The video began with the fact that while only 21 percent of those driving are minorities, 80 percent of those pulled over by law enforcement officials are nonwhite. The first person interviewed was a black man who described something that happens to him as a result of the notion that all black men are criminals. He said that when he enters an elevator, women back away from him clutching their purses even though he is wearing his work identity badge.

After laying down ground rules for behavior during what facilitators Deborah Bieler, assistant professor of English, and Keenon Mann, residence life graduate assistant for diversity initiatives and a student in the College of Human Resources, Education and Public Policy, said they hoped would be a frank discussion, students and faculty in attendance began to openly comment about their experiences and perceptions.

Mann said he had looked over the answers to a survey given out before the meeting asking attendees to list the characteristics of several racial stereotypes. "Most answers were negative. You could have written about positive characteristics of each race, but you didn't," he said. One student suggested that people chose the characteristics the world gives racially categorized groups, not what they themselves think.

A student described himself as half black and half white and said the way people treat him varied greatly depending on what color they believe him to be.

One black student said she had grown up with white people all of her life and never had any trouble, but, when she came to UD, all of that changed.

Then the discussion turned to a section of the Trabant University Center food court called, "The Booth," where students of color congregate.

Most students of color at the meeting said The Booth gives them a safe haven, a place where they can be with people just like themselves and feel comfortable. "It makes me feel good to see a group of black people when there are so few on campus. There's a need for the support you get from people who look like you," according to one student.

Another student said all groups have to have a "chill spot." At the university he attended before coming to UD, they called it "Little Africa."

Another student said it's not just an issue of comfort; it's an issue of survival. "It's difficult when your personhood is assaulted day after day." When minorities are seen as "the other," The Booth becomes a sanctuary, he said. "It can help you not lose your mind or leave the University."

Next, the discussion turned to white privilege, with most agreeing that those who are white don't have to deal with race the way people of color do. "It's different for white people, they're not judged by their race," a student said.

Two students took exception to the notion that white people are privileged. They said that when qualified white people lose a job or financial aid because they aren't a minority, they are being excluded because of their color and that isn't privilege. But, another student pointed out that at UD 85 percent of the students are white and only seven percent are minorities, so there is no way most financial aid can go to minority students.

The forum closed with everyone in the room agreeing that some kind of action plan needed to be developed if anything was going to change.

Reaves took notes as participants made several suggestions including:
Challenge yourself to identify your own racist thoughts;
Educate people as to exactly what white privilege is;
Get to really know people beyond small talk, ask about their experiences, their deepest thoughts;
Speak out in class if a professor says something that sounds racist;
Hold more forums on a monthly or weekly basis;
Hold leaders accountable to act on diversity issues; and
Use student evaluations of faculty and courses to ask for more information about minority contributions to society.
Reaves urged participants to create personal action plans, to sign up to receive the Center for Black Culture's listserv and to contact the Delaware Undergraduate Student Congress (DUSC) if they become victims of a hate crime. She said DUSC is in the process of creating an ad hoc committee on hate.
Article by Barbara Garrison
Photo by Kevin Quinlan
E-mail this article
To learn how to subscribe to UDaily, click here.