UDaily is produced by the Office of Public Relations
150 South College Ave.
Newark, DE 19716-2701
(302) 831-2791

Filmmaker focuses on tolerance at Unity Day address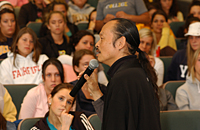 Lee Mun Wah: "In the United States, we tend to tune others out in a variety of ways. Not really listening to them, and not really looking at them when they are talking, is one really effective way we do this."
3:01 p.m., April 24, 2006--Lee Mun Wah, a nationally acclaimed author, filmmaker and lecturer, focused on the importance of tolerance in the Unity Day keynote speech Friday evening, April 21, in Smith Hall.
Addressing several "hot buttons" related to race and ethnicity, Lee led the audience of approximately 100 UD students, staff and faculty members through a number of trust-building exercises, and, in the process, exposed stereotypes, prejudices and perceptions ingrained in American society.
"Every time I cross this country I always wonder if it's going to be safe to tell the truth, and I wonder how many of you have the same doubts," Lee said in his opening remarks.
Scanning the audience, Lee made observations--many of them uncomfortable--about what he saw in the audience. Whites vastly outnumbered blacks, he observed, and persons of color were sitting together, at the back of the room.
"I want you to think about what you might be seeing," he said, asking listeners to look around at the groupings. "Because where you are sitting in this room, and whom you have chosen to sit next to, is largely determined by your racial background."
Lee asked different racial groups to stand and be counted before initiating dialogues among African-Americans, Asians, Hispanics, other persons of color and whites.
"In the United States, we tend to tune others out in a variety of ways. Not really listening to them, and not really looking at them when they are talking, is one really effective way we do this," Lee said. "The United States thinks it's the most multicultural country in the world, but it's not. It's the most unicultural country."
Making the point that European-Americans are a minority group in the world, Lee listed ethnic groups that he said are largely ignored and disenfranchised in the United States.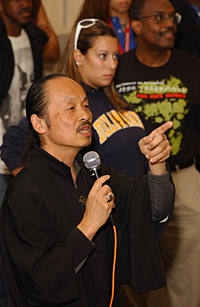 Lee: "You can come here on Unity Day, but it doesn't do any good to stay in your seats. You need to take action. You need to talk with each other and have honest discussions."

"China has the largest population in the world and is soon to be the number one economy in the world," he said, "yet, how many of you in this room know five words in Chinese? In the United States, we have Chinatowns, Japantowns, Germantowns and Little Italies, but that's never to honor these people. It's to allow them to get fair housing and jobs."

Throughout his exercises, Lee made the point that the number one dividing factor in the United States is color and will remain color until every citizen takes a firm stand and works for equality.

In one exercise, he divided the room into persons of color, whom he grouped on stage, and whites, whom he asked to remain seated. He then asked all whites who had been socialized to believe they were superior to African-Americans, Asians and Hispanics, to stand up. About 75 percent did.

"You can come here on Unity Day, but it doesn't do any good to stay in your seats," Lee said. "You need to take action. You need to talk with each other and have honest discussions. Curiosity is the gateway to empathy, and one thing I've learned about the European population is that they are not curious."

Lee closed his workshop by mediating a confrontational discussion between the two groups in which he encouraged tough questions that touched on distrust and resentment.

"In the past three years, I've collected more than 500 questions that white people have been afraid to ask people of color," Lee said. "Now I'd like to ask how many of you on stage feel you've heard the truth tonight, and remind everyone here that if you don't tell the truth to yourself, you can never have a relationship with another person."

Lee is the executive director of StirFry Seminars, traveling workshops and lectures designed to improve social understanding and tolerance in communities. He is a therapist in San Francisco's Chinese-American community, as well as a well-respected documentary filmmaker, author and educator.

His 1993 film on Asian-Americans, Stolen Ground, won the San Francisco International Film Festival's Certificate of Merit Award, and his second film, The Color of Fear, won the National Education Media Network's Best Social Documentary Award for 1995. In 1998, his film Walking Each Other Home won the Cindy International Film Festival's Silver Medal for Best Social Issues Award. Lee also appeared on the Oprah Winfrey Show in a one-hour special on his life and work. Before launching his seminars and filmmaking career, Lee was a special education resource specialist in San Francisco's Unified School District.

Article by Becca Hutchinson
Photos by Duane Perry
E-mail this article
Subscribe to UDaily
Subscribe to crime alert e-mail notification