UDaily is produced by the Office of Public Relations
150 South College Ave.
Newark, DE 19716-2701
(302) 831-2791

Unity Day events slated for Friday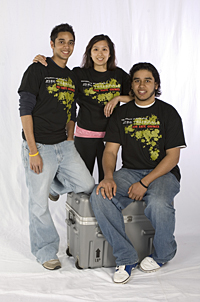 Arjun Gupta, AS '06, (left), Jennifer Sun, AS '06, and Elvin Perez, US '08, are members of the Unity Day organizing committee.

9:56 a.m., April 19, 2006--UD is sponsoring a campus-wide Unity Day from 2-8 p.m., Friday, April 21, on the North Green.

UD President David P. Roselle, in an April 4 e-mail, explained to members of the UD community that "the purpose of this event is to help unite our community as a place that is welcoming to all persons."

All UD students, faculty and staff are invited to attend the event, which will feature a Unity March, student performances, discussion groups and keynote speaker Lee Mun Wah, a nationally acclaimed Chinese-American community therapist, documentary filmmaker, educator, performing poet, Asian folk teller and author.


Unity Day events include:
1:30 p.m.--Students gather for Unity March at Christiana Commons, Ray Street A, east Perkins Student Center steps facing Harrington Beach, as well as Kent and Rodney dining halls;
1:45 p.m.--Students begin marching to the North Green;
2 p.m.--Marchers arrive at North Green for the opening ceremony;
2-5:30 p.m.--Performances by various students and student organizations, testimonials, "Interactive Explorations," free food (vegetarian or meatball subs, soft pretzels and a beverage), informational booths, raffle prizes and more;
6:30 p.m.--120 Smith Hall, keynote speaker Lee Mun Wah, will discuss "Walking Across the Room," addressing the barriers that keep people apart and offering Unity Day participants encouragement and advice on how to develop authentic and meaningful relationships with others; and
10 p.m.-2 a.m.--Late-night party in the Multipurpose Room of the Trabant University Center, a chance for participants to celebrate the events of Unity Day and perhaps to "walk across the room" in the spirit of the day.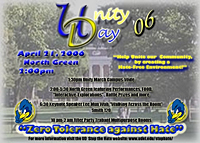 The idea for Unity Day was conceived in meetings between University administrators and six African-American students, after a series of bias-related incidents occurred on the UD campus during the fall semester, Cynthia Cummings, associate vice president of Campus Life, said.
"Delaware Undergraduate Student Congress (DUSC) representatives and a student group that advised the Provost's office on diversity-related issues also were considering holding a similar event," Cummings said. "All of these individuals agreed that it was time to bring the entire campus together to acknowledge our commonalities, celebrate our differences and take a stand against hatred based on race, ethnicity, religion and sexual orientation."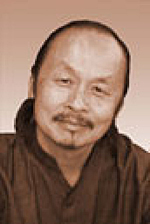 Lee Mun Wah

A committee of students representing a variety of student organizations was formed to plan Unity Day events, Cummings said. The committee members are John Cordrey AS '06; James C. Daniels III, AS '06; Antonia De La Luz, AS '07; Arjun Gupta, AS '06; Keenon Mann, CHEP grad student; Peter Mares, BE '08; Anum Mallick, HS '07; Eric Mollo, BE' 06; Elvin Perez, US '08; Tya Pope, AS '06; alum Stacy Richards; Adib Rushdan, HS '06; Erin Sullivan; and Jennifer Sun, AS '06.

Unity Day is intended to be a time of celebration of every member of the University community, with festive, educational and reflective moments and performances that will focus on themes of unity and peace, she said. The "Interactive Explorations" segment will give participants an opportunity to reflect on their own experiences and to find common ground with others, Cummings said.

"We hope that the day's events will facilitate an atmosphere on campus where we will all begin to come out of our separate groups and interact with different types of people regularly and not just on special occasions," Cummings said.

The day will culminate with an after-the-event party intended to be the biggest campus party of the year.

"Unity Day is a wonderful opportunity to see friends and make new ones, to renew our commitment to working together, and to begin living the actions we aspire to achieve for our University community," Marilyn Prime, director of student centers, said. "Unity Day 2006 will be exciting in a positive and unifying way."

Article by Jerry Rhodes
E-mail this article
Subscribe to UDaily
Subscribe to crime alert e-mail notification