UDaily is produced by the Office of Public Relations
150 South College Ave.
Newark, DE 19716-2701
(302) 831-2791

Margaret Cox named HR Liaison of the quarter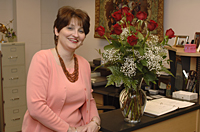 Margaret Cox
4:54 p.m., April 10, 2006--Margaret Cox, an administrative assistant in UD's College of Health Sciences, has been named the HR Liaison of the quarter--an honor reserved for exemplary members of UD's Human Resources team.
Cox, who learned of her nomination Thursday morning when flowers were delivered to her office in McDowell Hall, received a certificate for her efforts, along with the recognition of her colleagues and her supervisor, Madeline Lambrecht, director of the College of Health Sciences Special Programs division.
"I feel like a celebrity," Cox said, "but I'm extremely surprised--and honored--by this nomination! There are so many people on campus who deserve the same recognition. I'm just fortunate enough to have a very appreciative boss."
With the University since 1977, Cox said that she does "a little of everything"--which, in a busy office with five employees, means exactly that.
"Because my tasks are so diversified, I sometimes feel as though I have several different brains," she said, "but the days are never slow."
Besides carrying out general HR tasks, which include handling the various financial forms that come through her office, Cox also is responsible for designing and producing the College of Health Sciences' online certificate programs and CDs, and, until recently, maintaining the department's web site.
"I come to work every day and do my job," she said, "and the work is always interesting. Sometimes the days go so fast that years seem like weeks."
Article by Becca Hutchinson
Photo by Kathy Atkinson
E-mail this article
Subscribe to UDaily