U.S. must end dependency on oil, expert says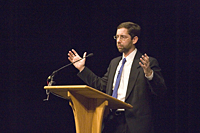 Gal Luft: "The reality is most of the world's oil is concentrated in areas and countries that are unstable, corrupt, dictatorial and, in some cases, deeply resentful of the United States."
3:35 p.m., April 6, 2006--Depending on volatile countries in the Middle East for oil poses a threat to national security, Gal Luft, co-director of the Institute for the Analysis of Global Security, said Wednesday evening, April 5, during a Global Agenda series lecture at UD.
"The reality is most of the world's oil is concentrated in areas and countries that are unstable, corrupt, dictatorial and, in some cases, deeply resentful of the United States," he said. "Seventy-one percent of the world's oil reserves are in the hands of Muslim countries at a time in which our relationship with the Muslim world is at an all-time low."
In his lecture, Luft said lack of oil in the U.S. increases its dependency on other countries. Although the U.S. possesses only 3 percent of the world's oil, it consumes 25 percent.
Luft, co-chairperson of the Set America Free Coalition, said the U.S. is supporting terrorism by paying Middle Eastern countries for their oil.
"We are funding those countries that are the richest proliferators of radical Islam," he said. "We are fighting the war on terrorism, and we are paying for both sides of the war. On one hand, we are sending our troops and daughters all over the world to fight for freedom and democracy. At the same time, every time we arrive into a gas station, we end up sending dollars and cents to those who don't like us."
Luft: "Sixty percent of our oil is coming from abroad, and this figure is growing by the day."

Luft said the U.S. cannot win the war on terror while relying so heavily on the Middle East.

"I do not think we can meet these goals as long as we are dependent on oil, to the degree that we are today," he said. "Sixty percent of our oil is coming from abroad, and this figure is growing by the day."

Luft said terrorists are targeting the U.S. through oil pipeline sabotage. More than 1.5 billion barrels of oil have been lost as a result of sabotage. Luft also said the U.S. could be exhausting the reserve of cheap oil and that oil prices could rise in the next five years.

The U.S. needs to find alternatives to oil, Luft said. Instead of gasoline, flexible fuels--such as ethanol, methane and electricity--can be used to power cars, he said. Noting that it could take 20 years to replace an oil-dependent economy, Luft said that it is critical to the country's safety and prosperity to begin the transformation now.

"Everyday we delay the beginning of the process is one more day, in the future, we will have to be under severe adversity," he said.

Luft said the U.S. should take the lead in lessening its dependence on oil and that other countries will follow.

Luft's lecture is part of a series of Global Agenda lectures entitled "Hidden Dangers: Global Challenges Below the Radar," which are free and open to the public.

The lectures by policymakers, government leaders and foreign affairs experts explore the issues facing the United States. Topics include the affects of war on children and the developing world, war crimes and global relations. Other issues include the role of the U.S. and national security.

The next lecture will be at 6:30 p.m., Monday, April 10, with John Bolton, U.S. ambassador to the United Nations. Bolton was vice president of the American Enterprise Institute, a nonprofit public policy center in Washington, D.C., and most recently served as U.S. undersecretary of state for arms control and international security in 2001.

Organized by Ralph Begleiter, UD's Rosenberg Professor of Communication and Distinguished Journalist in Residence, the series is cosponsored by the University of Delaware and the World Affairs Council of Wilmington and is intended to investigate the complexities of global affairs.

For more information on the speakers and their lecture topics, visit [www.udel.edu/global]. For general information on the series, call Department of Communication at (302) 831-8041.

Article by Julia Parmley, AS '07
Photos by Kevin Quinlan
E-mail this article
Subscribe to UDaily
Subscribe to crime alert e-mail notification