UDaily is produced by the Office of Public Relations
The Academy Building
105 East Main St.
Newark, DE 19716-2701
(302) 831-2791

UD Hall of Fame names nine new members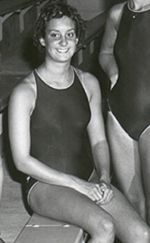 Bev Angulo Coy

11:36 a.m., Oct. 5, 2004--Nine new members have been named to the University of Delaware Athletics Hall of Fame, including All-American quarterback Scott Brunner, former athlete and coach Joyce Perry and innovative academic counselor Janice Jordan Coleman.

The new class of inductees will be honored during a ceremony to be held Friday, Nov. 19, at the Bob Carpenter Sports/Convocation Center and will be recognized the next day prior to the UD-Villanova University football game.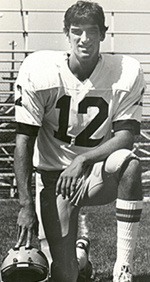 Scott Brunner

The Class of 2004 features 1981 national swimming champion Bev Angulo Coy; quarterback Scott Brunner; All-American running back Billy Cole; high-flying basketball forward and record-setting jumper Alex Coles; academic counselor Janice Jordan Coleman, who died in 1998; track and field sprint champion Ed McCreary; former women's basketball head coach Joyce Perry; record-setting distance runner Mary Schilly Knisely; and All-American lacrosse defender Linda Schmidt Brogan.

Bev Angulo Coy: One of the most accomplished swimmers in UD history, she earned All-American honors eight times during her career and was part of two of the most outstanding Fightin' Blue Hens teams ever for then-head coach Edgar Johnson. A 1983 UD graduate, she led the Hens to a four-year dual meet record of 48-2, which included an all-time UD athletics record of 42 straight wins. Those teams won Eastern Association for Intercollegiate Athletics for Women (EAIAW) regional titles in 1981 and 1982, and finished ninth in the national AIAW meet in 1981. Coy was a member of the AIAW national champion 200 freestyle relay team and the fourth-place 400 freestyle relay team in 1981 and earned All-American honors in six other events. In addition, she was the East Coast Conference champion in the 200 freestyle relay and 400 freestyle relay in 1983. She held school records in the 50 freestyle (24.84) and in four relay events upon graduation. She currently resides in Elverson, Pa., with her husband, Neal Coy, and their children, Graham (13) and Shelby (10). She worked in the physical therapy field for 14 years.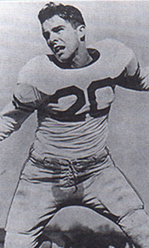 Billy Cole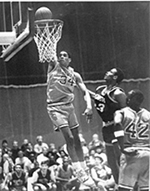 Alex Coles

Scott Brunner: Playing quarterback under College Football Hall of Fame Coach Harold R. "Tubby" Raymond, Brunner led UD to the NCAA Division II national title in 1979. He was an American Football Coaches Association All-American and the Eastern College Athletic Conference (ECAC) Player of the Year in 1979, when he threw for 2,401 yards and a then-school record 24 touchdowns in leading the Hens to a 13-1 record and a national championship game victory over Youngstown State. A 1980 UD graduate, Bruner was selected in the sixth round of the National Football League draft by the New York Giants and enjoyed a solid six-year professional career. He was inducted into the NCAA Division II Hall of Fame in 2002 and has remained active in college football as a television and radio announcer. He currently resides in Cranbury, N.J., and has three children, daughters Ashley (20) and Whitney (16) and son Adam (16). Ashley is a junior at the University of Delaware.

Billy Cole: He led the Hens to national prominence in the 1940s under College Football Hall of Fame Coach Bill Murray, becoming the first UD player to rush for more than 1,000 yards in a career (1,120). He still holds the school record for yards per carry in a season (12.2). Cole led UD to the 1946 national small college championship, earned a spot on the 1948 Associated Press All-American team, and later was named the 1949 UD Outstanding Senior Male Athlete of the Year. A 1949 UD graduate, he also was a standout in basketball and baseball and earned 11 varsity letters. Cole led the 1946 baseball squad to the Middle Atlantic Conference title and earned four letters and served as captain of the 1948-49 squad in basketball. He enjoyed an outstanding high school coaching career at William Penn High School in New Castle, where he served as head football coach for 25 years and as an assistant for 16 seasons. He was inducted into the Delaware Sports Hall of Fame in 1979. Cole is retired and resides in New Castle with his wife, Elaine. The Coles have four grown children and 11 grandchildren.

Alex Coles: One of the most exciting athletes in any sport in UD history, he was a high-flying forward in basketball and a record-setting high jumper. Known for his breathtaking dunks, Coles was a four-year starter for the men's basketball team and was a standout on the finest team in school history, leading UD to a 27-4 record, the North Atlantic Conference title and the school's first NCAA Tournament appearance in 1991-92. He was a three-time All-North Atlantic Conference selection and earned a spot on the 1989 NAC All-Rookie team. He finished his career ranked among the top five all-time UD leaders in points (1,471), rebounds (711) and blocked shots (107), and set a still-standing school record with 146 dunks. In track, he set the school high jump record (7 feet, 3-1/4 inches) and went on to earn All-American honors with a fifth-place finish at the 1990 NCAA Championships. He was named the 1992 UD Outstanding Senior Male Athlete of the Year. He resides in Towsend and has been employed by the Delaware River and Bay Authority for the last eight years. He has three children, daughters Danielle (12) and Imani (9) and son Andrew (2).

Janice Jordan Coleman: A 20-year member of the UD faculty, the late Janice Jordan Coleman was a pioneer in the area of academic counseling for scholar-athletes. An assistant professor in the Department of Educational Development, she was appointed the first director of Student Services for Athletes for the UD athletics program in 1990 and served in that capacity for eight years. She earned her bachelor's degree from Antioch (Ohio) College in 1971, her master's degree from UD in 1975 and her doctorate from the University of Maryland in 1985. As director of Student Services for Athletes, she coordinated classes on study skills and drug education and made scholar-athletes aware of academic and social resources on campus. She served as a counselor, mentor and friend to hundreds of scholar-athletes. She died in 1998 after a courageous battle with cancer. Her husband, Jesse Coleman, a substance abuse counselor at UD's Center for Counseling and Student Development, will accept the award in her honor.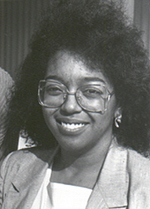 Janice Jordan Coleman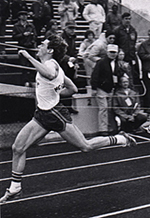 Ed McCreary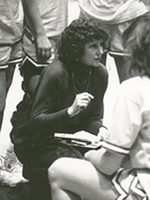 Joyce Perry

Ed McCreary: The fastest man in UD track and field history, he was a record-setting sprinter during his four-year career with the indoor and outdoor teams. He held nine indoor and outdoor school records at one point in his career and still holds outdoor records in the 100 meters (10.33), 200 meters (21.00) and sprint medley relay (3:25.6), all set during the 1980 season. McCreary won four East Coast Conference sprint titles during his career, capturing the 100 meters in 1978, the 200 meters in 1980 and the 400 meter relay in 1978 and 1980. He served as a co-captain for both teams and led the UD outdoor team to three straight ECC team titles in 1978-80. A 1980 UD graduate, he is the only sprinter in school history to qualify for the NCAA Outdoor Championships, competing in the 100 and 200 meter events in 1980 at the University of Texas. McCreary resides in Wilmington and is engaged to be married in October to Michelle Keyack. He is a self-employed certified public accountant and owns five Wings to Go franchises in the area.Joyce Perry: An outstanding athlete in the early years of UD women's athletics and later one of its most successful coaches, Perry played a major role in the growth of Blue Hen athletics for more than 25 years. She earned her bachelor's degree in 1973 and her master's degree in 1978 from UD after serving as a two-year captain in basketball and lettering for the first tennis and field hockey teams in school history. She became UD's second women's basketball head coach in 1978 and served for 18 seasons, the longest tenure in school history. She led the Hens to a record of 266-212, with six straight winning seasons from 1987-93, three 20-win campaigns and three straight East Coast Conference titles in 1989, 1990 and 1991. She coached nine all-conference selections, three conference players of the year and one conference rookie of the year, and was named ECC Coach of the Year in 1984 (22-4) and 1989 (23-6). Joyce and her husband, Gregg Perry, reside in New London, Pa., with their sons, Rhett and Trey. Gregg is a former standout UD football player who served as the Blue Hens' offensive line coach in 1977-91. Joyce currently is in her fifth year as an instructional technology specialist with the Avon Grove School District after teaching four years at UD following her retirement from coaching. She still plays basketball and tennis and has competed at the World Senior Games.Mary Schilly Knisely: A standout for the first UD women's indoor and outdoor track and field teams, she moved on to a stellar career as one of the top distance runners in America. A 1981 UD graduate, she competed at the AIAW outdoor nationals in the mile run in 1979 and 1980, placed fifth in the 1,500 meters at the 1980 EAIAW outdoor regionals and established still-standing school records in the indoor 880-yard run (2:17.9) and mile (4:51.6) and in the outdoor 880-yard run (2:21.0) and 1,500-meter (4:23.0) runs. After her career at UD, she enjoyed outstanding success as one of the world's top distance runners and competed at the U.S. Olympic Trials three times. She won a gold medal in the 3,000 meters at the 1987 Pan Am Games and was national champion in the 3,000 meters at the U.S. Track and Field Outdoor Championships in 1986 and 1987. She now resides in West Chester, Pa., with her husband, Dan Knisely, a former swimmer at UD, and their children, Justin (12) and Savannah (11). She is a licensed physical therapist.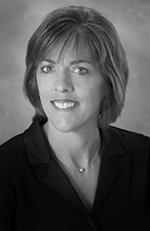 Mary Schilly Knisely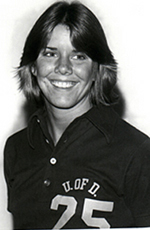 Linda Schmidt Brogran

Linda Schmidt Brogan: A standout two-sport athlete, she led the UD women's lacrosse team to three national titles as a dominating defender and was a three-year standout at forward for the field hockey team. A 1984 UD graduate, she helped the lacrosse teams win consecutive AIAW national lacrosse titles in 1981 and 1982 and the NCAA national championship in 1983 under head coach Janet Smith. A four-year starter, she earned Intercollegiate Women's Lacrosse Coaches Association All-American honors in 1983, was a two-time All-East Coast Conference selection, twice was named to the national all-tournament team and was a member of the national team. In field hockey, she led UD to two ECC titles and a third-place finish at the NCAA championships in 1982 under then-head coach Mary Ann Hitchens. She served as a captain for both teams and scored eight career goals in field hockey and nine goals in lacrosse. She currently resides in Edgewater, Md., with her husband, Paul Brogan, and daughters, Casey (11) and Kelly (8). She is a senior territory manager for Nalge Nunc International, which makes disposable and reusable plastics, and has been with the company for 18 years. She also has been active as a coach in the St. Mary's Youth Lacrosse League in Annapolis, Md.Nominations for the UD Athletics Hall of Fame can be made by contacting Scott Selheimer, director of sports information, at 831-2186 or via e-mail at [selheime@udel.edu]. Nominations for the Class of 2005 must be received by May 1.
E-mail this article
To learn how to subscribe to UDaily, click here.