UDaily is produced by the Office of Public Relations
The Academy Building
105 East Main St.
Newark, DE 19716-2701
(302) 831-2791

President Roselle nominated to OCLC board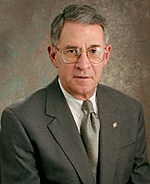 David P. Roselle

3:47 p.m., Oct. 25, 2004--UD President David P. Roselle and Elisabeth Niggemann, director general of Die Deutsche Bibliothek, have been nominated to serve in two open positions on the Online Computer Library Center (OCLC) board of trustees. OCLC is the world's largest library cooperative. The board will meet Nov. 15 to formally elect two new members.

"OCLC is fortunate to have a diverse group of distinguished, talented individuals leading this organization on behalf of libraries around the world," said Jay Jordan, OCLC President and CEO. "The addition of Elisabeth Niggemann and David P. Roselle to the board will help strengthen OCLC, the OCLC membership and the worldwide library community."

Terms for Board members Maurice Glicksman, Provost Emeritus, Brown University, and Tom Shaughnessy, University Librarian (retired), University of Minnesota, have expired, leaving the two vacancies to be filled in November.

Roselle became the 25th president of the University of Delaware in 1990. A 1961 graduate of West Chester (Pa.) University, he received his doctorate in mathematics in 1965 from Duke University.

Roselle has been a faculty member at the University of Maryland, Louisiana State University and Virginia Polytechnic and State University. At Virginia Tech, he served as professor of mathematics from 1974, was appointed dean of the graduate school in 1979, dean of research and graduate studies in 1981, and provost in 1983--a position he held until assuming the presidency at the University of Kentucky in July 1987.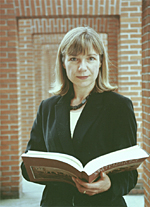 Elisabeth Niggemann

Roselle's professional activities include membership in the Mathematical Association of America, where he served as secretary from 1975-84. He also served as Associate Editor of the American Mathematical Monthly. He is a member of the American Mathematical Society. He also referees several journals, including Mathematical Reviews. He is past president of the Southeastern University Research Association Council of Presidents and of the Consortium for Mathematics and Its Applications.

Niggemann has a worldwide reputation as a leader in international library cooperation. She was director of the University and State Library, Düsseldorf, before being named director general of Die Deutsche Bibliothek Leipzig, Frankfurt am Main and Berlin in 1999.

Niggemann received a doctorate in Biology in 1982. She was an information science lecturer at the Heinrich-Heine-University, Düsseldorf and she was head of cataloguing and subject indexing as well as subject specialist for English language and literature, chemistry, preclinical medicine and library science at the University and State Library, Düsseldorf. She began her library career as head of the acquisition department at the German Central Library for Medicine in Cologne.

The two new members elected by the board will join two new members elected by the OCLC Members Council. Bob Seal, University Librarian, Texas Christian University, and Victoria Johnson, Director of Libraries, Sunnyvale (California) Public Library, were elected by Council in May to serve on the OCLC Board of Trustees.

The 15-member OCLC Board of Trustees consists of the President of OCLC and eight trustees elected by the Board itself, five of whom come from fields outside librarianship. The other six Board members are elected by the OCLC Members Council, a group of 66 worldwide representatives who support OCLC's mission by serving as the key discussion forum and communications link between member libraries, regional networks and other partners, and OCLC management.
E-mail this article
To learn how to subscribe to UDaily, click here.