UD students named 2005 Truman Scholars, adviser to be honored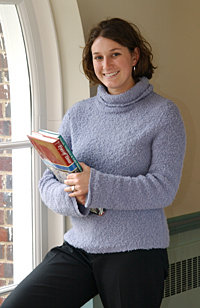 Dalit Gulak, a junior foreign languages and literatures major

2:18 p.m., April 1, 2005--Two UD students have been named 2005 Truman Scholars, bringing the total number of recipients to 15 and placing the University among the top 10 percent of colleges and universities with students who have received the prestigious award since it was founded three decades ago.

Dalit Gulak, a junior foreign languages and literatures major, and Thomas Isherwood, a senior international relations major, are among 75 students from 65 U.S. colleges and universities who will receive the awards during a formal ceremony on Sunday, May 22, at the Truman Library in Independence, Mo., after attending the Truman Scholars Leadership Week, a leadership development program, at William Jewell College in Liberty, Mo.

The students will be joined at the awards ceremony by Katharine Kerrane, senior associate director of UD's Honors Program, who will be honored along with 15 other scholarship advisers for their efforts and success in preparing Truman Scholars.

"I'm thrilled that we have two Truman Scholars who have been selected," Kerrane said. "It's a wonderful opportunity for both of them."

Kerrane said her invitation to the awards ceremony was a great honor to UD because "many, many faculty and administrators at UD, starting with President [David P.] Roselle, make the Truman Scholarships possible."

Last year, UD was one of only three institutions that were recognized as a Truman Foundation Honor Institution, joining a select group of 49 institutions that have received the honor in the foundation's 30-year history. Past recipients include Columbia, Duke, Georgetown, Harvard, Princeton and Yale universities.

Selection of UD as an Honor Institution was based on the University's active encouragement of outstanding young people to pursue careers in public service, its sustained success in helping its students win Truman Scholarships and having a current Truman Scholar.

"This is a splendid accomplishment of which UD deserves to be proud," Louis Blair, executive secretary of the Truman Scholarship Foundation, said. "It shows a commitment on the part of the University to attracting students committed to serving the public good and to encouraging their values and supporting their efforts."

Blair said Kerrane plays an essential role in recruiting students, providing advice and encouragement during the application process and then preparing them for what is often a grilling interview.

The scholarship provides $30,000 for graduate study. Scholars also receive priority admission and supplemental financial aid at some premier graduate institutions, leadership training, career and graduate school counseling and special internship opportunities within the federal government.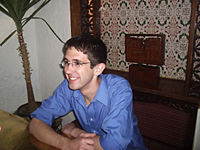 Thomas Isherwood, a senior international relations major

Recipients must be U.S. citizens, have outstanding leadership potential and communication skills, be in the top quarter of their class and be committed to careers in government or the not-for-profit sector.

The 75 Scholars were selected from among 602 candidates nominated by 299 colleges and universities. Each selection panel interviewed finalists from a three- to four-state region and generally elected one scholar from each state and one or two at-large scholars from the region. Each panel typically included a university president, a federal judge, a distinguished public servant and a past Truman Scholarship winner.

"Being selected a Truman Scholar is an incredible honor," Gulak, from Harpswell, Maine, said. "I am proud to be a representative of not only my state, Maine, where I won it from, but of the University of Delaware, as well."

Gulak, who also is a Dean's Scholar in Hispanic culture and medicine, spent the fall semester in the Dominican Republic and has been studying premedical courses in preparation for medical school.

"My goals are to go to medical school and work in public health to address issues both domestically and abroad," Gulak said. "My experiences, passions and career goals are focused on Hispanic health care, both within the United States as well as in Latin America. The Truman Scholarship will open significantly more doors of opportunity to me and enable me to address the needs I see in society in a direct manner."

Isherwood, from Wichita, Kan., who is currently in Cairo, Egypt, researching accountability in humanitarian organizations, said he was humbled and excited by the news. "Scholarships like this are so competitive that there is always a lot of luck in winning them," he said.

Isherwood, who is working with Barbara Harrell-Bond, the former director of the Refugee Studies Centre at Oxford who is generally credited with founding the academic discipline of refugee studies, spends his free time in Cairo taking Arabic lessons, teaching English at a school for refugees and training for the Dead Sea Marathon next month in Jordan.

"The application process took about as much time as a 3-credit course," Isherwood said. "The process consisted of an application, a number of essays and interview preparation. Thankfully, there is an incredible support structure in place at UD for people applying for the Truman Scholarship."

The Truman Scholarship Foundation was established by Congress in 1975 as the federal memorial to the 33rd president. Since the first awards were made in 1977, there have been 2,328 Truman Scholars selected.

Article by Martin Mbugua
Photos of Dalit Gulak by Kathy F. Atkinson
E-mail this article
To learn how to subscribe to UDaily, click here.