UDaily is produced by the Office of Public Relations
The Academy Building
105 East Main St.
Newark, DE 19716-2701
(302) 831-2791

UD celebrates its 156th Commencement

7 p.m., May 28, 2005--On a field of green, under a blue sky tinged with soft white clouds, thousands of blue-gowned graduates marched into Delaware Stadium to the strains of "Pomp and Circumstance" during the University of Delaware's 156th Commencement Saturday morning, May 28.

Enjoying the balmy weather, some 21,500 persons, including family, friends and alumni, turned out to celebrate the achievements of the Class of 2005 on their special day.

Complementing the student's procession were alumni representatives of classes from the 1950s through 2004. The Commencement ceremony also marked the official passage of the Class of 2005 from being students at UD to becoming members in the UD Alumni Association, with its membership totaling more than 130,000 alumni in 81 countries around the world.

The alumni delegates were led by Samantha Foy and William A. Tisdale, recipients of the 2005 Alumni Association's Warner and Taylor awards, which recognize the outstanding senior woman and man.

Flags from the 50 states and more than 130 countries that are home to UD students lined the fence behind the platform group. The flags celebrate the role that UD benefactor P.S. du Pont played in establishing the University's Junior Year Abroad, the first of its kind worldwide.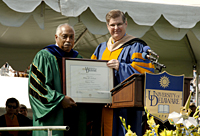 William B. DeLauder (left) who retired in 2003 after serving 17 years as president of Delaware State University, receives an honorary doctor of science degree from Howard E. Cosgrove, chairman of UD's Board of Trustees.

UD President David P. Roselle asked graduates and their guests to observe a moment of silence for loved ones and others, including alumnus Lt. Col. John C. Spahr, who died May 2 in Iraq, and deceased students Ms. Rachel Payne and Ms. Lindsey Marie Bonistall, during a presentation of the colors by members of the University of Delaware Air Force and Army ROTC.

Jeff Shaara, whose novels have been praised for their attention to factual details of the historical events and eras described, as well as for the development of emotional ties between the reader and the characters, delivered the Commencement address.

Following Shaara's address, Howard E. Cosgrove, chairman of UD's Board of Trustees, conferred an honorary doctor of science degree on William B. DeLauder, who retired in 2003 after serving 17 years as president of Delaware State University. His tenure there was characterized by major advances in academic programs, student life and capital projects that enriched the living-learning environment on that campus.

Conferred were 210 doctoral, 759 master's, 13 associate's and 3,890 bachelor's degrees earned during the past academic year. Honored by Del. Gov. Ruth Ann Minner for achieving the highest grade point average--4.0--in full-time study at UD were Catherine Anne Connelly of Cranford, N.J., Joshua Aaron Gerstenblith of Baltimore, Krista Nicole Velez of Marlboro, N.Y., and Claire Marie Zelinskas of Fort Walton Beach, Fla.

"For the great majority of you, today will be just one step in a lifelong continuum of learning," Roselle said. "Congratulations, graduates, on a job well done and on achieving this particular milestone in your lives."

The Class of 2005, whose members range in age from 20 to 68 years, includes nine graduates celebrating birthdays and nine sets of twins, he said.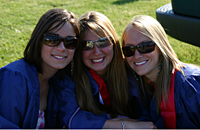 UD pals Lauren Stout, Lauren Gerardi and Molli Gross share smiles before lining up for Commencement.

"None of you has been able to arrive at this moment in your lives without help from others," Roselle said. "I hope you willŠ[take] the time today to thank those who have supported and will continue to support you in your journey."

"It's kind of shocking to be here today," Hillel Dlugacz, a fine arts and visual communication major from Woodmere, N.Y., said. "One of the best things about my UD experience is the number of friends that I have made."

Matt Gross, a business major from East Meadow, N.Y., said that Commencement was pretty much what he expected it to be, and that for him the most memorable experiences also were with the friends he has made at UD.

Lauren Stout, an international relations major from Hockessin, said that the idea that she was actually graduating still hadn't registered. "It is an exciting time," Stout said. "The things I enjoyed most are my friends and homecoming events."

Lauren Gerardi, a political science major from Staten Island, N.Y., said that graduating "feels like a surreal experience. It's like it's not really happening." Gerardi, who is looking for a job in journalism, also said she will miss her friends and all the good times they had during the last four years.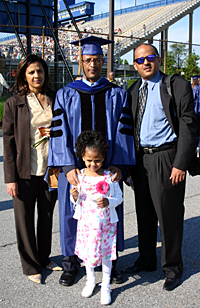 Ph.D. recipient Robel Kahsay, with Sarah Yosef, Petros Okubazgi and Rachel (with flower).

Mollie Gross, a history major from Howell, N.J., said it was hard to describe what it was like being a part of the Commencement experience.

"It's kind of weird," Gross said. "The nice thing was watching myself and my friends grow. When I came to UD, I was scared, but now I'm not."

Robel Kahsay, a doctoral candidate from Eritrea, in Eastern Africa, who was receiving a Ph.D. in electrical engineering said that he enjoyed his experiences at UD, particularly working at the Delaware Biotechnology Institute.

"My work is in bioinformatics," Kahsay said. "I'm taking a position as a research scientist at Georgetown University."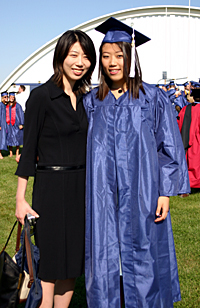 Sonwha Lee (right) and sister Jeongwha share a moment before Commencement.

Jeongwha Lee, a political science and East Asian studies major from Busan, Korea, said she had mixed feelings about graduating from UD.

"I love this school so much. Graduation is a happy and a sad thing," Lee said. "A lot of people say, 'Yeah--we're finally graduating,' but me, I want to cry."

Lee, who was president of Nihongo Table, a club where Japanese and nonJapanese students meet at UD, said she enjoyed meeting people during her term as president of the club, and that she also enjoyed Japanese studies. After an internship in international economics, she plans to attend law school.

"I love UD," Lee said "I hate to leave it."

Article by Jerry Rhodes
Photos by Kathy F. Atkinson, Jon Cox, Greg Drew, Duane Perry, Charlie Pruett and Sarah Simon
E-mail this article
To learn how to subscribe to UDaily, click here.