UDaily is produced by the Office of Public Relations
The Academy Building
105 East Main St.
Newark, DE 19716-2701
(302) 831-2791

Shaara tells grads they're 'blessed with opportunity'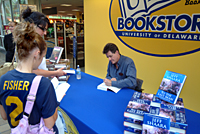 Historical novelist Jeff Shaara signs copies of his book, 'To the Last Man,' for students at the UD Bookstore the day before Commencement.

7 p.m., May 28, 2005--Each member of the Class of 2005 has the means within him or her to truly change the world, the noted historical novelist Jeff Shaara told University of Delaware graduates during Commencement exercises, held on a warm and sunny Saturday morning at Delaware Stadium.

"If you understand nothing else about your future," Shaara said, "understand that you are blessed with opportunity. You have already accomplished something formidable in completing a college education. You must leave here today with a sense of confidence, and it is not simply a cliché to say that every one of you is important and that any one of you might change history."

The day before Commencement, Shaara signed copies of his bestselling books To the Last Man, Gods and Generals and The Last Full Measure for an estimated 100 appreciative readers at the University Bookstore. Jennifer Galt, UD Bookstore manager, said fans were waiting in line when the author arrived at 2 p.m., Friday, May 27, and that there was a steady flow of autograph-seekers throughout the afternoon.

"He spent time with every single person in line," Galt said. "He answered questions about his books and talked about his work in progress, a World War II trilogy."

In his speech at Commencement, Shaara spoke of the lives of many Americans who rose from modest circumstances to greatness, not by namesake or design but by rising to the challenges of the day.

"George Washington, John Adams, Abigail Adams, Benjamin Franklin, Ulysses S. Grant, Robert E. Lee, Abraham Lincoln, John Pershing--these people have several things in common" with one another and with everyone in the stadium today, Shaara said. "None of these people were born into greatness. None were hand-picked to become heroes. None of them self-promoted themselves or hired a publicist, or appeared on Larry King or Charlie Rose or Oprah to make them famous. We know these names because of what they accomplished in their lifetimes. None of these people could know at the time how deeply their actions would affect the nation or the world."

Shaara said that when the Founding Fathers, including members of UD's first graduating class--George Read, Thomas McKean and James Smith--debated the Declaration of Independence, they had no idea how that document "would inspire us for more than two centuries, providing for a system and philosophy that continues to function and prosper today."

When George Washington began to lead his troops across the Delaware River on Christmas Day 1776 to face the British at Trenton, he "did not have his eye focused on history and had no way to predict what would follow," Shaara said. Rather, Washington undertook a "desperate move to inspire his ragged Continental Army and to keep his soldiers from simply going home."
Shaara:"If you understand nothing else about your future, understand that you are blessed with opportunity."

What he accomplished, Shaara said, was an action that so shocked the British commanders that it turned the tide of the Revolutionary War and provided for ultimate victory by the Americans.

"In the spring of 1864, when Abraham Lincoln handed command of the Union army to a relatively unknown general named Ulysses S. Grant, neither could have predicted with confidence that this was finally the right man to defeat Robert E. Lee," Shaara said, adding that Lincoln certainly could not have known we would revere his name today far more than it was then.

None of these people "had any idea how their accomplishments would be regarded by history, or even if anyone would remember their names," Shaara said.

The author said he draws his greatest inspiration from "listening to the voices of the people who made history," to their tales of heroes and villains, victory and loss, joy and accomplishment, life and death.

"As I have come to know these people and to tell their stories, my greatest surprise is how very much they are like us," Shaara said. "We share something with them. Every one of us has the ability to do something, to accomplish great things, to leave a legacy."

Shaara, who joked that he was surprised by the number of students who came to UD to study subjects other than history, admitted that the Class of 2005 might not believe him when he told them "every one of you is important."
Shaara: "Every one of us has the ability to do something, to accomplish great things, to leave a legacy.""When I sat at my own graduation at Florida State University, someone I do not even remember said something similar," he said. "I did not believe him. I was convinced no one would ever care about what I had to say. I was wrong then, and any one of you who feels as I did is wrong now."


The history of the world continues to be written today, Shaara said, citing those now-famous Americans who were once "unknown citizens living their lives" and who ultimately "faced extraordinary situations and rose to the occasion, who changed their world and, in so doing, changed ours."

Shaara said he suspects that "20, 50 or 100 years from now, someone like me might be inspired to stand here and tell your story. I have absolute confidence that you are up to the challenge."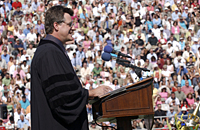 Shaara: "Every one of us has the ability to do something, to accomplish great things, to leave a legacy."

Shaara said that just two weeks ago he was aboard the aircraft carrier U.S.S. Carl Vinson in the Middle East as part of the National Endowment for the Arts-sponsored Operation Homecoming project, in which several UD professors have participated.

He said the aim of the project is to encourage soldiers, sailors and marines to write about their experiences in wartime. "I expected that if they wanted to write about anything, it would be about combat," he said, "but I was surprised to find that what inspired most of them to participate in the program had more to do with what they would face when they got home, concerns about jobs, about family. The world is moving past, and they want to move with it. In other words, they are very much like you."

Shaara's novels have been praised for their attention to factual details of the historical events and eras described, as well as for the development of emotional ties between the reader and the characters. He is the son of Michael Shaara, whose works included the Pulitzer Prize-winning Civil War novel about the battle of Gettysburg, The Killer Angels. After his father's death in 1988, Shaara took over the management of his father's estate.

While working on the production of the film Gettysburg, based on The Killer Angels, he became friends with film director Ron Maxwell, who had been close to Michael Shaara for the many years it took to bring the book to the screen. After the critical and commercial success of Gettysburg, Maxwell approached Shaara about the possibility of finding someone to continue the story, and Shaara decided to take on the project himself.

The result was Gods and Generals, a prequel to his father's work that went on to spend 15 weeks as a national bestseller. He followed that book in 1998 with The Last Full Measure, a sequel to The Killer Angels, and it, too, became a national bestseller.

In 2000, he published Gone for Soldiers, which described many of the Civil War characters' experiences in the Mexican-American War of the 1840s. The next year, he published Rise to Rebellion, the first in a two-volume story of the American Revolution as seen through the eyes of key participants. The concluding volume, The Glorious Cause, was released in 2002, and both volumes became national bestsellers.

Shaara's most recent book, To the Last Man, published last year, is a World War I novel that has received praise from Gen. Tommy Franks, Gen. Wesley Clark and Steve Forbes, who said that it "cements his reputation as a war writer of Tolstoyan or Homeric dimensions." Shaara is now at work on the first volume in a trilogy about World War II.

Article by Neil Thomas
Photos by Greg Drew and Kathy F. Atkinson
E-mail this article
To learn how to subscribe to UDaily, click here.