Psych students learn through service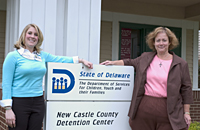 Senior Sarah Wiegner (left) works under the supervision of psychologist Anne-Marie Marquis at the New Castle County Detention Center.

5:33 p.m., May 20, 2005--When Sarah Wiegner mentors a troubled teenager, helps lead a discussion group for young men struggling with the problems of growing up or attends a meeting where professionals evaluate their clients' behavior, her situation is not that of a typical psychology intern.

For one thing, Wiegner, AS '05, still is an undergraduate. For another, her work takes place behind bars, in the New Castle County Detention Center, a high-security institution for juveniles charged with crimes in Delaware.

"I was intimidated at first to be at the detention center, since it's a locked-down facility and I knew the kids who were there could be tough to work with," Wiegner said. "But, I felt more comfortable each time I went there, and it's been a great hands-on experience. I'm doing things I never dreamed I'd have the opportunity to do, especially as an undergraduate."

Wiegner, who is considering a career in counseling, is one of about 25 psychology majors taking part in a new service-learning course developed by Gerard Hoefling, assistant professor of psychology. The course, in which upperclassmen work at least 10-1/2 hours each week in a community service agency or school, was designed to give students a firsthand look at various careers in human services, Hoefling said.

"Service learning is something you just can't provide in a classroom," Hoefling said. "I worked in the human service field for many years, and I can talk to students about my experiences, but it's not the same as giving them the opportunity to do it themselves."

He said his own undergraduate internships gave him the idea of creating a service learning course at UD. With support from psychology department chairperson Tom DiLorenzo, psychology Prof. Brian Ackerman and other faculty members, Hoefling made a formal proposal for funding and was awarded a grant from the University's Center for Teaching Effectiveness. The class was offered as a pilot in fall 2004 and as an established course in spring 2005.

"Students have been very enthusiastic," Hoefling said. "In fact, we don't have enough sites to accommodate all the students who want to enroll. We're working now to expand the number of sites and to make sure they're all appropriate placements. We want the students to have a variety of experiences, to be exposed to real situations and to have supervised contact with actual clients."

At the beginning of the semester, the class meets on campus for a few preparatory sessions, discussing such issues as ethics and patient confidentiality. Students are given a list of sites where they can work, and they apply to ones they find interesting. Each site makes the final decision on which student or students to accept. The agencies are varied, from high school wellness centers to inpatient psychiatric hospitals, as are the ages and backgrounds of the clients they serve.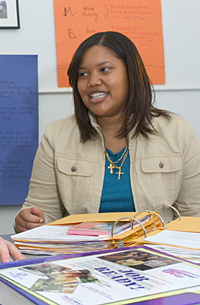 Senior Kiana Humphrey (right) enjoys working with teens at the Bridges Center of the Youth Services Agency in Elkton, Md.

Once the students start their practicums, they must write a weekly log of their experiences for Hoefling and graduate assistant Jason Jones to review. "It's been gratifying for me to read their logs, because they often express surprise," Hoefling said. "They might say that they didn't know this type of service existed, or they didn't know this type of population existed or—the big one—'I didn't know I could do this.'"

Students also are required to complete a project designed to improve some aspect of service for the agency where they are working. One project during the fall semester, for example, consisted of a public education brochure to let the community know what services the agency provided.

Students in the current class said the experience has been especially helpful as they consider their career choices. For Kiana Humphrey, AS '05, working at the Youth Services Agency in Elkton, Md., with teens who either have dropped out of school or are at risk for dropping out, has reinforced her intention to focus on that age group.

"I've always been interested in working with adolescents, so I chose this placement to try to get a better idea if that really is what I want to do," Humphrey said. "Going into this, I was worried that I'd just be doing paperwork, but they've really let me get my hands dirty. It's been a great experience, and now, I'm more interested than ever in working with teenagers."

Humphrey works directly with some clients, connecting them with such needed services as job training or GED classes and meeting with their parents and teachers to monitor their progress. She said the responsibility of having her own caseload, with close supervision, has been both educational and rewarding.

Isaac Levinsky, AS '06, said he's found the same benefits in his work at Delaware Psychiatric Center, an inpatient psychiatric hospital, where many of the patients with whom he interacts are elderly. At the time he began the practicum, he said, he was unsure whether to remain in the field of psychology, but he now is considering graduate school and a career in counseling.

"I was wary at first, because you hear negative stories about state hospitals, but once you get down to it, you're just talking to people," Levinsky, who assists patients with various activities and attends team treatment meetings with staff professionals, said. "This program is very cool because you get to see some aspects of what being a psychologist means. It's helping me answer the question: 'What does a psychologist do all day?'"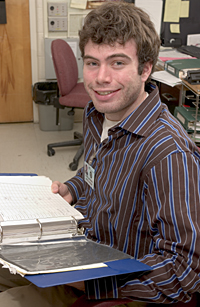 Junior Isaac Levinsky: "This program is very cool because you get to see some aspects of what being a psychologist means. It's helping me answer the question: 'What does a psychologist do all day?'"

Agency professionals who work with the interns described themselves and their staff members as pleased with the program.

"When I set this up, I focused on having it be very much of a learning and growing experience for the student and a building block for her career," psychologist Anne-Marie Marquis, who has supervised Wiegner at the New Castle County Detention Center, said. "Sarah is working with what could be a difficult group, but she seems comfortable and confident. She's doing very well."

At the Delaware Psychiatric Center, psychologist Richard Sadowski said each UD intern is paired with a professional staff member and participates in that individual's daily responsibilities. The program has been successful for the students and the institution, he said.

"Most of the students told me they were primarily interested in seeing how what they learned in the classroom was applied in real life, and that's the kind of experience we try to offer them," Sadowski said. "Most of our staff has been very receptive to working with the students, because we feel we have a professional obligation to help provide education and training in the field."

Hoefling agreed that agencies have been cooperative and enthusiastic and said the program's goal is to be a quadruple-win situation, in which students benefit with practical experience, agencies benefit by having some extra help from energetic volunteers, clients benefit from the additional attention they receive and the University benefits by developing relationships with the broader community.

"This is true service learning," Hoefling said. "Everything we do has a priority of not only educating our students but also providing a real community service."

Article by Ann Manser
Photos by Jon Cox
E-mail this article
To learn how to subscribe to UDaily, click here.