UDaily is produced by the Office of Public Relations
The Academy Building
105 East Main St.
Newark, DE 19716-2701
(302) 831-2791

Ex-Hen Joe Minucci honored by AFL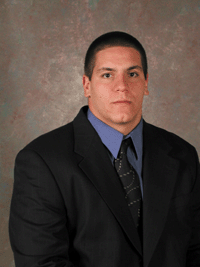 Joe Minucci at UD in 2002

9:02 a.m., May 26, 2005--Former University of Delaware football star Joe Minucci has been named to the 2005 Arena Football League All-Rookie Team as an offensive and defensive lineman.

Minucci is in his first season with the AFL's Nashville Kats and was one of three members of the team to be selected All-Rookie, alongside lineman Aaron McConnell and fullback and linebacker Dan Alexander.

Minucci led the team and all AFL rookies in sacks with five. He also had 18 tackles, 5.5 of which came behind the line of scrimmage, and broke up four passes. Twice during the season, Minucci caught touchdown passes. He played in all 16 games for the Kats and started the last 13.

Minucci was an All-Atlantic 10 Football Conference selection for the Fightin' Blue Hens during his senior season in 2002 and had a free agent tryout with the New York Jets the following year. In 2004, he played with the Tennessee Valley Vipers of the Arena Football League 2.
E-mail this article
To learn how to subscribe to UDaily, click here.