HIGHLIGHTS
[an error occurred while processing this directive]

UDaily is produced by the Office of Public Relations
The Academy Building
105 East Main St.
Newark, DE 19716-2701
(302) 831-2791

Latin American Cities symposium April 7-8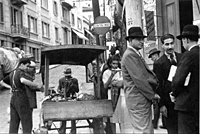 A Sao Paolo, Brazil, street scene by noted mid-century photographer Hildegard Rosenthal.

5:09 p.m., April 6, 2005--An interdisciplinary group of university and college historians, urban designers, planners, architects and literary scholars will take part in a symposium on the uses and representations of urban space in Latin American cities, Thursday-Friday, April 7-8, in the Perkins Student Center. The symposium is free and open to the University community.

The symposium will examine how the pressures of development, migration, industrialization, modernization and economic crisis affect urban space and what it means to be a Latin American city dweller, according to Persephone Braham, assistant professor of foreign languages and literatures, who organized the event as director of the Greater Philadelphia Latin American Studies Consortium.

The keynote address will be given at 6 p.m., Thursday, April 7, in the Rodney Room. Provost Dan Rich will introduce the speaker, David William Foster, Regents' Professor of Spanish, Women's Studies and Interdisciplinary Humanities at Arizona State University, who will talk on "Downtown in Sao Paulo with Hildegard Rosenthal's Camera." (Rosenthal was a noted mid-20th-Century photographer).

Panel discussions on a variety of topics from urban communities and crime in Mexico City to park design in Caracas, Venezuela, will be held from 10 a.m.-noon and 2-6 p.m., Friday, April 8, in the Ewing Room of the Perkins Student Center, followed by a closing reception in the Perkins Gallery.

During the closing panel discussion, from 4-6 p.m., Friday, Peter Rees, associate professor of geography, will be the discussant, and Monica Dominguez, assistant professor of art history at UD, will speak on "Artistic Dis/Placement in Colonial Maracaibo."

For more information on the symposium, go to [www.udel.edu/AreaStudies/lasp-events.htm].

The symposium is sponsored by the College of Arts and Sciences, the Center for International Studies, the Latin American Studies Program, the Office of Women's Affairs and the Department of Foreign Languages and Literatures with grants and assistance from the Greater Philadelphia Human Studies Consortium, the Greater Philadelphia Latin American Studies Consortium and the University of Pennsylvania Latin American and Latino Studies Program.
E-mail this article
To learn how to subscribe to UDaily, click here.