UDaily is produced by the Office of Public Relations
The Academy Building
105 East Main St.
Newark, DE 19716-2701
(302) 831-2791

William DeLauder awarded honorary degree

7 p.m., May 28, 2005--William B. DeLauder, former president of Delaware State University, was awarded an honorary doctor of science degree from the University of Delaware at the University's 156 Commencement exercises May 28 in Delaware Stadium.

Howard Cosgrove, chairman of the UD's Board of Trustees, presented the award and read a citation that called DeLauder a "man of vision and perseverance," noting that he was one of the longest-serving presidents of an historically black college in modern times.

During DeLauder's term as president, Delaware State University nearly doubled the number of faculty holding doctorates and added new graduate programs in biology, chemistry and physics, as well as new academic buildings and a residence hall, Cosgrove said.

"You served with distinction as president of Delaware State University for 17 years, until your retirement in 2003," Cosgrove said. "Your dedication to the university earned you the respect and deep admiration of countless students, parents, faculty, staff and alumni, and you left an indelible legacy of advancement, achievement and recognition."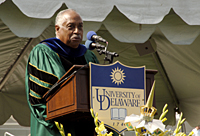 William B. DeLauder

Calling DeLauder a "champion of equality," Cosgrove said his efforts to build bridges of understanding have won him several honors, including the Thurgood Marshall Award for outstanding contributions to the higher education of African Americans by the editors of Jet and Ebony magazines, the Educational Leadership Award of the Thurgood Marshall Scholarship Fund and Delaware's Order of the First State Award, among others.

DeLauder has served on several policy-making boards and committee. "Your wise counsel and respected guidance are frequently sought, and you willingly and enthusiastically respond to these requests," Cosgrove said, "The University of Delaware is proud of your association here as chair of the Paul Jones Collection Advisory Board."

In accepting the degree, DeLauder said, "I am deeply touched and honored by this award. It is a very special award for me for many, many reasons, and I shall always cherish it."

Photos by Kathy F. Atkinson
E-mail this article
To learn how to subscribe to UDaily, click here.