Paul Jones, Amalia Amaki honored at Christi gala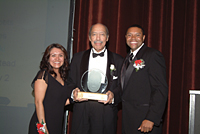 Paul Jones (center) accepts the Christi Award from gala cochairpersons Yvonne Deadwyler and Rick Deadwyler.

4:16 p.m., May 18, 2005--University of Delaware benefactor Paul R. Jones and Amalia Amaki, UD assistant professor of black American studies and curator of the Paul R. Jones Collection, were honored at the 2005 Christi Awards Gala in Wilmington on Saturday, May 14.

Jones, who was honored for outstanding philanthropy in arts, and Amaki, who was recognized for her outstanding achievement in arts and culture study, were among eight recipients of the Christi Award during the event, which featured a performance by Regina Carter, a Grammy award-winning jazz violinist from Detroit.

The biennial ceremony is organized by the Christina Cultural Arts Center Inc., a community school of the arts that offers a variety of programs to mostly low-income children, aimed at encouraging lifelong learning, building strong families and developing skills through artistic expression. The Christi Gala is designed to honor recipients and raise public awareness of the importance of the arts as a catalyst for social change.

"Of the many awards or recognition I have received, this is particularly meaningful in that it came from an organization that down through the years has made a difference through the programs that it has created and the service it has rendered to the community," Jones said.

Amaki said the award was evidence that the Paul R. Jones Collection is a valuable community asset that has elevated interest in African American art in Delaware and across the country.

"A lot of it is because of recognition by people from the Wilmington area through visits," Amaki said. "One of the goals of the inaugural exhibition was to do exactly that--Get the community involved. It's really wonderful how the exhibition is becoming a place where people gather in ways we don't traditionally do. Social and community groups have selected Mechanical Hall to hold their events. That is very special."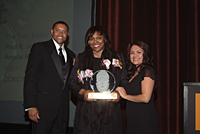 Amalia Amaki (center) accepts her Christi Award.

More than 300 invited guests, including Wilmington Mayor James Baker, attended the event at the Delaware Theater Company and a Midnight Rhythms on the River celebration at the nearby Juniper Bank building.

Baker said Jones and Amaki deserved the Christi Award because of their roles in generating renewed interest in African American art through the collection.

"It's a magnificent collection. You can't beat it!" Baker said. "It's great to have the collection at the University of Delaware. A few years ago nobody paid much attention to African American art....It was once referred to as primitive art, but that has changed."

Jones and Amaki were introduced and presented with the awards by Rick and Yvonne Deadwyler, honorary cochairpersons of the gala.

Also honored during the gala were: Tina Betz, director of the Mayor's Office of Cultural Affairs, singer and actor; William Wyer, managing director of Wilmington Renaissance Corp.; C. Lawler Rogers, an advocate for arts in Delaware and conductor of the HildaMan Chorale and the DuPont Diversity Choir; Annabelle Kressman, an advocate for art in Delaware; Twin poets Nnamdi Chukwuocha and Al Mills, who speak against social injustice through poetry; and Megan Armstead, a soprano soloist and recent college graduate who traveled to Thailand and India at her own expense to help victims of the recent tsunami.

Article by Martin Mbugua
Photos by Greg Drew
E-mail this article
To learn how to subscribe to UDaily, click here.