3 grad students take top soil research honors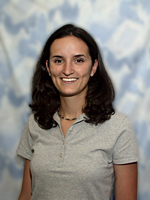 Kristin Staats

3:13 p.m., June 27, 2005--Three University of Delaware students in the College of Agriculture and Natural Resources (CANR) recently won major national awards for their research.

Graduate students Kristin Staats and Amy Shober each received a J. Fielding Reed Fellowship from the Potash and Phosphate Institute (PPI). Graduate student Jennifer Gilbert was awarded the L.R. Ahuja Agricultural Systems Modeling Fellowship from the Soil Science Society of America. All three are students in UD's Department of Plant and Soil Sciences.

Staats, who is completing her master's degree this summer in environmental soil chemistry under the direction of Donald Sparks, S. Hallock du Pont Chair of Soil Chemistry, said she won the $2,500 award for research on phosphate. Since her sophomore year at the University, Staats has been studying phosphate, particularly in the field of nutrient management. Nutrient management plays a significant role in determining how farmers conduct business and whether or not they will remain profitable.

"Agriculture is an integral part of our health as a nation," Staats said. "Answering questions that can improve crop production and waste management will dramatically improve this sector of our economy, as well as mitigate the environmental impacts of agricultural practices."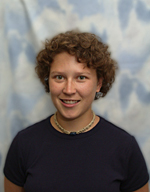 Amy Shober

The award will assist Staats with the costs of pursuing her doctorate at Virginia Polytechnic Institute and State University this fall. Staats said she hopes to one serve day as a liaison between government, researchers and the public through a career in teaching.

Shober, another winner of a J. Fielding Reed Fellowship, is advised by Tom Sims, T. A. Baker Professor of Soil and Environmental Chemistry and CANR associate dean for research. Currently in the third year of her Ph.D. program at UD, Shober is investigating how the chemical forms of phosphorus in animal manures and municipal biosolids affect the potential for phosphorus pollution of ground and surface waters. Shober plans to pursue a career as a research soil scientist.

"My major goal will be to enhance agricultural productivity, while minimizing negative environmental impacts," Shober said.

Gilbert, also advised by Sims, won a $5,000 fellowship for her research on controlling phosphorus pollution from agricultural lands to surface waters though the use of vegetated filter strips (VFS).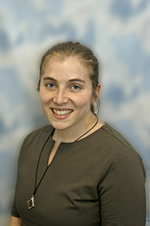 Jennifer Gilbert

"I won the award because my Ph.D. research involves using my laboratory and greenhouse studies to improve a widely used computer model developed to predict how management practices can prevent nonpoint pollution of surface waters," Gilbert said. "That will allow us to design more efficient VFS and better determine where to place them in agricultural landscapes so that water quality protection is maximized."

Gilbert is pursuing her doctorate in soil chemistry and nutrient management at UD and said she hopes to one day teach at the university level.

"I'd like to develop a program to get undergraduate students involved in research opportunities," she says. "I'd also like to be involved with the development of environmental policy measures that prevent water pollution in both urban and agricultural settings."

Photos by Danille Quigley
E-mail this article
To learn how to subscribe to UDaily, click here.