UDaily is produced by the Office of Public Relations
The Academy Building
105 East Main St.
Newark, DE 19716-2701
(302) 831-2791

Six outstanding alumni honored with presidential citation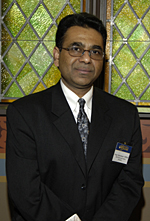 Arup K. Chakraborty

3:14 p.m., Oct. 13, 2005--Six University of Delaware alumni received the Presidential Citation for Outstanding Achievement during a ceremony that marked the beginning of Homecoming Weekend on Friday, Oct. 7, in Bayard Sharp Hall.

UD President David P. Roselle and Robert Davis, vice president for development and alumni relations, presented the awards to the UD graduates of the last 20 years who "exhibit great promise in their professional and public service activities."

Recipients, representing four of the University's colleges and six different majors, are Arup K. Chakraborty '88Ph.D., Robert T. Haslam Professor of Chemical Engineering, professor of chemistry and professor of biological engineering at the Massachusetts Institute of Technology (MIT); Scott E. Fendorf '92Ph.D., associate professor of soil and environmental chemistry at Stanford University; Angela Tweedy Gladwell '98M, environmental and historical preservation team administrator for the Federal Emergency Management Agency (FEMA); Paul J. Kane '92, senior writer covering the U.S. Senate for Roll Call, the Capitol Hill newspaper; Robert P. Meagley '96Ph.D., senior staff scientist and researcher in residence at Intel Corp.; and Andrea L. Stith '95, program officer at the Howard Hughes Medical Institute.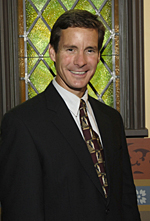 Scott E. Fendorf

Arup K. Chakraborty's research recently earned him election to the prestigious National Academy of Engineering, one of the highest professional distinctions in engineering. The academy recognized him for his accomplishments in applying theoretical chemistry to practical problems in immune system recognition, polymer interfaces, sensor technology and catalysis. He has coauthored more than 90 publications and delivered more than 100 invited lectures. Chakraborty earned his doctoral degree in chemical engineering from UD in 1989.

"I registered as a student at the University of Delaware two days after coming to this country," Chakraborty, from India, said. "The University not only taught me about science and engineering, but also about America and the principles that make this nation great. Today, as a proud American, I look back on the four years at Delaware with fondness and gratitude for teaching me about our country and instilling in me the desire to strive for excellence."

Scott E. Fendorf is recognized as a leading soil geochemist.
He recently received the M.L. and Chrystie M. Jackson Soil Science Award from the Soil Science Society of America, a prestigious award given to a scientist who has made seminal contributions in soil chemistry and mineralogy. He has served as an adviser to 17 graduate students and nine postdoctoral fellows and, in his previous position, received an excellence-in-teaching award from the University of
Idaho. Fendorf has published more than 50 refereed papers in journals of soil science, geochemistry and environmental science and technology; has published 12 book chapters; and has presented 52 invited papers and lectures worldwide. He earned his doctoral degree in soil and environmental chemistry in 1992 from UD, where he received the University's Theodore Wolf Dissertation Prize in the Physical and Life Sciences, as well as the Soil Science Society of America's award for outstanding dissertation in soil science.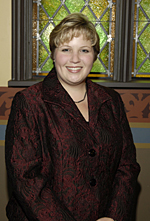 Angela Tweedy Gladwell

"Thirteen years since leaving, I look back with amazement at my graduate experience at the University of Delaware," Fendorf said. "Arriving from the West Coast, I had little idea of what to expect and was struck by the beauty of the Thomas Jefferson architecture, the rolling hills of the Piedmont and the spectacular fall colors. The tremendous instruction, student camaraderie and institutional resources left a lasting impression."

Angela Tweedy Gladwell works to protect historic structures and regions from natural and humanmade disasters. The National Historic Preservation Act requires FEMA to integrate historic preservation into its planning for disasters. Gladwell joined the Environmental and Historical Preservation Team in 1999 and was promoted to team administrator in 2004. With FEMA's integration into the Department of Homeland Security, her team also faces challenges in protecting national monuments from the possibility of terrorist attack. Gladwell earned her master's degree in urban affairs and public policy in 1998 from UD, where she worked as a graduate assistant in the Center for Historic Architecture and Design. She lives in Manassas, Va., with her husband, Jerry.

"When I first came to Delaware to study historic preservation, I had no idea that the faculty, courses and experiences would so dramatically shape my future career," Gladwell said. "UD faculty, most notably Dr. David Ames, helped me blend my two interests of historic preservation and emergency management through a joint assistantship with the Center for Historic Architecture and Design and the Disaster Research Center. This experience focused my career and through it I developed many relationships that continue to be extremely important in my personal and professional life."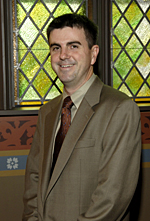 Paul J. Kane

Paul J. Kane recently received the Everett McKinley Dirksen Award for Distinguished Coverage of Congress, one of the most respected awards in American journalism, at the National Press Foundation's annual black-tie dinner. His winning entry was a package of stories he wrote about the fund-raising activities of the Laura Bush Foundation for America's Libraries, one of the largest charities linked to a political figure. Kane joined the Roll Call staff in 2000. His reporting focuses on party leadership, fund-raising, ethics and legal issues. Kane earned his bachelor's degree in political science and completed a concentration in journalism in 1992 at UD, where he was a managing editor and columnist for The Review.

"As the youngest of nine kids from a tight-knit Irish Catholic family, I came to the University sheltered from the world beyond my neighborhood," Kane said. "The University of Delaware became my passport into the rest of world.... Whether it's chasing after Sen. Joe Biden, '65, in the halls of the Senate or poring through campaign finance reports in pursuit of the real motives in Congress, those four years at UD remain the defining experiences that opened my eyes to a career and a life I never knew existed."

Robert P. Meagley is building and managing a new research laboratory for advanced lithography materials at Intel Corp. The lab is supporting the development of technology that will be used to make computers in 2009 and beyond. Meagley joined Intel where he worked with lithography and was named a group manager. His group's research led to the Pentium 3 and Pentium 4 processors and related inventions. In 2004, Meagley was recognized as one of Intel's top 12 inventors of the year. He earned his doctoral degree in organic chemistry in 1996 at UD, where he studied organic reactivity for the design of new materials in electronic applications.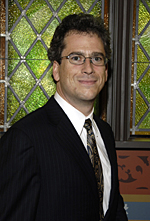 Robert P. Meagley

"The mentorship and education I received at the University of Delaware launched my career as a scientist, engineer and manager," Meagley said. "Through the leadership opportunities extended to me within the graduate program in the Department of Chemistry and Biochemistry, I was able to hone skills that enabled me to mentor effectively, confidently lead teams and coordinate diverse projects."

Andrea L. Stith previously was employed as a science policy analyst in the office of pubic affairs for the Federation of American Societies for Experimental Biology. In that position, she developed programs to advance biomedical research by providing a voice for individual investigators in biological and biomedical sciences when federal laws and regulations are being developed and when government programs are being funded. She has pursued an interest in understanding how science-funding priorities are established on a national level by becoming a fellow of the American Association for the Advancement of Science, working at the National Science Foundation. Stith earned her bachelor's degree in physics from UD in 1995. As an undergraduate, she participated in the Honors Program, assisted in research and was a member of the club crew team. She earned her doctoral degree from the University of Virginia. She lives in Arlington, Va.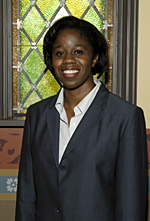 Andrea L. Stith

"I had four incredible years as an undergraduate at the University of Delaware," Stith said. "I credit this experience for providing me with a solid foundation of knowledge and confidence. UD also provided me with a comprehensive education that satisfied my intellectual needs and curiosities. By encouraging my participation in various academic, athletic and other extracurricular programs and activities, UD encouraged my strong sense of community. I am truly grateful!"

Article by Martin Mbugua
Photos by Kathy F. Atkinson
E-mail this article
To learn how to subscribe to UDaily, click here.