Two profs coauthor biography of William Dean Howells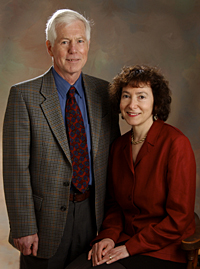 Carl Dawson and Susan Goodman

11:14 a.m., June 28, 2005--William Dean Howells, though largely over-shadowed since his death in 1920 by contemporaries Mark Twain and Henry James, was widely regarded during his lifetime as the most influential American writer, according to a new book coauthored by two UD professors.

In their recently published biography, William Dean Howells: A Writer's Life, UD English professors Susan Goodman and Carl Dawson set the record straight for contemporary readers by reminding them of Howells' accomplishments and pulling out the salient points of the author's long career in a chronicle that follows him from his birth in Ohio in 1837 to his death in New York City in 1920.

The author of several novels, short stories, plays, children's books and poetry, he was respected for his conversational style and his knack for spotting and championing other talented writers. But, as a courageous advocate for social justice and an outspoken editor of the progressive Atlantic magazine during the tumultuous years of 1871-81, Howells also made a significant mark on American history as well as literature, and he left a legacy greater than what his largely forgotten body of work might imply.

"When you write a biography about the details of a life and the events of a time, you want to create a tension with background information," Goodman, H. Fletcher Brown Chair of Humanities, said. "You want to provide the background information that lets readers make judgments."

The 519-page book, written over a period of six years with the aid of a Guggenheim fellowship, does that by shedding light on Howells' life and personal relationships as much as on his literary accomplishments, and the research that took Goodman and Dawson to libraries as far-flung as England is evident through the details that restore the literary giant to his proper status.

To streamline the vast quantity of information gleaned from archives in more than 40 libraries, Goodman and Dawson passed each section of the book back and forth between them several times before committing it to final-draft status.

"The initial writing was really important, but I would guess this book went through at least 30 drafts," Dawson said. "We passed chapters back and forth for rewrites over the course of several years, because what we wanted was what a book has to be--a seamless whole."

Drastic cutting sessions also shaped the book, Dawson said, including one memorable afternoon when 100 pages were deleted in the space of a few hours.

"Every page must have been days and days of work," Dawson said, "but as soon as we cut, we realized that the story--the continuity of Howells' life--had actually been improved by deleting those passages that were unnecessary."

In telling Howells' story, Goodman and Dawson said they also gained insight into the challenges that Howells, a prolific author who typically worked on several projects at a time, undoubtedly had to contend with throughout his life.

"Howells was a really fascinating man," Dawson said, "and he was someone whose life was interesting at nearly every stage. He grew up the son of an itinerant newspaper editor in Ohio and went off to Boston at a young age, where he basically knocked on people's doors.

"Anything that a literary person could do, Howells did it, and not just as a young man, but right through from boyhood up to 1920, when he died," Dawson said. "He wrote great travel books and children's books and plays and novels, but he also was very interested in Italian and Spanish and Russian literature, and did collections of other authors' work. He was always learning and reaching for the next generation to help them as well, and he was a mentor for half the writers that America produced throughout many decades."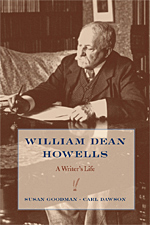 According to Goodman, who became interested in Howells after reading one of his novels as a graduate student, his broad interest in foreign literature and in authors with backgrounds different from his own also helped give rise to the movement known as realism.

"The thing that struck people most about Howells' style, especially at the beginning of his career, was that it was conversational," she said. "Instead of using an elevated vocabulary, Howells was able to talk about complicated ideas or differences in culture, and make comparisons as though he was speaking to you directly. Making the language accessible in that way is what I think readers really liked about his writing, and it's one of the elements that people associate with the whole movement of realism."

To give readers the feel of a life being lived, Goodman and Dawson divided the Howells biography into 18 chapters that roughly corresponded to significant events in his career.

"Howells may no longer be that well-known a writer," Goodman said, "but the study of his life is a subject that I think would interest general readers, because people often read biographies to learn something about history as well as a person, and Howells was a significant figure in late 19th- and early 20th-Century America."

William Dean Howells: A Writer's Life, is published by The University of California Press.

Goodman received her bachelor of arts, master of education, master of arts and doctoral degrees from the University of New Hampshire. She joined the University faculty in 1994 after an appointment at California State University in Fresno and was named H. Fletcher Brown Chair of Humanities in spring 2004.

Known especially for her scholarship in late 19th- and early 20th-Century American literature, Goodman is the author of Edith Wharton's Inner Circle, Edith Wharton's Women: Friends and Rivals, Ellen Glasgow: A Biography and Civil Wars: American Novelists and Manners, 1880-1940. She also edited Femmes de Conscience and coedited Edith Wharton: A Forward Glance.

Dawson received his doctoral degree from Columbia University in 19th-Century studies, and, before teaching at UD, taught at Dartmouth College, the University of California, the University of New Hampshire, the Free University of Berlin and Kobe-Shoin University of Japan. He was a Guggenheim fellow, a Fulbright Scholar and a recipient of fellowships from the American Council of Learned Societies (ACLS) and the National Endowment for the Humanities (NEH).

His books include Living Backwards: A Transatlantic Memoir, Matthew Arnold: The Critical Heritage, Lafcadio Hearn and the Vision of Japan, Prophets of Past Time, Victorian Noon: English Literature in 1850 and His Fine Wit: a Study of Thomas Love Peacock.

Goodman and Dawson jointly received an Andrew W. Mellon Fellowship from the Huntington Library in California for a new biography now under way about author and environmental activist, Mary Austin.

Article by Becca Hutchinson
Photo by Kathy F. Atkinson
E-mail this article
To learn how to subscribe to UDaily, click here.