UD bus drivers see campus from unique vantage point
| | |
| --- | --- |
| | Ever wonder what keeps UD running smoothly? Up Close & Personnel, a weekly feature, profiles the employees who keep UD ticking around the clock throughout the year. This week, the focus is on Transportation Services. |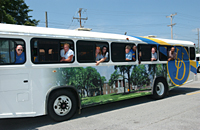 UD bus drivers include (from left) Bob Keiser, Celia Whitman, Laura Spangler, Dawn Erickson, Beth Burns, Ken McCollister, Beverly Nahodil and Bob Teachey

3:58 p.m., Aug. 10, 2004--When Christy Lion, BE '02, and Taylor Watkins, AS '02, were married in late June, wedding guests piled into a University of Delaware bus for the trip from the ceremony to the reception.

They had no trouble spotting the correct bus—Taylor's picture was painted on the front and Christy's was painted on the back. The couple posed two years ago when they were both UD cheerleaders.

Driving a wedding bus is one reason why the University's 11 full-time drivers and 20 part-timers say they love their jobs most days.

Eleven campus buses travel 255,000 miles a year on regular routes and charters to science facilities and fraternity formals. They carry 800,000 passengers a year. A driver 's weekly schedule could include driving designated routes circles on campus, making a field trip to collect insects, or a riding into the belly of a C-5 transport airplane.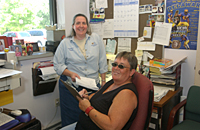 Supervisors Shearee Moore (left) and Jo Ann Barnett

Bus drivers have rescued a baby pigeon that fell from the overhead walkway across West College Avenue. They've used their high perches to help Newark Police spot burglars and a bicycle thief. They routinely call in accidents they see enroute.

Then there was the day a student shouted, "Don't anybody move. My ferret's lost." Driver Dan Davis said the boy didn't know the ferret had climbed into his backpack at home until he felt it wriggle out on the bus. Davis pulled over on Main Street and waited until the students found the missing pet.

Almost every driver has an animal story:
One day a raccoon slipped onto a bus from the dumpster behind the Wyoming Road bus barn.
Drivers said they learned to hide their lunches when a particular blind student boarded the bus because her seeing-eye dog would root under the driver's seat and eat their food.
Laura Haggerty said a little brown dog boarded her bus with the students at Pine Brook every day and got off at Smith Hall. Two hours later, it would take the return trip alone.
Drivers laugh about the oddest item ever left on a bus: A gerbil in a cage.
Ever wonder what the bus drivers do during the indeterminate waits for museum-goers and ballgame fans?
"When we go to New York City, we fill a cooler with deli food, go to FAO Schwartz, or go to the Metropolitan,'' Haggerty said. "One time we went and the group we took was gone for six hours. When they came back, the students said, 'There are only two UD buses in all of New York City, and you people must have been everywhere because everywhere we went, we saw UD buses.'''
The drivers still laugh about the night supervisor Jo Ann Barnett tried to crawl through the roof hatch to get a better look at the fireworks after a Phillies game and got stuck. "Her feet were just this far from the seat so the bottom half of her is going like this under the bus roof,'' Haggerty said, wiggling her straightened fingers back and forth to model Barnett's legs.
"They say if you like your job, you never have to work a day in your life,'' Dan Davis said. "Well, as far as I'm concerned, I don't work at all because I love my job.''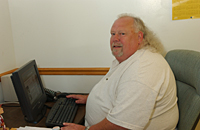 James Crowe, transportation services manager

His easiest assignment was a weeklong charter to Cape Henlopen with a group of scientists who put him up in a hotel and paid for all his meals.

The charter list hits all the high and low spots in the University's life. One of Barnett's favorite runs was an African-American professional fraternity's charter. She was sitting in the driver's seat when the vice principal of a Philadelphia school walked on and she recognized him as a favorite student who rode her bus for his four years at UD. They talked the entire trip. Everyone's saddest runs are the funeral trips when families hire UD buses to transport guests.

Because most of the 11 full-time drivers and many of the 20 part-timers have worked for the University for 10 years or more, they said they've shared their lives and watched each other's children grow up. They also shared Sept. 11, 2001.

"One of our drivers was out on a run on 9/11, and he called in and said there was a young lady on her bus and someone had told her over the cell phone that her father was in one of the towers,'' supervisor Shearee Moore said. "The driver called in and said, 'I can't drive. I'm going to have to come in.'"

Haggerty remembered looking out her window at the other vehicles lined up for a light after the first tower fell. "We were all listening to the same live feed from New York,'' she said. "You could see people in the cars next to you crying."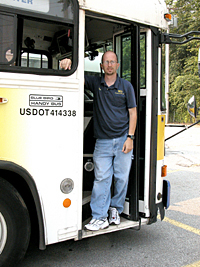 Tim Conrad

Drivers said the job has changed with the advent of personal electronics. Now, many students are in their own personal space with headphones or cell phones on, but they said foreign students often teach the drivers how to say "hello" and "good morning" in other languages.

Management experts say the number of times employees laugh during the day is a top indicator of whether they are productive, pleased with their jobs and pleasant to customers. UD bus drivers constantly joke with each other, and they seem to look on the bright side whether they are driving through snow or filling their 100-gallon tanks.

They laugh about the most-asked question, "Does this bus go to the Field House?'' They marvel that the most-often-forgotten item has switched from the umbrella to the cell phone. They enjoy when they are at the beach or in a store and a young person turns to them and says, "Hey, I ride your bus at UD."

Haggerty joked that bus drivers have something other employees wish for. "Everybody wants a corner office with a window,'' she said. "Well, I'll tell you what; I've got a great window. You can't find an office with a better view."

By Kathy Canavan
Photos by Duane Perry and Kathy Atkinson
E-mail this article
To learn how to subscribe to UDaily, click here.